Pakistani Christian Asia Bibi Death Sentence Hearing Postponed Again, Judgment Reserved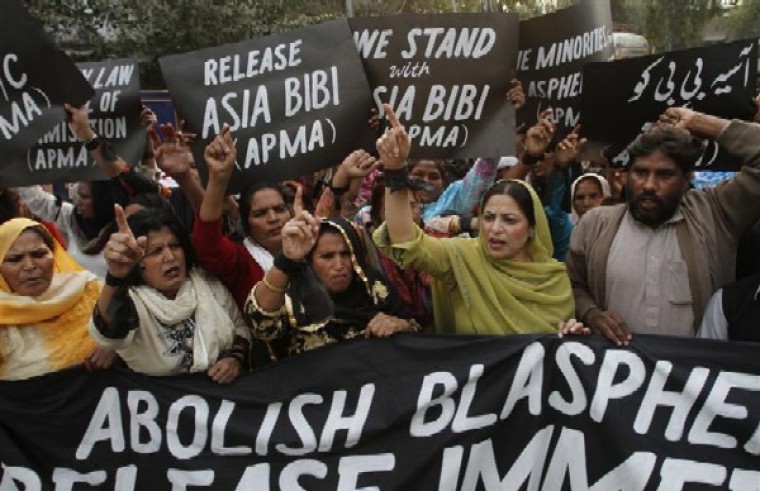 The death sentence hearing for Pakistani Christian Asia Bibi, who has been jailed for eight years under the nation's blasphemy laws, has been postponed again.
Pakistan's Supreme Court reserved its judgment Monday on the final appeal against the execution of Bibi, a Christian who had been sentenced to death for blasphemy, according to NDTV.
The three-judge panel led by Chief Justice Mian Saqib Nisar did not say Monday when the court would announce its ruling. The Chief Justice cautioned the media against commenting on or discussing the case until the judgement has been rendered.
Bibi was charged back in 2009 when she went to get water for her and her fellow farmworkers. Two Muslim women refused to take a drink from a container that had been used by a Christian. Days later, a mob of Muslims accused her of blaspheming the prophet Muhammad and she was subsequently convicted and sentenced to death.
Her lengthy ordeal over the years has garnered the attention of the international media. Human rights and international religious freedom activists have long called for Bibi's release as the blasphemy laws in Pakistan are routinely employed by the Muslim majority to persecute religious minorities.
Pakistan's highest court first considered her appeal in October 2016, but was forced to adjourn without hearing it following one of the judges recusing himself from the case. If the court upholds the conviction her only option left is to appeal directly to the president for clemency.
If the president does not grant her clemency, Bibi might become the first person in Pakistan to be put to death for blasphemy. Such laws that were implemented by former military ruler Zia-ul Haq in the 1980s.
The punishment for blasphemy in Pakistan under section 295-C of the criminal code is the death penalty or life imprisonment to anyone who either speaks or writes words that defile the name of Muhammad.
Bibi's health has been deteriorating and reports indicate that she is starting to suffer from dementia.
"News of her poor health and early signs of dementia are a paramount concern for our community, and the date of this appeal is very timely," said Wilson Chowdhry, chairman of the London-based charity British Pakistani Christian Association, in a statement last month.
"These charges have been proven false time and again and it's time for her to return home to her family. Clearly she will need asylum in a western country where she can live out the remainder of her days in peace."
Since her imprisonment Bibi's family has been subjected to ongoing threats and harassment.
Pakistan ranks as the fifth-worst country in the world when it comes to Christian persecution, according to Open Doors USA's World Watch List.