Pakistani Christian on the Run After $14K Bounty Calls for Him to Be 'Burned Alive'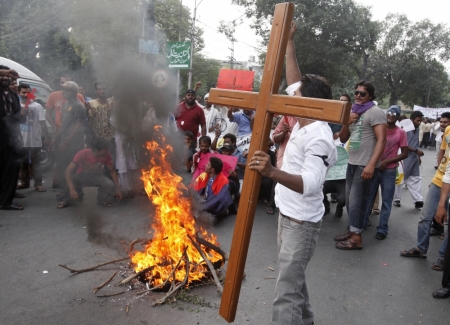 An entire Christian community in Pakistan is under threat after Muslim leaders demanded that local families convert to Islam after a young Christian man was accused of blasphemy over a video that was found on his phone.
The trouble for 25-year-old Imran Masih, who works as a sweeper at a hospital in the Punjab town of Mandi Bahaudin, all started on April 15 when he let someone he considered to be a friend borrow his phone.
According to the the London-based charity British Pakistani Christian Association, Masih had fallen in love with a Muslim girl in the area and drew the ire of several men in the Muslim community who warned him to stay away from the girl.
On the day of the incident, Masih was at work when he was called to go to a medical store where his friend Bilal worked. While at the store, Masih showed Bilal a picture on his phone of his love interest. He was then called to do some sweeping and in a hurry, he accidentally left his phone behind.
BPCA reports that when Masih returned to get his phone, Bilal began pushing and shoving him and accused him of blasphemy for a video he allegedly found on his phone of a Christian apologist talking about the Islamic prophet Muhammad.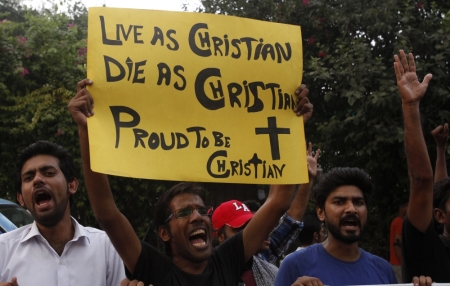 According to BPCA, which met with members of Masih's family and a local politician, the video in question was posted to Bilal's Facebook page by somebody else and he had not watched the video.
Masih tried to tell his friend that he had nothing to do with that video. But Bilal refused to believe Masih reasoning and called over two other Muslim men named Muhammad Anayat and Muhammed Saleem. All three men beat Masih until they were forced to stop.
After an on-call doctor was called to the scene to treat his injuries, Masih was forced to destroy his phone and ask for forgiveness. He complied with the demands in hopes that it would quell tensions in the community.
Even though Masih had done nothing wrong, he felt the need to flee from the community and stay with an out-of-town resident until the tensions died down.
Community leaders and local muslim clerics held several meetings and eventually issued a fatwa. Also, a mob was sent to attack Masih, his family and other Christians in the community, BPCA reports.
On May 7, imams preached hatred toward Christians over their public address system, which led to a mob of over 1,000 Muslims to convene around the Christians' neighborhood.
Christians called for the protection of the police, who came in full riot gear to protect the families. After the police threatened to use force, the enraged mob dispursed.
As Masih's family has gone into hiding, Muslim clerics have brought charges of blasphemy against them and are threatening to attack the entire Christian community unless Masih and his relatives are brought forward. Muslim leaders in the community are also demanding that 45 Christian families convert to Islam or face severe reprisal. The threats of harm and forced conversions has led to many families fleeing their homes.
Meanwhile, a local Muslim man has announced a bounty for Masih that is the equivalent to $14,839.50.
"People are extremely frightened, Muslims have stopped trading with Christians and ignore and abuse them. Threats have been received by several people that the community will be attacked and many of the 300 Christian villagers have already left their homes to stay with relatives," BPCA officer Naveed Masih, who visited with local politicians and residents after the mob subsided, said in a statement.
"Those that have bravely stayed behind are totally demoralized and terrified, while those that have left fear that all their property will be looted," he added. "Christian leaders have been told they must bring Imran to the imams so he can be burned alive, or face being torched themselves. This is a community that is bereft of hope."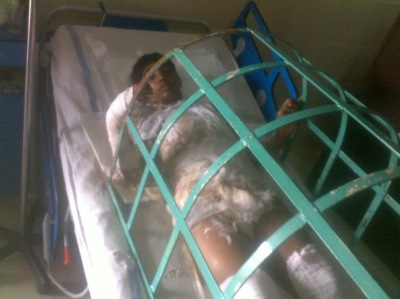 BPCA has reached out the family and hopes to provide a safe house and legal support. The organization accepts donations to help families like Masih's who have been persecuted because of their faith.
BPCA President Wilson Chowdhry told The Christian Post that it is common for radical Muslim groups to force alleged blasphemers and their relatives to convert to Islam or die.
Chowdhry explains that when a 15-year-old Christian boy was lit on fire and killed by Muslim men last year after he told them that he was Christian, he was also given the opportunity to convert to Islam but refused.
When a Christian couple in Lahore was accused of blasphemy in November 2014, Chowdhry explains that they were also given the chance to convert before they were eventually burned alive by an angry mob in a brick kiln.
Asia Bibi, a Christian mother who was sentenced to death over blasphemy allegations, was also given the chance to convert. She has served over five years in prison.
"This latest attack though initially thwarted by police is an example of how easy it is for Muslim friends of Christians to turn against them," Chowdhry said in a statement. "It would seem that a petty jealousy or vengeance over the love of a Muslim girl for an untouchable Christian has once again become a trigger for a violent mob. Sadly a terrorized community will have to undergo a period of huge instability and anxiety due to the fomenting of hatred of local mosques, a practice that is allowed to cause division unfettered."