Pakistani Police Torture Sisters of Christian Man Accused of Blasphemy
Nearly All 60 Christian Families in Father Colony Flee Due to Theart of Persecution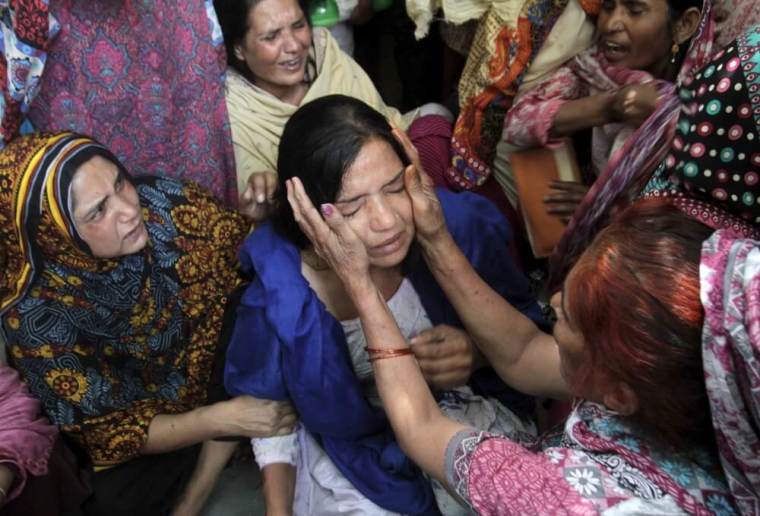 The sister and sister-in-law of a Pakistani Christian man who is now in hiding after being accused of blasphemy have been arrested and tortured by police officers in hopes they would turn over their brother.
According to reports, blasphemy charges were formally brought against Christian tailor Nadeem James, who lives in the Father Colony of Sarai Alamgir in Pakistan's Punjab province, on Sunday after he had a falling out with one of his Muslim childhood friends.
According to the London-based British Pakistani Christian Association, James had a dispute with his friend Yasir Bashir on July 4 and it is believed that the argument was over the fact that James married a Muslim woman who has since converted to Christianity.
After the dispute, Bashir accused James, a father of two, of sending him a blasphemous poem through the encrypted online messaging app WhatsApp and a blasphemy case was later registered against James. As blasphemy in Pakistan is punishable by death, James fled from his home and has not been seen since.
The Centre for Legal Aid, Assistance and Settlement reports that following the accusation of blasphemy, there have been calls made from the loudspeaker of local mosques calling for Muslims to gather and burn down the homes of Christians in the Father Colony if Nadeem is not turned over.
Although police increased security in the area to protect the Christian community, BPCA reports that most of of the village's 60 Christian families have fled from their homes also.
"The deployed police force is too small for any effective protection," BPCA Officer Shamim Masih said in a statement. "The few residents that have remained here are terrified and place their faith in God. They have not left as they also fear that if they leave, on their return, their property will be looted. In every blasphemy allegation the whole community is punished for the alleged crimes of one man — this is unjust and debilitating."
According to the organization, police officers searched James' home and when he was not found, they arrested his sister, Samreen, and his brother's wife, Najma, along with her 18-month-old daughter.
While other media reports indicate that Samreen and Najma were tortured by police, they also told Masih they were slapped and shouted at in attempts to get them to reveal James' location. The women told the officers that they had no idea where James was. The sisters and the baby girl remain detained and police claim they are detained for protective purposes.
James' brother, Shaukat, told BPCA that James never sent the blasphemous message through WhatsApp. Shaukat said that he believes Bashir was told by Hafiz Tariq, an authoritative figure at a local mosque, to use James' phone to send himself a blasphemous message.
"The blasphemy case had been orchestrated against James at the behest of Hafiz Tariq who despised James for his wife's conversion," Shaukat was quoted as saying.
Nasir Saeed, the director of CLAAS-U.K., criticized Pakistani authorities for illegally arresting and torturing James' sisters.
As the blasphemy laws in Pakistan are often abused by some in the Muslim community who use them to settle personal grievances against Christians and other religious minorities, Saeed stressed that the police are trying to twist the arms of James' sisters to produce him without even investigating the authenticity of the Bashir's blasphemy claim.
"It is very unfortunate that blasphemy cases continue to be registered against Christians over petty disputes without any investigation or concrete evidence," Saeed said in a statement on Tuesday. "Several innocent people like Shama and Shahzad have been killed and burned alive without being given a chance to prove themselves innocent in a court of justice."
"Sadly, incidents of self-justice and mob killings continue to rise, and people are not afraid of taking the law into their own hands because of the government's inadvertence and lack of interest in bringing the perpetrators to justice, and its failure to think over bringing changes to the blasphemy law to stop its continuous misuse," Saeed added.
In May, another Pakistani Christian man in the town of Mandi Bahaudin was accused of blasphemy over a video that was found on his Facebook feed. After the man fled the town, an angry mob of Muslims threatened to burn the Christian man alive and harm the Christian community if he was not turned over.
BPCA has drafted a new petition calling on the Pakistani government to repeal the blasphemy laws.
Muslims in Pakistan seemingly have great impunity when it comes to persecuting Christians.
A recent report produced by the Asian Human Rights Commission found that police in Pakistan are doing little to protect the minority Christian community from the persecution and harassment that they face from the Muslim community, which comprises about 97 percent of the nation's population.
"The situation is getting worse with each passing day," the report reads. "The Christians are living in constant fear that their houses may be set on fire by a mob if the police does not provide them with round the clock security."