Pakistan's Christian Man, Pregnant Wife Murder: Police Say Imam Incited Mob Attack; Court Sends Four More Attackers to Jail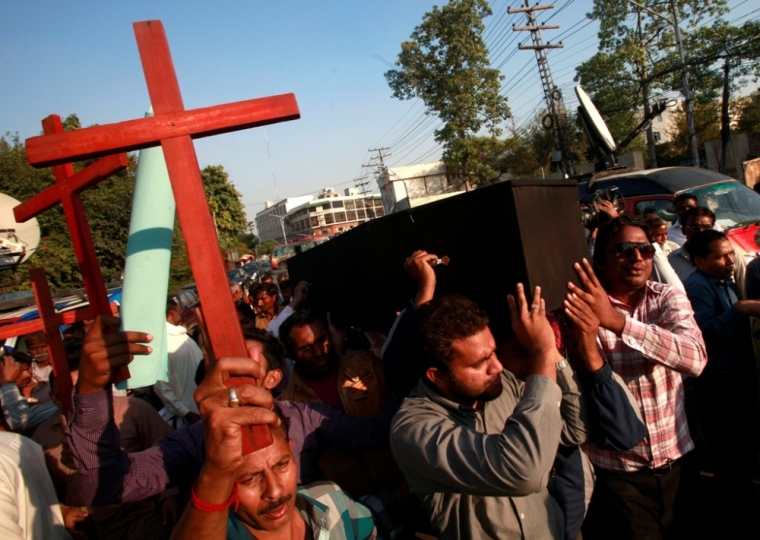 An anti-terrorism court Monday sent four accused to police custody for their alleged role in the beating and burning to death of a Christian man and his pregnant wife by a mob of 1,500 Muslims for allegedly desecrating a Quran. Police say a local Imam incited the crime.
While 39 of the 60 suspects are already in jail, the judge of an anti-terrorism court ordered four more accused to be sent to police custody until Nov. 19, according to Agence France Presse.
On Nov. 4, Christian couple Shehzad, 35, and Shamah Masih, 31, were beaten then burned to death in Chak village near the town of Kot Radha Kishan, about 40 miles southwest of Lahore in Punjab Province.
Reports say the Christian woman was pregnant at the time of her death, and clung to the arm of her husband. All that's left of them now are bones and ashes, their three orphaned children and photographs.
The brutal incident has sparked protests across the country.
On Monday, about 900 students from Lahore's missionary schools held a demonstration outside the Lahore Press Club, shouting slogans, including, "We want justice!" and "Stop killing minorities!" Some demanded "Death penalty for the killers of Shehzad and Shamah."
Meanwhile, Jawad Qamar, a regional police chief, told Reuters that the crime was "incited by the mullah of a local mosque."
"No particular sectarian group or religious outfit was behind the attack," he added.
Pakistan's Prime Minister Nawaz Sharif has said justice will be done.
"The brutal murder of the Christian couple … is an unacceptable crime," Reuters quoted Sharif as saying. "A responsible state cannot tolerate mob rule and public lynching with impunity… The Pakistani state has to act proactively to protect its minorities from violence and injustice. We must promote religious and ethnic diversity in our society as a virtue."
Rufin Anthony, the Catholic bishop of Islamabad, the national capital, called the murder "the worst religiously motivated hate crime in Pakistan's history," and denounced the silence of Muslim leaders.
"In the past, religious leaders have carefully refrained from expressing words of condemnation. In fact, they have practically encouraged personal vendettas," Breitbart quoted Anthony as saying. "If appropriate measures had been taken in the past," he said, "this barbarism could have been averted."
Cardinal Jean-Louis Tauran, the President of the Pontifical Council for Interreligious Dialogue, was "shocked and speechless" by the hate crime. "There is this law against blasphemy," he went on "which represents a problem: shouldn't the international community intervene? I ask you: can we remain passive before crimes that are legitimized by religion?" he was quoted as saying.
Blasphemy laws, embedded in Sections 295 and 298 of the Pakistan Penal Code, are frequently misused to target religious minorities — Christians, Shiites, Ahmadiyyas and Hindus — and allow Islamist extremists to justify killings. There is no provision in the law to punish a false accuser or a false witness of blasphemy.
According to some reports, the incident had its genesis in a dispute over money.
Emanuel Sarfraz, Shehzad's cousin, said the couple was desperately trying to provide for their four children, including the one Shamah was expecting.
They had been working at the kiln owned by Muhammad Yousuf Gujjar for a while and wanted to leave because Gujjar wasn't paying their wages. Gujjar told them that they couldn't leave unless they paid him the equivalent of nearly $5,000.
"Two days ago, after an exchange of words, Yousuf locked the couple along with their children in a room," said Emanuel. On Tuesday morning, an announcement was made from two mosques in the village that the couple had committed blasphemy by burning the pages of a Quran and a frenzy erupted.
"A large number of Muslims led by area clerics reached the kiln and dragged the couple out of the room after breaking into it," Emanuel continued.
The Muslims tortured and beat the couple; and even though they begged for their lives and pleaded their innocence, they were thrown into the kiln and burnt alive.
"No one from the crowd listened to the couple, who were pleading that they were innocent as Yousuf had levelled a false allegation of blasphemy against them to settle a money dispute," Emanuel added. "Thank God they did not burn the couple's children."