Palau CityServe Movement Unites NYC's Youngblood Preachers, Old Guards in 'Historic' Partnership
More Than a Thousand Christian Leaders, Nonprofits Mobilize to Meet City's Needs in Massive, Ongoing Outreach
NEW YORK — Hundreds of NYC-area nonprofit and church leaders — young and old, red and yellow, black and white — are mobilizing as one body for the very first time in an effort to be the hands and feet of Jesus Christ in one of the world's most unique urban centers, thanks to an initiative organized by the Luis Palau Association.
10 photos
(Photo: The Christian Post/Nicola A. Menzie)
New York City has seen a surge in the past decade or more of contemporary, Millennial- and usually white male-led churches, who stand in contrast, in some ways, to the old guards who put down spiritual roots in the big city decades ago.
Among the veteran leaders are people like Jim Cymbala (Brooklyn Tabernacle) and African-American pastors and civic leaders A.R. Bernard (Christian Cultural Center) and Floyd Flake (Greater Allen A.M.E. Cathedral), whose combined congregations number more than 60,000 New Yorkers.
Add to the mix the thousands at Timothy Keller's Redeemer Presbyterian Church, Carter Conlon's Times Square Church and James Nam Soo Kim's Promise Church, and the number swells even more. There are also a myriad of mostly-ethnic storefront churches that dot nearly every block in culturally-rich enclaves across the city's five boroughs.
"NYC is the melting pot, so it only makes sense for the churches to come together along with the nonprofits," the Rev. Jordan Durso of Christ Tabernacle in the borough of Queens told The Christian Post. Durso, outreach pastor at his parents' church, is also executive director of the non-profit Legacy Center.
Durso believes the Luis Palau Association's CityServe initiative, ongoing in several cities since taking off 8 years ago in mostly liberal and secular Portland, Oregon, should be a model for the entire world.
"I'm excited about the Luis Palau Association coming together, helping us get together, meet other people, other organizations, and get involved with churches... I think that the ripple effect is going to be enormous and people are gonna get helped physically, mentally and of course spiritually, so I'm really excited," he added.
Kevin Palau, the main brain and momentum behind CityServe, knows there is plenty to be excited about.
"No other entity is embedded into every nook and cranny of the tri-state area like the church," he told CP prior to NY CityServe's launch. "Mcdonald's and Starbucks wish they had the market penetration of the Church."
Palau, president of the Luis Palau Association, made similar remarks Tuesday morning at the NY CityServe launch service at Calvary Baptist Church in Manhattan. The event was attended by hundreds of local church and nonprofit leaders as well as representatives from the government-led NYC Service, and active and interested laity partnering for long-term outreach. NYC Mayor Bill de Blasio, who was unable to attend in person, appeared via a pre-recorded video in which he expressed his wholehearted support for the Christian-led initiative.
His support, like that of leaders in cities like Portland, Houston, San Diego, and others, was won by the CityServe commitment to partner with local governments to simply work to combat homelessness, gang violence, and human trafficking, or to partner with local schools and get involved in foster care systems. There are absolutely no strings attached, explained Palau, who also emphasized that Gospel proclamation would occur separately from service at a later time in an event called CityFest.
"When they see that, that we're willing to go serve in schools when you can't preach in schools. That we're willing to serve and makeover family homeless shelters when that may not be the place to share the Good News," Palau said of unconditional acts of love being the key to opening people's hearts. "We have to, I think, earn the right to be heard. We absolutely will share the Good News, I don't want anyone to be confused about that." The purpose of CityServe-CityFest has always been "the one-two punch of serving with no strings attached and then joyfully celebrating" what churches are accomplishing together.
Palau added, "I think we've turned the corner. I think that leaders like A.R. Bernard and Floyd Flake and Jim Cymbala and Tim Keller and others have become convinced this is maybe a kairos moment, an opportune time to unite the Body — both to serve and to share the Good News for such a time as this."
Old School Evagelist Pays Homage to His Younger Peers
New York CityServe's youth aspect was also a point of interest at Tuesday's launch, especially for Argentina-born evangelist Luis Palau, who was the biggest pull for Latino involvement in CityServe.
The elder Palau, with his trademark humor and personable approach, poked fun at his young peers and their contemporary ministry style, at one point saying that, "To them a hymn book is a wall where they project all this stuff."
But in the midst of his humor, Palau expressed admiration for emerging church leaders, though he noted that the label (in relation to the liberal Emerging Church) initially gave the traditional and old school evangelist pause.
"When the emerging church idea came up — thankfully the premise disappeared. Those kinds of labels are dangerous. But when it came up, me being a defender of the faith, I got really nervous [and thought] 'All these boys are gonna mess it up, you know.' And they come on the platform with broken jeans that seem to be unwashed and they don't (comb) their hair properly and it seems like they haven't washed their hair for two weeks. And here they are, that's supposed to be the new trend you know. But when you listen to what they say, they preach the Gospel even better than some of the old timers like me."
The 79-year-old evangelist added, "I've been to some of these conferences like the Q (Conference) and Catalyst. [There are] about 5,000 or 6,000 young pastors, and I'm the old [one] in the crowd … You listen to these young preachers, they really preach the Word with an authority and a power that I think the middle generation, between me and the young ones, we haven't done it as much. I don't think we should despair. I think we should get excited about the young generation of preachers coming behind us, who dress different from us."
Eliciting hardy laughs, Palau continued, pointing to his attire: "This is the way Saint Paul used to dress, in a suit and a tie. … Who sanctified jeans? Who said jeans were the new robes of the church?"
But he pressed the hundreds gathered, representing more than 1,200 local CityServe churches, to take note of Millennials in ministry.
"If you can look beyond the dress, beyond the hair, beyond the beards, beyond the torn jeans, and badly-shaped shoes and all that...there is (power) in the young generation… Some of you, I'm not too sure that you believe that, but I do and I'm a stickler for doctrine."
Not everyone in the room needed convincing.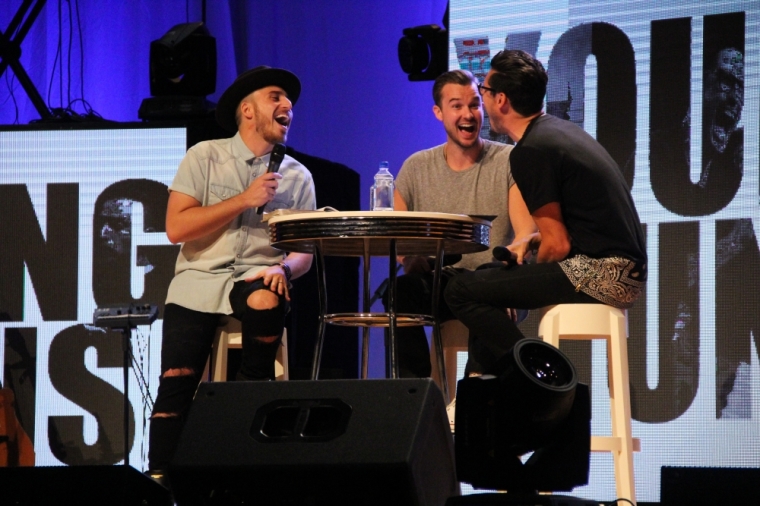 Jordan Durso, the Christ Tabernacle and Legacy Center leader, thought of his younger brother and similar pastors who might fall into the "unconventional" or "hipster" category.
"You look at the group that's coming up all over the states — the Judah Smiths, the Chad Veaches, the Carl Lentzes, Rich Wilkerson, Jr., my little brother Chris Durso. And you look at these guys and number one, yeah the style, everyone looks at that. I think they're being relevant and people look at it like, 'Wow, you don't look like a typical preacher.' But people outside don't look like typical Christians. So there's something like this instant connection: 'Wow, they're cool. Church is not boring.' Then of course, the power behind what they're saying...just like obviously a Dr. Luis Palau has that power. But I don't think because the clothes have become less, the power's become less. So I'm excited to see these guys become relevant and connect with the world that's outside and still bring the power of the Gospel."
Kevin Palau, in his interview with CP the day prior to NY CityServe's launch, explained the attraction for some of hipster-oriented Christian leaders to the service initiative.
"I'd say the younger church planters that I can relate to — because Portland has a lot of those kinda, the guys that are tattooed and pierced, the hipster kinda churches that fit in, thank the Lord, with Williamsburg folks. They love it, because they want to see cultural engagement," he said. "They want to see an ability for people that have been burned by the church or have all these negative stereotypes to say, 'These churches seem to have relationships across cultural lines.' That speaks to political correctness today, and who other than the church can do that, ideally. And it speaks to unconditional love, [which] is always a key to opening people's hearts."
The Rev. Que English, who leads Bronx Christian Fellowship Church with husband Tim English, is founder of the NYC Clergy Roundtable. English is also one of the dozens of local church leaders serving on the NY CityServe advisory board. English, who leads the social justice initiative for NY CityServe, told CP Tuesday that although the method might be packaged in ways the older generation are not used to, God's message was still being delivered.