Palestinian Authority, Hamas Using Torture to Silence Critics, Human Rights Watch Says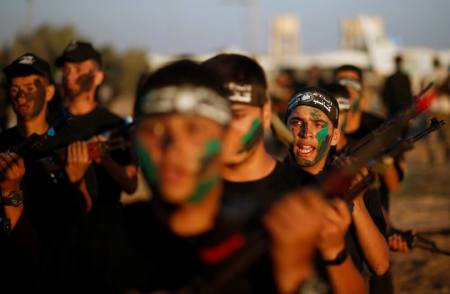 A leading human rights watchdog has called out the Palestinian authorities for establishing police states in which peaceful protestors are regularly arrested and brutally tortured.
In a new 149-page report published Tuesday titled "Two Authorities, One Way, Zero Dissent," the New York-based Human Rights Watch states that Western-backed Palestinian Authority in the West Bank and Islamic militant group Hamas in Gaza have established "machineries of repression to crush dissent."
"Both the Fatah-dominated Palestinian Authority in the West Bank and the Islamic Resistance Movement (Hamas) in Gaza have in recent years carried out scores of arbitrary arrests for peaceful criticism of the authorities, particularly on social media, among independent journalists, on university campuses, and at demonstrations," the report explains.
"As the Fatah-Hamas feud deepened despite attempts at reconciliation, PA security services have targeted supporters of Hamas and vice versa. Relying primarily on overly broad laws that criminalize activity such as causing 'sectarian strife' or insulting 'higher authorities,' the PA and Hamas use detention to punish critics and deter them and others from further activism. In detention, security forces routinely taunt, threaten, beat, and force detainees into painful stress positions for hours at a time."
The report comes on the heels of a two-year investigation into the patterns of arrest and the conditions of detention. The report relies on information from 86 cases in the West Bank and Gaza and 147 interviews with ex-detainees, family members, lawyers and other experts.
Investigators were also able to review video and photographic evidence, medical reports and court documents.
The report implicates security agencies including Hamas' Internal Security, the Palestinian Authority's Preventive Security, Intelligence Services and the Joint Security Committee for perpetrating what could be considered crimes against humanity punishable by the International Criminal Court.
PA security forces operate with support from the United States, Israel and European countries, while Hamas receives support from countries like Iran, Turkey and Qatar.
"Palestinian authorities have gained only limited power in the West Bank and Gaza, but yet, where they have autonomy, they have developed parallel police states," Tom Porteous, deputy program director at Human Rights Watch, said in a statement. "Calls by Palestinian officials to safeguard Palestinian rights ring hollow as they crush dissent."
The report notes that both sides use similar tactics — threats of violence, solitary confinement, beatings, lashings and whippings.
One man who was detained for his activism while at university told investigators that PA officers forced him to stand for stretches at a time with his legs spread out in a half squat. Officers would later force him to stand on his tiptoes with a rope pulling his hands behind his back. He was told by one interrogator that he would be leaving the prison in a wheelchair.
One journalist who was detained by the PA said that officers tied his hands by rope to the ceiling of the interrogation room. The rope was slowly pulled to apply pressure to his arms, which caused him excruciating pain.
In Gaza, Hamas Internal Security officers are said to systematically put detainees in a torture room called "the bus." In the bus, detainees were forced to sit for hours or days in small chairs designed for children with very few breaks.
"A PA civil servant, arrested after a friend tagged him in a Facebook post calling for protests on the electricity crisis, spent most of his days in the Internal Security's Gaza City detention center subjected to positional abuse in the bus, causing him to feel 'severe pain in my kidneys and spine' and as if his neck would 'break' and his 'body is tearing up inside,'" the report explains. "Journalists Ashraf and Fouad Jarada spent most of their first month in the bus, where security personnel forced them to alternate between standing and the chair."
One Fatah activist who was arrested for writing about issues like unemployment and medical negligence, was sentenced to the bus for three days. Another prisoner said officers whipped his feet and chest with a cable until he "was losing consciousness."
Sarie Samandar, a Christian Jerusalemite, was detained along with about seven of his Christian friends in June 2017 after being involved in a street fight.
Samandar told HRW that PA officers called him a "Christian pig" and told him that the Islamic State "needs to come for you" and that he and his Christian friends "are crusaders and invaders who came to this country." Samandar was repeatedly punched, and kicked and had his body slammed against the wall by officers.
Authorities also harshly torture people accused of crimes like drug possession. One man told HRW that Hamas officials tied his hands by a cable to a ceiling and beat his legs and body with a cable until he confessed to the crime.
"You will die here if you do not speak," the man recalls being told. The man spent five days in a hospital after his release as he suffered from kidney failure and a variety of other health concerns.
Both the PA and Hamas have denied the accusations made in the report, HRW reports.
"These testimonies are not accurate," Adnan Damiri, spokesman for the Palestinian security forces in the West Bank, told The Associated Press. "They are testimonies of political activists who belong to political parties with political agendas, and of course they will put any blame they can on the Palestinian Authority."
The Palestinian factions split in 2007 when Hamas seized the Gaza Strip, which it has controlled for over a decade. PA has controlled West Bank since 1993.
As the Palestinian Authority led by President Mahmoud Abbas' joined the United Nations Convention against Torture in 2014, HRW points out that the "systematic use of torture" could amount to a crime against humanity punishable by the International Criminal Court.
"As a crime of universal jurisdiction, states are required to arrest and investigate anyone on their territory credibly suspected of involvement in torture anywhere and to prosecute them or extradite them to face justice," the report explains. "The Convention Against Torture makes clear that 'those exercising superior authority — including public officials — cannot avoid accountability or escape criminal responsibility for torture or ill-treatment committed by subordinates where they knew or should have known that such impermissible conduct was occurring, or was likely to occur, and they failed to take reasonable and necessary preventive measures.'"
HRW has called on governments that provide funding to Palestinian law enforcement to suspend their aid.