Parents Outraged as NY School Honors Gaza Protesters: 'I Didn't Send My Child to Pray for Hamas'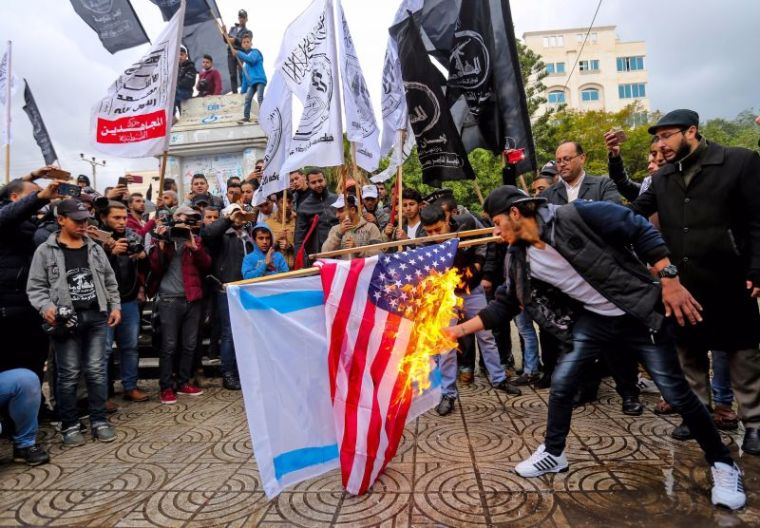 Parents at a New York City high school are outraged that a moment of silence was held last week to honor the 60 Palestinians who were killed in Gaza as Hamas staged violent protests against Israeli soldiers. Over 50 of those killed were Hamas fighters.
One father, who wasn't named, told the New York Post on Friday, "I am extremely upset because I did not send my child to a New York City public school to pray for Hamas operatives."
The period of silence at The Beacon School was held on Tuesday, one day after the large-scale deaths in Gaza were reported.
Another student's mother, who is also Jewish, added: "I just don't think any school should be promoting a moment of silence for terrorists. What if it was Islamic terrorists in ISIS? No school would be having that over the loudspeaker."
Palestinian protesters in Gaza set kites on fire to burn Israelis' land where they landed, threw Molotov Cocktails, and set tires on fire to block the view of children and teenagers who were sent to the frontlines to cut through the barbed wire fences at the border.
Israel has accused Islamist terrorist group Hamas of pushing civilians toward the frontlines of the protests. Before the clashes, Hamas officials said families of those killed would receive $3,000 each and those injured would get a payment of between $200 and $500.
NPR interviewed a Palestinian protester last week and asked him why they were flying kites with images of Hitler and the Nazi swastika symbol. He replied that, like Hitler, they want to burn the Jews.
The violence in Gaza has been subject of widespread international debate, with the United Nations, along with several Western states and world leaders, accusing the Israel Defense Forces of using excessive force in pushing back protesters, which led to the deaths of children who were sent to the frontlines by their parents and Hamas.
Israel, along with the United States, has said that its soldiers were responding to violence aimed at them, and accused Hamas of using children as human shields.
The violent protests in Gaza last week were timed to coincide with the opening of the U.S. embassy in Jerusalem, which Israel has praised but the Islamic world has condemned.
A Department of Education spokesman responded to the moment of silence held at Beacon School, saying, "We support civic engagement and advocacy amongst students, and encourage schools to provide inclusive environments where students are able to respectfully discuss current events."
One student at the New York high school said that some of her classmates had a conflicting response to honoring those that who were killed in Gaza.
"As a Jewish student, I could see a lot of my Jewish friends get very weird when the moment of silence started," said junior student Sophie Steinberg.
"They don't know how to feel. They don't know how to fit into all of this."
Steinberg suggested that the contemplative moment was not out of place, adding, "I think that's Beacon's nature — to not be divisive but to bring up the things that no one wants to talk about."
Another Jewish student, junior Matt Klass, told The Forward that some supported the moment of silence despite the position of their parents.
"A lot of us are really concerned with what Israel is doing," Klass noted. "I think there is some disparity in how the parents feel and how the students feel."
He said that a "large percentage" of the student body was Jewish, but of a more left-leaning identification, supportive of a two-state solution in the Israel-Palestinian conflict.