Pastor Andrew Stoecklein Laid to Rest; Widow Vows to Keep Speaking on Suicide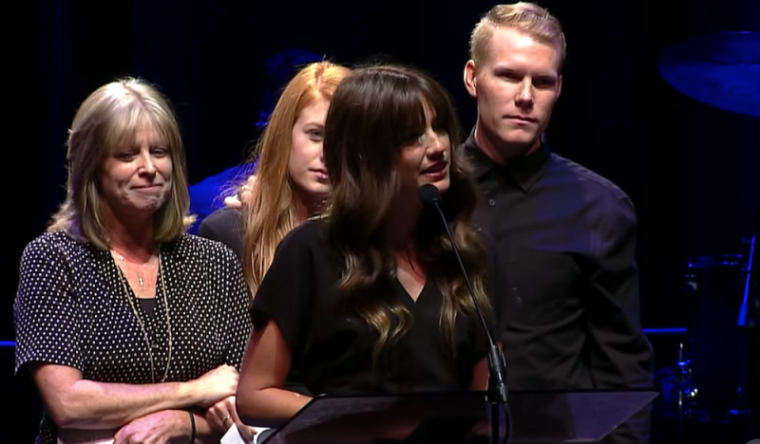 Family and friends of late Inland Hills Church Lead Pastor Andrew Stoecklein, who died after attempting suicide on Aug. 24, said their final farewells in a touching tribute Saturday as his widow, Kayla, vowed to continue a campaign to improve mental health awareness in the church.
"If there is one encouragement I can leave you with today it's don't give up. If you are struggling, tell someone, tell them everything, don't worry about them judging you for it. The enemy wants you to feel isolated, the enemy wants you to feel unloved and worthless. I am here to tell you that you are loved and valued more than you could ever imagine and God has a great plan for your life no matter who you are, no matter your past, God's got you, God's got this, and God can do impossible things," Kayla Stoecklein, 29, told those gathered for her late husband's funeral at California Baptist University in Riverside, California.
She went on to reiterate the advice on Sunday on the Stoecklein family's blog, God's Got This, just a day before the marking of World Suicide Prevention Day on Monday when the United Nations announced that nearly 800,000 people are dying by suicide every year.
"Tomorrow is national suicide prevention day. I still can't believe that I lost you, the man I madly love to suicide. How am I a survivor of suicide? Never would I ever have predicted this to be my life. It all happened so fast. You were just diagnosed in April with Depression and in August you are gone? We didn't have enough time!
"The truth is even if we could go back in time I don't know that I could have saved you. Was it just a matter of time? The truth is we know so little about the human mind and we are too ashamed to talk about suicide. I will not be silent anymore. I will continue to tell your story. I am begging God for a beautiful life even through this tragedy," added Stoecklein, who recently got a tattoo with her husband's life verse, 2 Kings 22:2 — a tattoo he never had a chance to get.
During the memorial service, she celebrated his life, saying he never backed down from God's calling.
"Andrew served the Lord fearlessly just like his father, David, did. He was the pastor you could relate to, he was real and he was transparent and he was the young good-looking pastor with tattoos that loved the Lakers."
She also explained how difficult it was for her to watch the burial of her late husband.
"Seeing the casket and knowing that your body was inside shattered my heart. How could this be possible? How could my Andrew who was full of life and potential be gone? How could the father of my children now be lifeless in a casket? I don't know how this happened and it happened so quickly," she explained.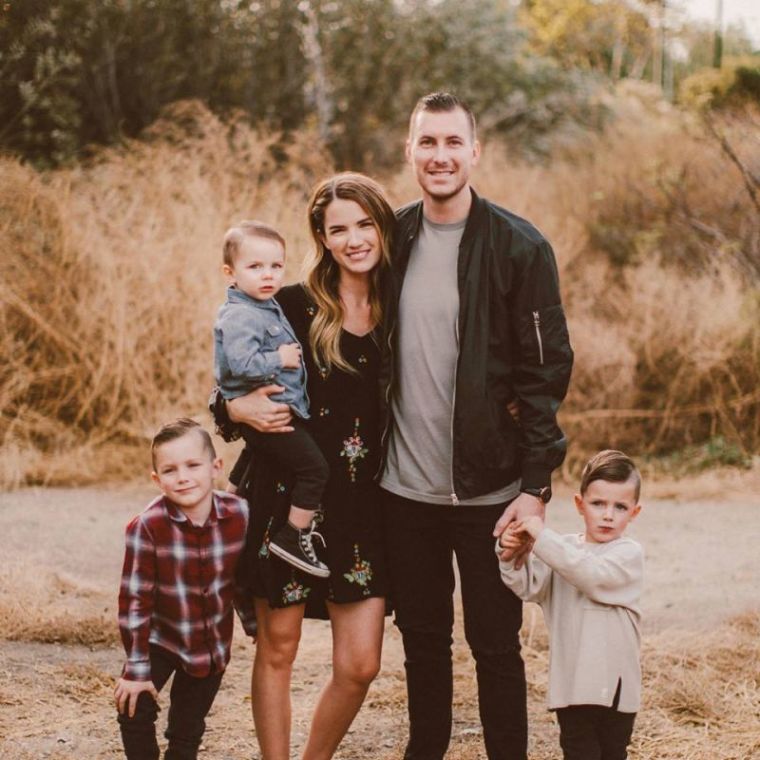 Stoecklein was proud of the way the church and Chino community chose to honor his life and said her husband would have loved the celebration.
"Andrew you would have loved every minute of the service. I felt such a strong connection to you and to God through the music. As I worshipped I cried and remembered listening to each song in the car with you on our road trip together just a few months ago. I pictured us driving through the beautiful trees in Park City, blasting music and holding hands in the car. I will cherish our final trip in my heart and mind forever," she wrote.
Among the list of speakers at Andrew's memorial service on Saturday were his mother, Carol, his sister, Paige, and brother, Austin, who all shared memories of the life they had with him.
"Andrew's legacy is not how he died, it is how he lived ... He made the most of his 30 years he got here and while that doesn't take away any of our pain, we all still feel it, I can't help but be filled with such hope and excitement to see him again soon in Heaven and you can have that too," Austin said.
Dressed in his brother's clothes, he talked about how the family planned to honor his late brother, father and ultimately God by continuing the work of God's Got This.
"In 2011, my dad was diagnosed with leukemia and I remember him pulling each of us into the ICU room ... and he grabbed my hands and he looked into my eyes and he said 'Austin it's bad I have leukemia. And with this, there's the kind that you want and the kind that you don't want. And I got the kind that you don't want.' And he made it really clear for us that we don't know what the future holds but 'God's Got This' and that's what he told us and that's the first time I heard that phrase from him," Austin said.
"And within three days of hearing that, Andrew made a blog, that's how his personality was and he used his creativity. What that phrase means to us, it doesn't mean God's going to fix all of our problems. It doesn't mean that he's going to make this life easy on us. It certainly hasn't been. And it certainly hasn't been for you as well. I know you feel the pain too. What it does mean is that we can't do this life on our own.
"That's the simplicity of it. I can't do this life on my own. I need God and I have a big God that I can trust in. And I like to imagine God holding me in His hands and me just standing on His fingers. And He's gonna carry me through this tragedy and I hope that you can get that picture in your head when you're going through a tough time," he said.
The Chino Police Department told The Christian Post that at about 11:08 a.m. on Friday, Aug. 24, they received a call from Inland Hills Church about an attempted suicide. When they arrived, they identified Pastor Stoecklein as the victim who would die hours later at a local hospital.
Kayla Stoecklein believes what happened "absolutely broke God's heart" and she doesn't  understand "why this was filtered through God's hands." But she is still choosing to trust God and said the "presence of God has been so thick these last few weeks."
Amid the pain and the countless questions, she said God is using the pastor's life to work miracles. Through the tragedy, she said, people have changed their minds about taking their own lives and other pastors have also opened up about their own struggles with depression and anxiety.
"I hate the pain but I'm thankful that God is showing all of us some purpose in the pain," she said.
Watch the complete recording of the memorial service below.