Pastor Running for US Senate Vows to Protect Christian Rights, Says Not Voting Is 'Sin Against God'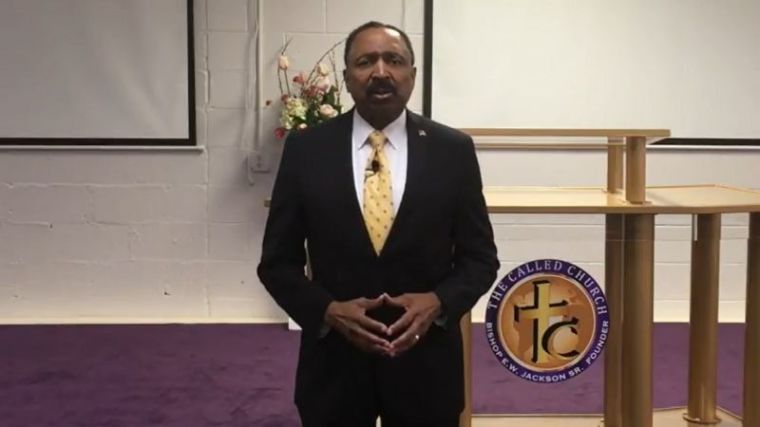 Bishop E.W. Jackson, founder of The Called Church in Virginia, has told Christians that failing to vote is a "sin against God" in his campaign video running as a Republican for a U.S. Senate seat.
Jackson, who is also the founder and current president of conservative non-profit group Staying True To America's National Destiny, explained in the video uploaded to YouTube on Tuesday that he is seeking to defend conservative ideals in his Senate run.
He argued that the Christian right to "worship as we see fit, and our right to live out our Christian lives as we see fit, are under great threat" by people who want to punish believers "for holding fast and Biblical values."
The minister urged people to register and to vote for him in the June 12 Virginia GOP primary, explaining that he is calling on "every Bible believing, Bible preaching Christian" and "every pastor who stands on the word of God" for help.
"Remember, you are voting for a Christian. I know and love the Lord. You're voting for a pastor and a churchman," he says.
He added that failing to honor the Constitution by voting is a "sin against God," declaring that Christians must "vote your Christian values."
"Vote your biblical values and we will make sure that the commonwealth of Virginia remains a place that we can be proud of and that God will be pleased with," he stated.
Jackson positioned that Christians in America are being "put in jail" for standing by the principles of their faith, while Christian businesses are being punished for choosing to stand against values they find "abhorrent."
While the preacher did not name which cases in particular he had in mind, the case of Kentucky county clerk Kim Davis spending six days in jail in 2015 for refusing to issue marriage licenses to same-sex couples because of her conservative Christian beliefs made national headlines.
Some Christian business owners, such as Masterpiece Cakeshop owner Jack Phillips, have also seen their cases challenging lawsuits by activists for refusing to make cakes for gay weddings reach the U.S. Supreme Court.
Jackson vowed to stand against the targeting of Christians "with every fiber of my being."
As for the argument that Christians are called by God to vote in political elections, not everyone agrees.
Luke Davis Townsend, a Ph.D. candidate and adjunct professor of theological studies at Saint Louis University, wrote in an op-ed published in The Christian Post in October 2016 that it is worrisome when "Christian ideals are too simply equated with American ideals" and when people "use theological claims as leverage to control secular behaviors."
"The 11th Commandment is not 'Thou shalt always vote.' Indeed, there are times when good Christians have good cause not to vote," he added in the article, which was published in the weeks before the 2016 presidential election that saw now-President Donald Trump defeat Democratic candidate Hillary Clinton.
"Christianity's relationship with secular society has always been complicated, and it has rarely ever been appropriate to unqualifiedly state, 'Christians must always do x.' Throughout the Christian Tradition, even within Scripture, there exists a clear dialectic between participating in and protesting against social systems," Townsend wrote.
Watch E.W. Jackson's campaign video below: