Pastor Greg Locke Compares Kathy Griffin to 'Perverted Whore' Jezebel for Severed Trump Head Photo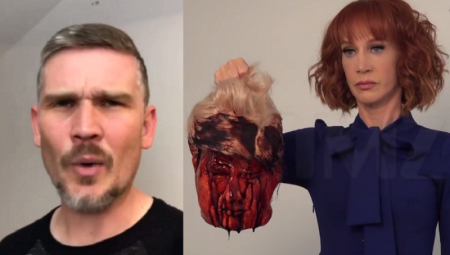 UPDATE: CNN announced around 1 p.m. ET Wednesday that it has terminated its agreement with Kathy Griffin to appear on its New Year's Eve program with her friend and CNN host, Anderson Cooper.
Internet star and lead pastor of Global Vision Bible Church in Mt. Juliet, Tennessee, Greg Locke, likened comedian Kathy Griffin to the "perverted whore" Queen Jezebel from the Bible Tuesday for posing in a controversial photoshoot with a bloody effigy of President Donald Trump's severed head.
Locke joined a growing chorus of critics including President Trump himself who have condemned Griffin for the shocking shoot over the last 24 hours.
"Think about the absolute outrage from liberals if I would do a picture or a video simply holding up the head of a poodle or a kitty cat. People would burn our church down and yet she can hold the severed head of the president and liberals say, 'Oh, it's just a comedy routine. She's just an actor, don't be so snowflaky, it's not anything to get all up in arms about,'" Locke said before going political in his response to the photo on Facebook.
"This is exactly why we're going to win again in 2020. People are sick of your stupidity and your idiotic violence. So in closing, Kathy, you actually remind me of a woman in the Bible, a queen, her name was Jezebel. She died a horrendously painful death but here's why you remind me of her — because she, too, was an authoritative, man-hating, perverted whore that was just in it for the laughs," he said.
The photoshoot was first made public by entertainment website TMZ early Tuesday. In a behind the scenes video of the shoot, Griffin joked with Tyler Shields, the celebrity photographer who did the photo session, that they may have to move to Mexico to avoid prison.
Indeed, the stunt soon attracted the attention of the Secret Service which noted in a tweet Tuesday: "On it! @SecretService has a robust protective intelligence division that monitors open source reporting and social media to evaluate threats."
Early Wednesday morning, President Trump dismissed Griffin's stunt as "sick."
"Kathy Griffin should be ashamed of herself. My children, especially my 11 year old son, Barron, are having a hard time with this. Sick!" Trump tweeted.
Former governor of Massachusetts and 2012 Republican presidential nominee Mitt Romney also condemned Griffin.
"Our politics have become too base, too low, and too vulgar, but Kathy Griffin's post descends into an even more repugnant and vile territory," he added on Twitter.
Realizing that firestorm she started, Griffin was forced to apologize in a statement in which she said she was "wrong" for what she did, but did not apologize to President Trump or his family.
"I'm a comic," she said. "I cross the line. I move the line, then I cross it. I went way too far. The image is too disturbing. I understand how it offends people. It wasn't funny. I get it."
The apology, however, was not enough to stop some of her sponsors like Squatty Potty from cutting ties with Griffin on Wednesday.
"We were shocked and disappointed to learn about the image Ms. Griffin shared today, it was deeply inappropriate and runs contrary to the core values our company stands for," CEO Bobby Edwards said in a statement to Fox News. "In response, Squatty Potty has suspended its ad campaign featuring Ms. Griffin. We have acted swiftly and decisively to demonstrate our commitment to a culture of decency, civility, and tolerance."
The company which is a small family business based in Utah, had announced a commercial partnership with Griffin earlier this month.
In his assessment of Griffin's sense of humor, Locke said that her career was "washed up" and suggested she should try to get a job with ISIS.
"Like anyone else with common morals and decency, when I saw this picture I thought to myself, 'Are you kidding me?' This is the same crowd that said you can't even wear an Obama Halloween mask or you're racist and now she's holding the fake bloodied head of a sitting president of the United States? I am beyond sick and tired of the nonsense in which Hollywood thinks that it can get a pass when it can do crazy stuff like this. Hey Kathy, I'm sorry that your comedic relief career is washed up. Looks to me like perhaps you ought to go work for ISIS," he said.