Pastor Joel Osteen Throws First Pitch at Wash. Nationals Game, Talks Faith and Baseball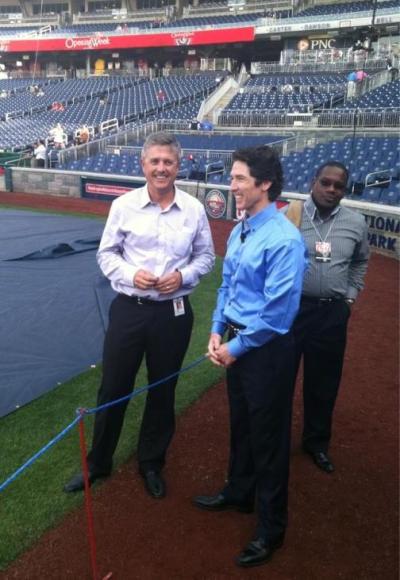 Pastor Joel Osteen of Lakewood Church in Houston, Texas, threw the ceremonial first pitch at Nationals Park to kick off a baseball game between the Houston Astros and Washington Nationals during the D.C. team's first annual "Faith Night" event.
Osteen, who grew up watching the Astros at the Astrodome in Houston, is promoting his upcoming "Night of Hope" sermon event in Washington on Saturday, April 28, which is part of a tour he has taken across the country.
"I grew up watching the Astros going to the Dome all the time, and so I've seen them a whole bunch of times and still see them quite a few times during the year," Osteen said, according to Ultimate Astros. "They're a young team with all these changes and the new ownership -- I've met some of those guys. It seems like it's a few years of rebuilding, but we still are rooting for our hometown."
He added that he grew up watching Cesar Cedeno in the Astrodome and shared one of his favorite memories, which was when Mike Scott's no-hitter in 1986 clinched the National League West.
The Houston pastor has previously discussed the connection between baseball, and sports as a whole, with faith.
"I don't think God is concerned who wins or loses," Osteen said. "I'm biased, but I think they're acknowledging God -- that there's a higher power, that there's somebody helping me. God helps us to do our best. We might not win, but God helped me to do my best. That's the way I like to look at it, not necessarily 'I'm going to pray harder so I'm going to beat this team.' Sometimes you pray hard and do your best and you don't win."
Speaking about a high school experience in which he did not make the baseball team and was turned down by a coach, the megachurch pastor shared on his blog:
"Whenever we feel that sting of rejection, instead of getting down on ourselves and losing our sense of value, our attitude should be, "I may be disappointed. This may hurt. But I'm not going to sink down into self-pity and start thinking that there is something wrong with me. I know the One who matters most, the One who controls the universe, handpicked me. I may not have been chosen by the coach, the boss, or a friend, but I was chosen by the Most High God; and He says that His plans for me are for good and not evil, to give me a future and a hope."