Pastor Miles McPherson Defends Seahawks QB's 'No Sex' Stance in Post: '3 Things You Got Wrong About Russell Wilson'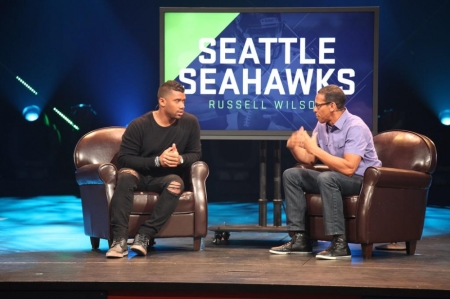 Miles McPherson, pastor of The Rock Church in California, is defending Russell Wilson, the Christian NFL player who has recently been mocked for revealing that God told him to abstain from sexual activity with his singer girlfriend Ciara Harris.
The pastor interviewed Wilson, 26, in front of his congregation at The Rock Church in San Diego on July 5, where the Seattle Seahawks quarterback revealed that God spoke to him about leading his 29-year-old singer girlfriend. After a number of people turned Wilson's testimony into a joke, McPherson decided to write a Rock Church post Tuesday called "3 Things You Got Wrong About Russell Wilson."
McPherson created three questions that some of Wilson's critics brought to his attention, the first being, "Did God really speak to [Russell Wilson]?"
"I can totally understand people questioning if God would speak to anyone since so many people worship things that can't talk, such as money, cars, success, and even good deeds. It would be absolutely ridiculous to expect those idols to speak to you, especially with a personal message," the pastor wrote. "However, hearing God speak isn't a foreign concept for people who worship a living and loving God. He not only speaks, but He created speech and wants to be involved in our everyday lives."
In the interview with McPherson, the football player revealed that God spoke to him not only about leading his girlfriend to abstain from sex, but also during Super Bowl XLIX when he threw an interception that cost his Seahawks a second straight championship ring.
"The play happens, and they pick the ball off. And I take three steps," Wilson told McPherson in The Rock Church interview. "And on the third step God says to me, 'I'm using you. ... I want to see how you respond. But most importantly I want them to see how you respond."
However, the notion seemed laughable to people like Chicago Bears tight end Martellus Bennett, who took to social media to poke fun at Wilson's testimony.
"YOOOO RUSSEL. It's me God. Can you hear me," Bennett wrote in a series of tweets. "Aye Jesus is this thing on. Come help your pops out. Lol."
McPherson made it clear that expecting to hear from God is no laughing matter when he wrote, "if you believe God hears your prayers, you should expect Him to speak to you."
The pastor went on to tackle another question in his post: "Is waiting until marriage stupid?"
Bomani Jones, the ESPN journalist who co-hosts the show "Highly Questionable," seemed to believe Wilson was not being honest about abstaining from sex with Ciara.
"I don't think either one of them looks especially stupid," Jones said on the show.
McPherson again defended Wilson's stance.
"There are some in the media that claim waiting until marriage to have sex is 'stupid'. I bet you that this would not be a 'stupid' idea if he were dating their daughter," McPherson wrote. "Have you ever gotten a disease from, or had a baby with someone you couldn't stand? Indeed, there is another side to that 'next level' experience."
The pastor also cited one WebMD study that claims those who wait until marriage to have sex are 50 percent less likely to get divorced than those who engage in premarital sex.
When fellow ESPN journalist Chris Broussard caught wind of Jones' comments and asked him to apologize to Bible believing Christians on Twitter, the "Highly Questionable" co-host refused. He went on to claim that Wilson's ideals were being used to control women.
"I believe the underlying premise is flawed and about controlling women as much as anything else," Jones tweeted.
McPherson based his third and final question around the notion: "doesn't leading just mean controlling," after Wilson said he believes God told him to lead Ciara.
"When God directs a man to be a leader in his relationship and home, He is directing him to take the initiative to serve his family," the pastor wrote. "God has not directed people to control people. That's called abuse and slavery. Being the leader means being the servant, not the boss."
The Rock Church pastor closed his lengthy post by reintroducing Wilson's testimony which was filmed at his church.
"He is here and desires to speak to you and open the eyes of your heart to His plan for your life. If you would like an introduction, watch this short story," McPherson wrote, linking readers to the video of the Seahawks' QB's testimony.