Pastor, Mother and Daughter With 'Angelic' Voice Killed in Crash After Band Competition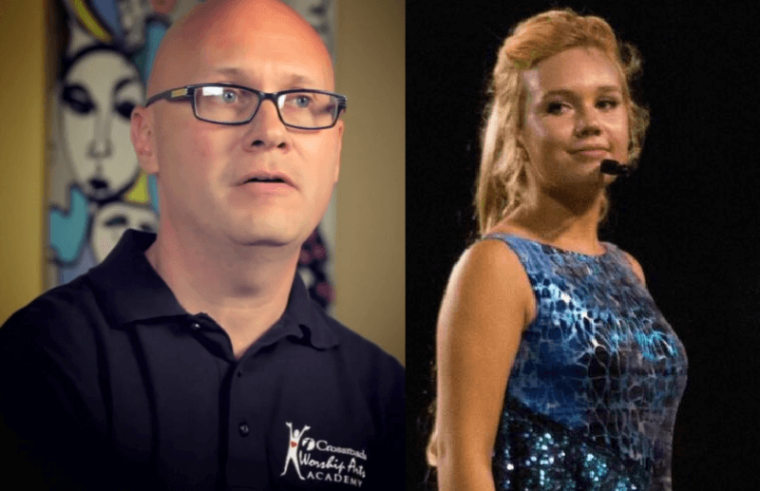 An Indiana pastor, his mother and one of his daughters, whom many praised as having an "angelic" voice, were all killed in a tragic accident Sunday morning just hours after his daughter and her high school teammates had performed at a national band competition.
David Rinehart, 46, worship and music pastor at Crossroads Christian Church in Newburgh, Indiana, his 17-year-old daughter, Sophie, and his 74-year-old mother, Ruth Ann Rinehart, were killed in the crash that happened about 4 a.m. Sunday at the 103-mile marker on Interstate 69 in Greene County, according to the Evansville Courier and Press.
The family was returning home from Music for All's Bands of America Grand National Championships, where Sophie, a singer, had been the centerpiece of the performance of the Castle High School marching band at Lucas Oil Stadium in Indianapolis on Saturday. A vlogger and alumnus of Castle High who recorded Sophie's performance with her band said it was the first time Castle High School had ever been selected as a finalist in the competition.
Indiana State Police told the Courier and Press that the pastor was driving southbound on the interstate in a 2015 Honda Civic when he struck a deer and was forced to pull onto the shoulder of the roadway.
Another driver, Mason Hartke, 19, of Jasper, was also southbound on I-69 when his 2006 Chevrolet Colorado pickup truck left the road and went in the shoulder and crashed into the pastor's vehicle killing him, his mother and daughter. Josie Rinehart, Sophie's 18-year-old sister who survived, was taken to Indiana University Health hospital in Bloomington with cuts and abrasions. Hartke also suffered a fractured arm.
Cross Roads Christian Church's lead Pastor Patrick Garcia, said the church was devastated in an announcement on Facebook Sunday. 
"Early this morning a horrible tragedy occurred within the Crossroads family. While traveling back from Indianapolis, our Worship Arts Academy Director, David Rinehart, along with his daughter, Sophie, and his mother, Ruth Ann, lost their lives. David's oldest daughter, Josie, is the only survivor and is making good progress," Garcia said. "There are no words to describe the pain and shock we all feel. This is one of those moments in life that is extremely difficult to understand," he said.
LISTEN TO SOPHIE SING AT HER CHURCH'S EASTER CELEBRATION BELOW
He told the church community, however, that despite the loss, as Christians, the departed family members are now in the presence of Jesus.
"Although we mourn over this loss, I Thessalonians 4:13 reminds us that we don't grieve like 'people who have no hope.' We can take comfort knowing that David, Sophie, and Ruth Ann are currently experiencing the joy of Jesus' presence for eternity. Please pray for Lucinda, Josie, Rylie, and Gary Rinehart during this time. We will communicate funeral arrangements once the plans have been made," he added.
Pastor Rinehart's ex-wife, Lucinda, is a second grade teacher at Vogel Elementary School in Evansville, Indiana. The school's Principal, Travis Howard, urged prayers for the family and encouraged people to forgive "someone who has wronged you" in a Facebook post after the accident.
"As many of you already know, Lucinda Rinehart 2nd grade teacher, experienced a family tragedy last night. Lucinda's middle daughter, Sophie, her ex-husband, David Rinehart, and his mother were killed in a car accident," Howard began.
"During times like this, 'people over production' takes on a whole new meaning. Take some time to love on the people closest to you. Take some time to say hello to a staff member, student, friend, family member or neighbor you typically don't talk to. Take some time to forgive someone who has wronged you. In a world that values production, let's take some time over the next several days and weeks to pause and value 'People and Relationships,'" he urged. "Please keep the Rinehart family in your prayers and thoughts."
SOPHIE'S PERFORMANCE WITH CASTLE HIGH IN THE BAND COMPETITION BEGINS AT ABOUT THE 7:30 MARK IN VIDEO BELOW