Pastor Says UK Needs New Free Speech Law Protecting Bible Reading in Public After His Arrest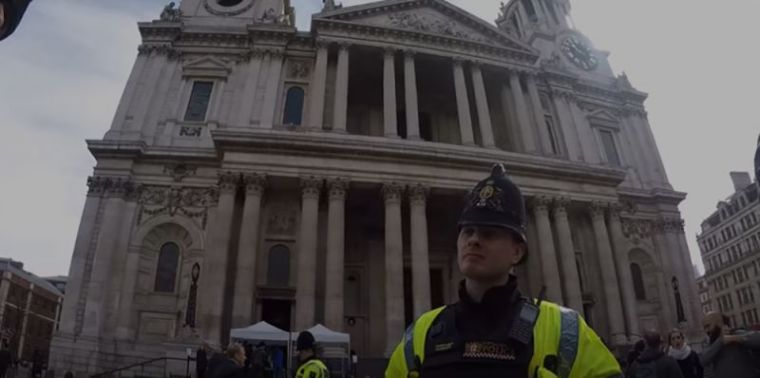 A Christian preacher from East London who was arrested last week and banned from preaching outside St. Paul's Cathedral, says the U.K.'s Parliament needs to pass a new law protecting the right to proclaim the Bible in public.
Allen Coote, a 55-year-old bus driver who was reported to authorities by church staff, is backing a new campaign stared by the U.K.-based religious freedom group Barnabas Fund to urge the country's Parliament to enact a new law to protect the right to publicly preach from the Bible, according to Premier.
Martin Parsons, the charity's head of research, has said, "One of the first aspects of freedom of religion to be established in England was the freedom to read the Bible in public. A Royal decree specifically forbade clergy from stopping anyone reading the Bible in public. Now St. Paul's Cathedral is trying to stop someone reading the Sermon on the Mount in public."
"I can't see why there was a problem," Coote was quoted as saying. "Nobody [members of the public] actually complained. I'm not sure why they wanted to take action on me but I felt it was right for me to read the Bible and I've been doing it since."
St. Paul's officials had tried to stop Coote from reading the Bible aloud to passersby on church property for 10 out of 11 times in the past few months. Once he was temporarily arrested and later allowed to preach for only up to 30 minutes in a week outside the cathedral.
"The Bible says to go into all the world and preach the Gospel to every creature," Coote continued. "Now, there are many people on the concourse of St Paul's that come ... from all nations of the world and I was just basically [saying] what they should hear. Some of them were really pleased to stop and just listen to me reading from the Bible aloud outside St. Paul's Cathedral in London, after church staff complained. The cathedral later explained it is seeking to provide a 'safe space.'"
The cathedral earlier issued a statement in response.
"In order to provide a prayerful and safe space for all, St. Paul's has a policy of limiting any form of public oration, protest, demonstration, preaching or other source of disturbance to people," it explained.
"The Chapter's policy is to allow a short interval and then ask the person to stop, and to involve the police if they refuse to do so or to move off the Cathedral's land," it said. "The police are supportive of this policy and on one occasion briefly arrested a man who regularly returned to read loudly passages from the Bible because he was refusing to respond to polite requests from Cathedral staff to move on.
"After this incident, the man concerned had a meeting with one of the Cathedral clergy, following which Chapter agreed to suspend its policy for this particular person so that he could read the Bible, as he requested, for half an hour outside the Cathedral once a week."
However, Coote called the concession given to him "unreasonable."
One of the police officers once supported Coote. "I am of the opinion that this chap isn't causing any breach of the peace. This chap isn't impeding anyone. I am happy for him to stay here," the officer said. "This chap is reading from the Bible. I feel it would be remiss of me to move him on in a place of worship."
Earlier, Coote said he hoped the incident could serve as "a wake-up call for them to start teaching the Bible instead of becoming a museum for visitors to pay money."