Pastor Thabiti Anyabwile Reveals 3 Ways Pastors Can Combat Worldliness in the Church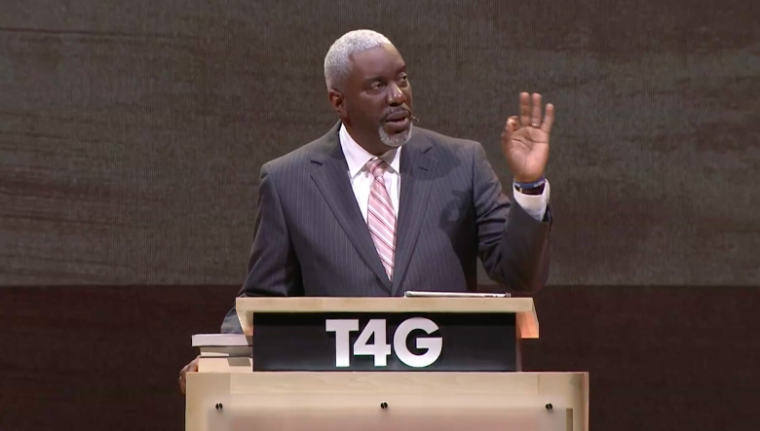 Pastor and author Thabiti Anyabwile offered advice for pastors for combating worldliness in the Church during a message delivered at the Together for the Gospel conference in Louisville, Kentucky.
In his message titled "Distinctive Living In an Age of False Teaching," Anyabwile, pastor of Anacostia River Church in Washington, D.C., told attendees that the Bible is clear that God's people must be distinct from the world.
"We all agree that worldliness is a problem," he said. "But how do you effectively pastor a church that's already been affected by worldliness?"
First, Anyabwile said that when it comes to pastoring those already affected by worldliness, church leaders must "look out for the unsaved scoffers." He cited Jude 1:17–19, which reads in part: "'In the last time there will be mockers, following after their own ungodly lusts.' These are the ones who cause divisions, worldly-minded, devoid of the Spirit."
"I wonder if we realize ... there are other indications of worldliness in addition to immoral living, like scoffing," he said, explaining that scoffers are people who "appear religious, but actually reject religion."
While scoffers are evident across social media, they're also prevalent in the church, Anyabwile contended.
"How do these people so obviously repugnant in Jude's sight enter into a church with nobody noticing?" he asked, adding that while some church members may not be "scoffers in character," they're "at least comfortable with it."
"It's easy to gossip and at the same time be scoffing," he said. "It's easy to retweet and at the same time be scoffing ... what about us quieter scoffers in the pews, whose hearts hear the truth of God's Word unfolded and we hear the question in our own souls, 'Has God really said?'"
At the heart of scoffing is unbelief and rebellion toward God, the pastor argued.
"These are not Christians having a hard time in sanctification, these are unsaved people pretending to be Christians," Anyabwile warned. "At any point and time, we may have people in our assembly in the worst spiritual dangers possible. They think they are Christians when they are not, assuring themselves when they have no legitimate biblical grounds."
Such people will eventually express their worldliness by ungodliness and scoffing, he said, explaining that scoffers "split the body of Christ and create disunity while remaining in the body."
"This is not the necessary division that the Gospel and the truth create," he clarified. "This is the fratricidal division caused by unregenerate persons inside the church blurring the difference between Christ and the world."
Second, pastors must also combat worldliness by looking inside the local church for edifying love, the North Carolina native said.
"The true Christian Church must keep itself within the love of God," he said. "How do we do that? We keep ourselves in God's love by our obedience to His Word ... obedience is God's love language."
Praying for one another and building each other up gives a "decisive blow" to worldliness in the Church, Anyabwile said.
"Make sure you cultivate mercy in your own heart and in your eldership," he advised pastors. "Let us cultivate faith and hope."
Addressing those in "doubt or discouragement" due to their sin, Anyabwile said, "[God's] desire is that you who are doubting would be helped and made sure and made stable and you who are willing might have your minds changed and you who are living wrong might be restored to righteousness."
Finally, Anyabwile encouraged pastors to "look up for confident assurance" when combating worldliness in their congregations.
"When you look up away from yourself, you see a God who is able," he concluded. "You see a God with ability. You see a God who has capacity and competence and power. You see a God who Himself is not weak and He will use that ability to ... keep you from stumbling ... and to present you blameless, faultless, before the presence of His glory with great joy."
Speakers at this year's Together for the Gospel conference also included pastors John Piper, John MacArthur, David Platt, Albert Mohler, Kevin DeYoung, Ligon Duncan, and Mark Dever.
This year's theme was "Distinct from the World."
"Amidst social change, our focus must fall first upon our churches (1 Peter 4:17)," reads the event description. "The more our culture opposes God and his people, the more the Gospel distinctness of our churches should shine. Opposition sets a backdrop for the display of the glory of God in our lives."