Grieving pastor, wife call on witnesses to help catch daughter's killer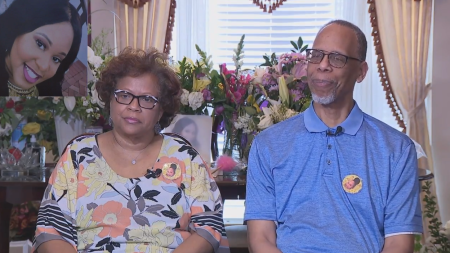 A grieving Alabama pastor and his wife called on residents who witnessed the fatal shooting of their daughter in a public Birmingham park on Easter Sunday to come forward and help the police catch her killer.
Areyelle Yarbrough, the 32-year-old daughter of the Rev. Michael Yarbrough of Shady Grove Missionary Baptist Church and his wife, Sonya, was shot in the head at Patton Park at about 7 p.m. on Easter. Five other victims, ages 21, 17, 16, 15, and 4, were also wounded. The 16-year-old boy was shot in the right hip while another female was shot in the chest.
"I would like for them to give the information if they have it. But I know if they do have information, most of them are fearful to tell because of retaliation," said Sonya Yarbrough in an interview with ABC 3340 News. "In their mind, their [conscience] will whoop them more so than anything that I could do for them, so I pray for them and ask the Lord to guide them."
One eyewitness told authorities that some 1,000 people were at the park when the shooting happened, with many grilling and eating with their families. Areyelle Yarbrough and another woman were sitting on top of a blue Dodge Charger when someone opened fire, striking the women and the vehicle. Birmingham Police Sgt. Rod Mauldin told AL.com that the shooting erupted from a fight between a group of males and the victims were innocent bystanders.
No one has come forward with information leading to the killer's arrest, despite appeals from public officials and the offering of a reward by radio personality and comedian Rickey Smiley.
"I just pray that they find that person or the people that are doing these killings because it's senseless. The guns need to be put away because it doesn't change anything," the grieving mother continued in her interview with ABC 3340. "I miss my child, I miss my friend, I miss my daughter, but none of that will bring her back."
Sonya Yarbrough and her husband have set up a quiet memorial for their daughter in their home and both are struggling to process that she's no longer with them.
"I just feel like I'm in a daze or a trance," Sonya Yarbrough said. "I know she's passed, but it doesn't seem real; I'm expecting a call. I picked up the phone to call her one day last week, so it's not real to me yet."
Michael Yarbrough said his daughter's death is still "surreal" to him.
"I'm still disembodied, surreal, numb, in disbelief. Reality is slowly seeping in 'cause we've had no contact with her," he told the news outlet.
The couple recalled how just before their daughter went to the park, she shared an Easter meal with them.
While they're hoping to get some earthly justice for their daughter's death, they still believe that ultimate justice will come from God.
"Whether they catch him or not, it will not bring my daughter back. So there's no justice there still for me," the pastor added.
"Just hope that this death can change some lives and minds and hearts to know that you can't bring somebody back, you can't go to Walmart and buy their life back," his wife added.