Church Sign: 'Remember Satan Was the First to Demand Equal Rights' Misunderstood by Community, Says Pastor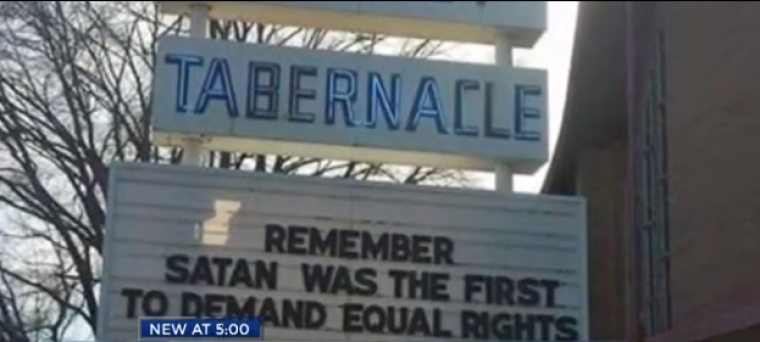 A controversial sign posted outside of a Knoxville church has created an uproar in the local community, especially among those who believe the pastor's message was a blatant attack against lesbians and gays.
Knoxville Baptist Tabernacle in Tennessee recently posted a message on its sign that read: "Remember, Satan was the first to demand equal rights." The sign was eventually changed, but not before it angered some of the locals.
"Who was your target audience? Who were you speaking to when you put it up there?" Knoxville resident Rick Staples told WBIR.com, voicing his disagreement with the pastor's message. "And when you say you're asking for your equal rights, who's asking for their equal rights and who are you comparing to Satan? That was very strong language."
Resident Andy Henry added to Staples' comments, by asserting that "It's clearly a sign that was meant to offend a particular community — the LGBT community. Because of (the church's) lack of foresight, they ended up offending everybody who had ever fought for equality or civil rights in general."
The church's lead pastor Tony Greene responded to criticism over the sign and revealed that it was intended to spark a conversation in the surrounding community about the rights of those who are marginalized in society.
"Our sign referencing Satan demanding equal rights to ascend into the heavens and be God was simply 'I' and all about that individual," Greene told Wate.com. "It was not a statement against any one group in particular. What about the rights of unborn babies, the rights of children, the rights of everyone?"
The sign was later changed to read: "Glad you reading, did not intend to offend, we all need Christ."
Speaking about the diversity of his congregation and his objective of sparking a conversation, Green asserted: "We are a diverse congregation of people. We've reached people that know us and know our stand in this community, know what we've done. My heart breaks in the dividedness of our country."
Greene further explained that the church enjoys interacting with the community and uses messages on the sign to further their outreach.
The picture of the church's message board went viral this week after someone posted it on Reddit and it garnered over 1,000 comments less than 24 hours.
The Christian Post contacted pastor Greene for comment on the sign, but he did not respond by press time.