Paul Ryan Hails Judge's Decision to Uphold Prayer in Congress, Dismissing Atheist Challenge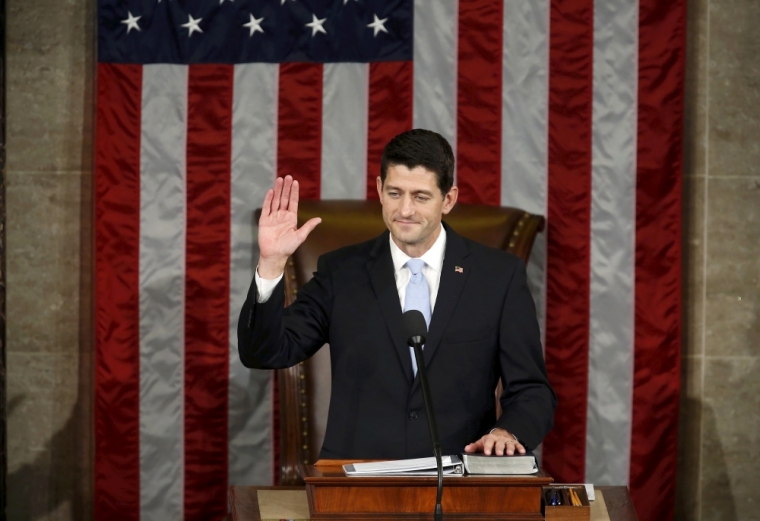 House Speaker Paul Ryan, R-Wis., hailed the U.S. District Court for the District of Columbia for dismissing a lawsuit by an atheist activist and upholding Congress' tradition of holding a prayer at the start of legislative days.
"Since the first session of the Continental Congress, our nation's legislature has opened with a prayer to God. Today, that tradition was upheld and the freedom to exercise religion was vindicated," Ryan said in a statement.
"I commend the District Court for its decision, and I am grateful that the People's House can continue to begin its work each day as we have for centuries: taking a moment to pray to God."
Judge Rosemary Collyer of the U.S. District Court sided on Wednesday in favor of House Chaplain Father Patrick Conroy, after Daniel Barker, co-president of the Freedom From Religion Foundation, had challenged the House's refusal to allow a nonreligious invocation on the floor.
Barker, who once served as a Christian preacher before leaving the religion, attempted to argue that he fulfilled the requirements for delivering an invocation, but was denied the request because he no longer practices the faith in which he was ordained in, and was deemed to not be a religious clergyman.
Collyer wrote in Barker v. Conroy that Barker has not been discriminated against, despite his claims.
"Despite Mr. Barker's repeated attempts to characterize his claims as not challenging the constitutionality of legislative prayer, the reality is that his request to open the House with a secular invocation, which resulted in the denial of his request to serve as a guest chaplain, was a challenge to the ability of Congress to open with a prayer," Collyer stated.
"To decide that Mr. Barker was discriminated against and should be permitted to address the House would be to disregard the Supreme Court precedent that permits legislative prayer."
The judge affirmed that "the refusal of the House Chaplain to invite an avowed atheist to deliver the morning 'prayer,' in the guise of a non-religious public exhortation as a 'guest chaplain,' did not violate the Establishment Clause."
FFRF slammed the ruling and argued that the court has legitimized the exclusion of nonbelievers from the nation's legislative chambers.
"We're deeply dismayed that atheists and other nonbelievers are being openly treated as second-class citizens," FFRF Co-President Annie Laurie Gaylor said on Facebook. "Our government is not a theocracy, and it needs to stop acting like one."
But Ronnie Floyd, president of the National Day of Prayer and former president of the Southern Baptist Convention, told Baptist Press that he is thankful for the decision.
"The freedom of religion should exist in every corner of American life, including when Congress meets in session," Floyd said.