Perry Noble's Second Chance Church Hits Megachurch Attendance Numbers for Easter Services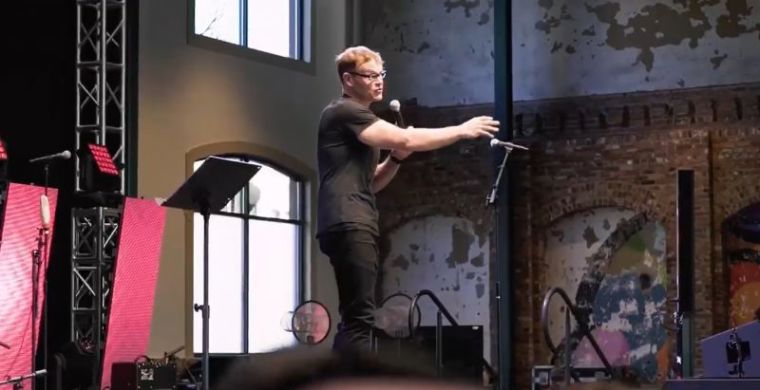 Pastor Perry Noble of Second Chance Church said 2,100 people attended his Easter services in Anderson, South Carolina, which is "much more" than the growing ministry could have "hoped for or imagined."
Although Second Chance Church has existed as an online ministry with small gatherings at Noble's home in South Carolina for months, it met for the first time at a physical location this past weekend.
"What an incredible weekend for Second Chance Church...2,100 people in attendance...50 people gave their lives to Christ.....and this is just the beginning," Noble wrote in a Facebook update on Monday.
"A huge 'thank you' to everyone for your prayers and encouragement...the best really is yet to come!" he vowed.
According to the Hartford Institute for Religion Research and other sources, the definition of a megachurch is "a sustained average weekly attendance of 2000 persons or more in its worship services." So while Noble's new church is yet to able to hold continued large services at a physical location, it appears to be headed toward big growth.
On Tuesday, the Second Chance Church team admitted that the response was greater than it could have hoped for.
"We are still so in awe of all the Lord did this past weekend — it really was so much more than we could have asked for or imagined. This week we are going back to meeting as a digital campus once again — service time is 11:00 and you can join us on Pastor P's Facebook page or on our church website," the church said.
"Keep us in your prayers as we have a meeting this week to solidify a permanent meeting space where we can hopefully have things up and going sometime this summer!"
Noble previously served as lead pastor of one of the largest churches in the country — NewSpring Church in South Carolina — before he was removed in 2016 following struggles with alcohol addiction.
The pastor has been frank on social media about his mistakes and deep personal struggles, including battles with depression and suicidal thoughts, which has played a big part in forming the foundations of his new "second chance" ministry.
NewSpring Teaching Pastor Clayton King stated earlier that Noble does not live up to the biblical qualifications of a pastor, though Noble has said that he "never felt qualified" at any time while he was at NewSpring.
Reflecting further on his journey, Noble posted on Monday:
"The enemy pursued me relentlessly....his accusations pierced my soul....and I actually began to believe his lies.....that it was over, God was done with me and I should quit.
"But he was wrong about me (and he's wrong about you too!) Our wounds do not make us worthless...God still has a plan for you...and it is still greater than you could ever imagine! So don't give up...and don't give in - the enemy is a liar...we don't have time to maintain these regrets!"
Noble has also regularly been posting about the people who have received Jesus Christ during his online sermons, which started back in December.
Following one Sunday in February, he said that 47 people made the decision to follow Christ, which at the time was the largest in the church's short history.
"There's going to be times in our lives when we mess up the most, when we're going to go 'oh my gosh, how in the world is God going to use this?' [But] He really can take a complete mess and turn it into a miracle," he wrote then.