Pew Poll: Ted Cruz Backed by White Evangelicals, Weekly Church-Goers; Trump by White Mainline Protestants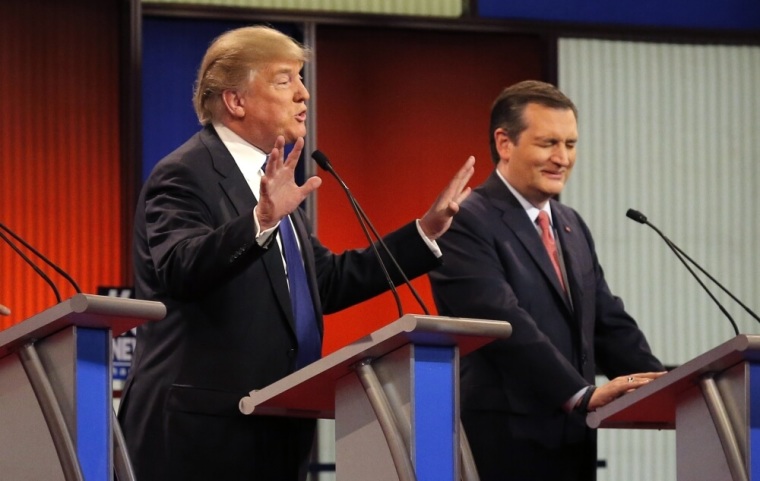 The latest Pew Research poll reveals that while Ted Cruz is supported by white evangelical Republicans and those who regularly attend church service, the GOP frontrunner Donald Trump is preferred by white mainline Protestants and those who attend religious services less frequently.
The poll released Friday shows that 41 percent of white evangelical Protestant Republican voters back Cruz, compared with 38-percent support for Trump. And 44 percent of Republican voters who regularly attend religious services are likely to back Cruz, while Trump has the backing of only 29 percent in this category.
The poll also suggests that 57 percent of the GOP electorate that is religiously unaffiliated supports the billionaire businessman, who is also backed by 44 percent of white mainline Protestants. Only 18 percent of the latter support Cruz.
Among self-described conservative GOP voters, 43 percent support Trump, while 37 percent back Cruz. And 38 percent of moderate and liberal Republican voters support Trump, and 23 percent support Cruz.
Darren Patrick Guerra, an associate professor of political science at Biola University, earlier countered the proposition that evangelicals are supporting Trump, using exit polls after primaries in southern states.
Trump may have carried a plurality of evangelical voters in some states, but polls also show that, on average, 64 percent of evangelicals in all southern states voted for someone other than Trump, Guerra pointed out in an article in First Things, adding that a majority, 51 percent, voted collectively for either Sen. Marco Rubio from Florida or Cruz, and not Trump.
Overall, the Pew poll says, Trump is supported by 41 percent of Republican and Republican-leaning registered voters, Cruz by 32 percent and John Kasich by 20 percent.
The poll also points out that Trump performs better among Republican men than women, as 45 percent of Republican men back Trump, the percentage reduces to 38 among women Republican voters. On the contrary, while 30 percent of Republican men support Cruz, his support increases to 34 among women.
Trump recently mocked Cruz's wife, comparing her to his own wife, and has attacked several other women.
"Suburban women have been a critical swing group in the past, and there's a lot about Donald Trump that is offensive to them," Geoff Garin, a Democratic pollster who served as a chief strategist to Hillary Clinton in 2008, told The New York Times recently.
The Pew poll also says that Trump garners more support from those with lower levels of education and income, as nearly half of Republican voters who have not attended college and 44 percent of those with some college education but no degree support Trump, compared with 32 percent of those with bachelors or 30 percent with postgraduate degrees.
Support for Cruz varies little by education, the poll adds.