Peyton Manning on Post-Super Bowl Plans: Drink Lots of Bud, Praise God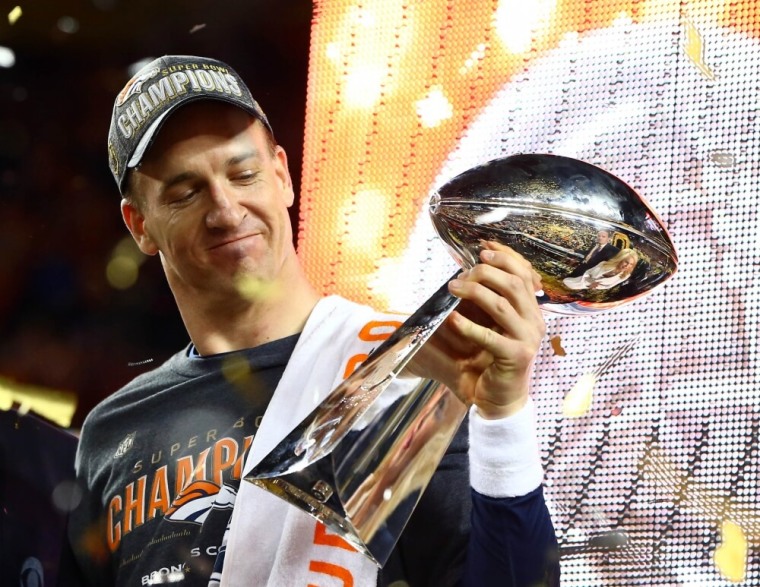 After winning his second Super Bowl title on Sunday evening, star quarterback Peyton Manning said he planned to drink "a lot of Budweiser," adding that he was grateful and planned to thank "the man upstairs" following the big game against the Carolina Panthers.
"I want to go kiss my wife and my kids. I want to go hug my family," Manning told CBS' Tracy Wolfson while explaining his plans in his first post-game interview.
"I'm going to drink a lot of Budweiser tonight, Tracy, I promise you that," the Denver Broncos quarterback continued, adding, "I'm going to take care of those things first and definitely going to say a little prayer and thank the man upstairs for this great opportunity."
Viewers were quick to criticize Manning's comments, accusing the professional football player of shamelessly advertising the beer company in exchange for profit.
Alex Rosenberg, a producer with CNBC, jokingly tweeted that "[Manning] appears to have sponsorship deals with Budweiser, his family, and God."
Lisa Weser, spokeswoman for the Anheuser-Busch brewery that owns Budweiser, confirmed in a statement that Manning did not receive compensation for his comment.
The 39-year-old quarterback was not paid "to mention Budweiser tonight," Weser announced on Twitter, adding that the brewery was "surprised and delighted that he did."
Manning's multiple Budweiser references amounted to $3.2 million in free advertising for the corporation.
Although he was not officially asked to mention the alcohol purveyor, Manning did hold stake in the company in 2013, with Beer Business Daily reporting that the professional athlete had a financial connection to two Budweiser distributorships, although it could not be confirmed if the business relationships were still in effect.
Manning's link to advertisers was also seen through his post-game hug with John Schnatter, owner of Papa John's Pizza.
After the Broncos victory, the quarterback immediately went over and embraced Schnatter. Manning owns multiple Papa John's franchises in Colorado and appears in several of the pizza chain's commercials.
While Manning's love for beer was on full display at Sunday night's game, the star quarterback has also discussed his loving relationship with God in the past, describing his conversion story in his 2000 autobiography Manning.
"My faith has been number one since I was 13 years old and heard from the pulpit on a Sunday morning in New Orleans a simple question: 'If you died today, are you one hundred percent sure you'd go to heaven,'" Manning wrote in the book.
"The minister invited those who would like that assurance through Jesus Christ to raise their hands, and I did. Then he invited us to come forward, to take a stand, and my heart really started pounding. And from where we sat, it looked like a mile to the front. And I committed my life to Christ, and that faith has been most important to me ever since," the quarterback added.
The Denver Broncos beat the Carolina Panthers with a score of 24 to 10 in Super Bowl 50, held Sunday in Santa Clara, California.