Pitting Social Justice Against Culture War Issues Misses the Point, Says 'Passion' and 'End It' Founder Louie Giglio
'People Just Want to Make Their Life Count,' Says Top Evangelist of the Millennials
A recent BuzzFeed article questioning whether fighting human trafficking was "a new mission for the religious right," suggests that young evangelical Christians were more inclined to put their efforts into the war on modern-day slavery than enter the marriage and abortion fray.
But Louie Giglio, Atlanta pastor and founder of the annual Passion Conference, suggested in an interview with The Christian Post that it was pointless to pit social justice against the culture war when young people are simply concerned about using their lives to elevate the lives of others.
Giglio debuted the anti-slavery "End It" movement at the 2012 Passion Conference that attracted 40,000 college students and reportedly raised an estimated $3 million for the cause. While noting the impact of Giglio's movement — which had caught the attention of the White House — BuzzFeed, paraphrasing National Association of Evangelical President Leith Anderson, suggests that the "End It" campaign was instrumental in expanding modern-day slavery from "a niche concern among liberally-minded 'social justice Christians' to an increasingly prevalent platform plank for Evangelicals across the political spectrum."
The "End It" movement, for which Giglio says he is "just a mouthpiece," represents a coalition of 12 anti-trafficking organizations, all of whom had been active around the world before the Atlanta pastor started the annual "Shine a Light on Slavery Day" campaign, which on Feb. 27 saw Christians, politicians, athletes, and activists of every ilk sporting a red X on their hand to draw attention to the cause.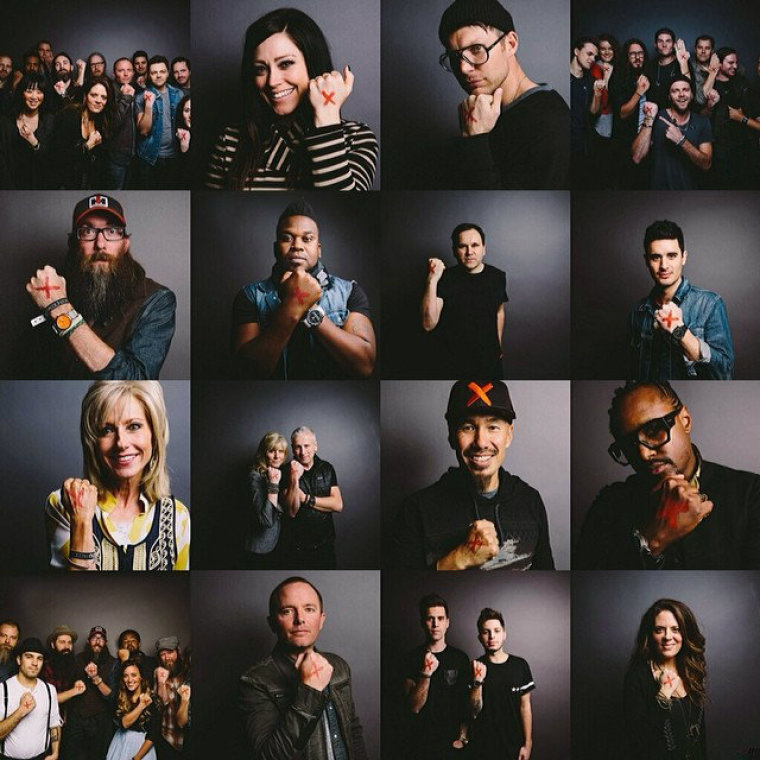 Christians have long been active in the social justice arena, with some, such as Sharon Mall of the Evangelical Free Church of America's Reach Global Asia Justice Initiatives, suggesting that one "cannot demonstrate Christ without doing social justice."
Giglio responded to suggestions that there was a new force propelling Christians to get involved on a grand scale on social justice issues and that human trafficking was the cause celebre (while a 2013 survey reveals that it is actually poverty, especially in local contexts).
"I think the presupposition is that there's some big organizing network behind young evangelicals rallying them to this cause or that cause, I don't really think that exists," he told CP. "In the case of 'End It' movement today, it's really just grassroots and I think it spans over critical spectrums, it spans even over faith spectrums."
The Atlanta pastor added that what he "loves" about raising his voice "for freedom," was how the fight has widespread support.
"There are people I know who don't really have a particular faith point of view or have a different faith point of view than mine, which is I'm a follower of Jesus. They're just as passionate about ending modern-day slavery as I am. I think it's a human issue," said Giglio.
"This young generation is motivated about doing good in this world. Touching the life of the least of these. That's at the core of our Christian message, that's the core of the message of Jesus, is to take the Gospel, the Good News of God, to the last and least of these. Not just to those who are on the up and up, but to those who really don't have a voice of their own. That's what young people are rallying around, they're passionate about making a difference with their lives."
He added, "I think to try to position or characterize this as an evangelical issue or to position it against other cultural issues really misses the broader point which is that people just want to make their life count."
The "End It" movement represents anti-slavery nonprofits like The A21 Campaign, International Justice Mission, Free the Slaves, Love146 and others.
"These are the organizations that are on the ground, day by day actually freeing slaves, raiding brothels, prosecuting the offenders, restoring people's lives," explained Giglio. "We're just lending our voice as a generation to say, until the whole world knows, we're really not going to be able to see major progress in ending what is a tragedy, given that the most slaves that have existed in human history exists in the world today. Not in the former generation, not in past history, but there are more slaves today in the world than at any other time in the history. That's got to end, and the first step to that ending is awareness."
According to the "End It" moment, there are 27 million men, women and children around the world trapped in some form of slavery, either sexual bondage or forced labor. The campaign solicits donations for the organizations it represents and states on its website that "100 percent of all donations, minus credit card transaction fees go directly towards our Coalition Partners." This year so far, $130,744 has been raised.