Planned Parenthood Distributes 'Genderbread Person' Sex-Ed Leaflet in Schools; Teaches Students They Can Be 'Genderqueer,' 'Genderless' 'Two-Spirit'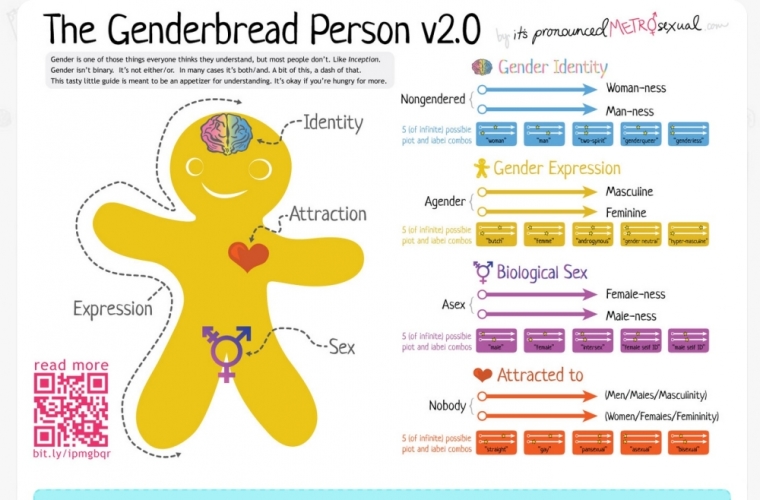 Acalanes High School in Lafayette, California, allowed Planned Parenthood employees to teach freshmen students sex education last month using a gingerbread man-like diagram of transgender expression and pamphlets asking students if they are ready for sex, according to the nonprofit law firm Pacific Justice League.
PJL said it has received complaints from parents who say their children felt "pressured to have sex" after Planned Parenthood distributed handouts about gender and preparing for sexual intercourse.
One of the three handouts in question, "The Genderbread Person" worksheet taken from a book titled The Social Justice Advocate's Handbook: A Guide to Gender by comedian and social justice advocate Sam Killerman, teaches that "gender isn't binary."
The handout uses a depiction of the holiday cookie and storybook character to show students they can identify in their minds as a "woman, man, two-spirit, genderqueer or genderless;" express themselves sexually as "butch, femme, androgynous, gender neutral, or hyper-masculine" and present their biological sex as "male, female, intersex, female self ID, or male self ID."
Students also received a leaflet entitled "Sex Check! Are You Ready for Sex" with a check list of items indicting one is prepared for a sexual encounter. Items indicating sexual preparedness include, according to PJL, if teens don't feel bad about sex and if they know how to tell their sexual partner what feels good.
Another sheet about sexual consent encourages students to initiate sex by asking questions such as "Is it okay if I take my pants off," PJL reported in a press release about the incident.
PJL President Brad Dacus argued: "I would challenge anyone to read some of these materials and try to defend their use with 13 and 14 year olds."
The Acalanes Union High School District defended its actions in a statement acknowledging that Acalanes and another high school are using "highly trained educators from Planned Parenthood" to assist in the teaching of sexual health in schools. The district contends that the delivery of sexual health and HIV/AIDS prevention education is "under the direct supervision of the credentialed classroom teacher."
The district's statement further explains "The instruction is age-appropriate using objective and medically accurate information. The value of abstinence is emphasized as it is identified as the only certain way to prevent pregnancy and sexually transmitted infection. We believe the instruction builds student skills for making and implementing responsible decisions about sexuality."
Dacus questions whether the Planned Parenthood educators are assisting in instruction or leading it. He responded, "We firmly believe some of this program is illegal, and the district has a lot more explaining to do."
PJL has sent a letter expressing "serious concerns" about the legality of program. Upset parents have started a petition to education the community about Planned Parethood's collaboration with the high schools. So far they have garnered over 100 signatures.