Planned Parenthood Unveils Pro-Abortion 'My Body, My Choice' License Plates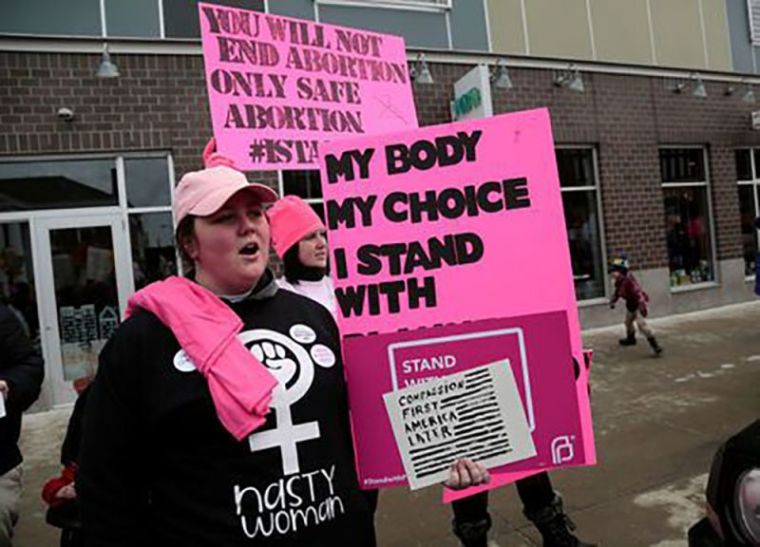 Planned Parenthood has unveiled license plates featuring the slogan "My Body, My Choice" to counter the "Choose Life" plates that are now available in Nebraska.
Planned Parenthood of the Heartland announced Thursday that its license plates will be available through the Nebraska Department of Motor Vehicles and were developed to "counter the fringe anti-choice organizations."
Last April, the Nebraska legislature voted 35–5 in favor of a bill that would authorize the creation of specialized Choose Life license plates, which are available for Nebraska drivers starting Monday and cost $5.
Opponents, however, argued that the Choose Life license plates featuring a mother holding her child by the hand as they look at the sunrise sends a message that "indirectly conveys a 'pro-life' position in the ongoing political debate with 'pro-choice' advocates over abortion rights," the Lincoln Journal Star reports. 
The Choose Life license plates are already available in 32 states, according to the Guttmacher Institute.
Planned Parenthood was able to get the state to create the "My Body, My Choice" license plates after it submitted 263 paid applications on Dec. 26 showing that Nebraska drivers want to display them on their vehicles. The state only requires that 250 applications be submitted before it starts printing an organization's plate.
Unlike the Choose Life license plates, Planned Parenthood's plates will cost $70.
"'My Body, My Choice' license plates are an opportunity for Nebraskans to voice their own opinion on issues of women's health — opinions that don't necessarily reflect the opinion of the governor, lieutenant governor and some senators," said Meg Mikolajczyk, associate general counsel and senior public affairs manager for Planned Parenthood of the Heartland. Mikolajczyk was speaking out against Nebraska's Republican Gov. Pete Ricketts who praised the Choose Life plate when the design was unveiled. "It symbolizes that you're not alone," Ricketts said. "And it says Nebraska is a pro-life state."
Lauren Williams, an advocacy strategist for Planned Parenthood Lincoln South Health Center, told The Daily Nebraskan in November that the abortion provider does not think taxpayers should be subsidizing political messages on license plates.
"Our response on this issue is that Planned Parenthood does not believe taxpayers should have to subsidize political statement license plates, and we are disappointed the legislature felt otherwise," she said.
Planned Parenthood receives over $500 million in taxpayer funding every year.
In 2015, the Government Accountability Office found that America's largest abortion provider received at least $1.5 billion in state and federal funding in a three-year span from 2010–2012 during the Obama administration.
Last year, a report that analyzed federal audits of abortion providers detailed how Planned Parenthood and other publicly-funded abortion clinics' fraudulent overbilling practices had cost federal taxpayers at least $130 million.
The report, titled "Profit. No Matter What," highlights findings from available audits of Planned Parenthood affiliates and state family planning programs, including those in Nebraska.
Audits of Planned Parenthood clinics in Nebraska found that its facilities were spending money on abortion-related expenses, which is a violation of federal law.
"The Nebraska audit found a Planned Parenthood affiliate spending federal funds on abortion expenses in violation of federal and state law," the report explains, which is a violation of the Hyde Amendment banning Medicaid funds from being used for abortions.
In 2007, Planned Parenthood in Lincoln was sued after a patient nearly died during a first-trimester abortion procedure when the abortionist ripped into her uterus, leading to an 80 percent loss of blood, as documented by the pro-life advocacy group Operation Rescue. Due to the severity of her injuries, the woman was transported to a nearby hospital where doctors had to perform an emergency hysterectomy.