Pope Defrocks Chilean Priest Sanctioned to Life of 'Penance, Prayer' for Child Sex Abuse Crimes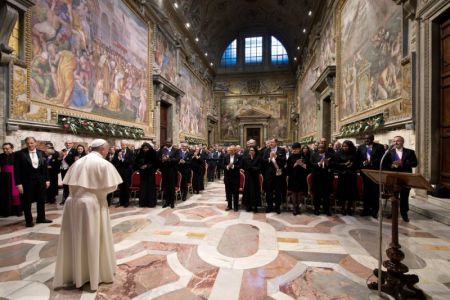 Pope Francis has defrocked a Catholic priest in Chile who was at the center of a major sex abuse scandal in what the Vatican is calling an "exceptional" case.
In a statement released Friday, the Vatican announced that Francis defrocked Fernando Karadima of the Archdiocese of Santiago, Chile on Thursday.
"The Holy Father has taken this exceptional decision in conscience and for the good of the Church," the statement translated into English said.
The 88-year-old Karadima had already been found guilty of abusing several minors in 2011, having been forced to retire from ministerial duties, according to NPR, and sanctioned to a lifetime of "penance and prayer." The defrocking is considered the strictest penalty for a priest aside from excommunication.
"The 'penance and prayer,' sanction has been the Vatican's punishment of choice for elderly priests convicted of raping and molesting children," The Telegraph reported. "It has long been criticised by victims as too soft and essentially an all-expenses-paid retirement."
In recent years, the Chilean Catholic Church has been rocked by a sex scandal regarding the alleged coverup of Karadima's actions by church leadership.
Bishop Juan Barros of the Diocese of Osorno in Chile has been accused of covering up the abuses of Karadima. Initially, Francis supported Bishop Barros, claiming that he was innocent of any wrongdoing.
However, by the end of January, Francis changed his mind about the situation and appointed Archbishop Charles Scicluna, an experienced and respected Vatican investigator of clergy sexual abuse, to investigate the claims against Barros.
In April, Francis announced that he would hold a convocation with Chile's bishops in Rome regarding the sex abuse scandal.
I have thought of this meeting as a fraternal moment, without prejudices or pre-conceived ideas, with the sole objective of having the truth in our lives shine," wrote Francis, as translated by the Catholic news site Zenit.
Francis also acknowledged that there were "serious mistakes" on his part regarding the "assessment and perception of the situation, especially because of a lack of truthful and balanced information."
In response, all 34 of Chile's bishops offered their resignations over the handling of the scandal. Ultimately, three of these resignations were accepted.
Earlier this year, Juan Carlos Cruz, the key witness in the sex abuse scandal, gave "eye opening" testimony to a papally mandated investigator and hoped it would lead to the truth.
Cruz met in a church on Manhattan's Upper West Side for about four hours with Scicluna, one of the most experienced and respected Vatican investigators of clergy sexual abuse.
"It's been a good experience and I leave here very hopeful today," he told reporters afterwards. "I feel that I was heard ... it was very intense and very detailed and very, sometimes, eye-opening for them."
"Hopefully it will lead to good things," he said.