Pope Francis Accused of Covering Up Sex Abuse by Former Top Vatican Official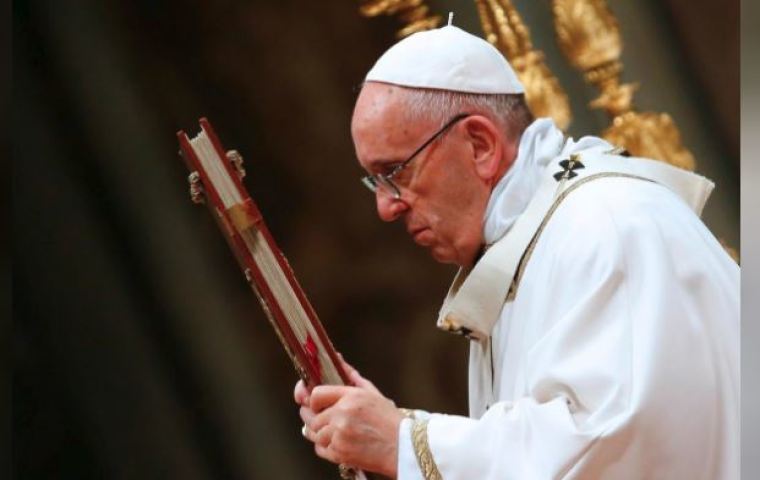 Pope Francis has been accused by a former top Vatican official of covering up sex abuse in the Catholic Church for years.
Francis, who at the World Meeting of Families in Ireland over the weekend apologized to the faithful for cover-ups from others, has since given an enigmatic response to the accusations.
Archbishop Carlo Maria Viganò, who previously served as the Vatican's ambassador to the United States in one of the top diplomatic positions, states in an 11-page letter, published in The National Catholic Register, that "corruption had reached the very top of the Church's hierarchy."
Viganò claims that Francis and other Vatican officials were made aware of the long list of accusations against former U.S. Cardinal Theodore McCarrick, including that he took sexual advantage of young seminarians.
He insists that Pope Benedict XVI imposed sanctions on McCarrick in 2009 or 2010 and ordered him to withdraw to prayer and penance, but that Francis decided to cover for him and even put him in a position of a trusted counselor.
The alleged papal cover-up of McCarrick continued for years, the letter states, until finally the cardinal was removed from public ministry in June.
Francis "knew from at least June 23 2013 that McCarrick was a serial predator," Vigano declares. He adds that even though the pope "knew that he was a corrupt man, he covered for him to the bitter end."
"Pope Francis must be the first to set a good example for cardinals and bishops who covered up McCarrick's abuses and resign along with all of them," Viganò demands at the end of his letter.
Viganò later explained that the reason he is making these revelations is to "stop the suffering of the victims, to prevent new victims and to protect the Church: only the truth can make her free."
"The people of God have the right to know the full truth also regarding their shepherds," he said.
"They have the right to be guided by good shepherds. In order to be able to trust them and love them, they have to know them openly, in transparency and truth, as they really are. A priest should always be a light on a candle, everywhere and for all."
On his Sunday evening flight from Ireland back to Rome, Francis was asked by journalists to respond to the accusations in the former Vatican diplomat's letter.
"I will say sincerely that I must say this, to you and all of you who are interested: Read the document carefully and judge it for yourselves," Francis told journalists, according to BBC News.
"I will not say one word on this. I think the statement speaks for itself."
He added, "You have sufficient journalistic capacity to draw conclusions."
"When a little time has passed and you have the conclusions, perhaps I will talk."
While in Ireland, Francis asked for forgiveness for the latest mass revelations of child sex abuse that have gripped the Catholic Church, along with the decades of abuse at the hands of priests that Ireland has been subjected to.
On Saturday, Francis met for over an hour with eight Irish survivors of clergy sex abuse, where he also pleaded for their forgiveness, according to The National Catholic Reporter.
When asked on the Sunday flight about how the Vatican is handling accusations of abuse from the top levels of clergy, he explained the the church body uses tribunals on a case-by-case basis.
He said that the last bishop to have been judged by such a tribunal was Guam Archbishop Anthony Apuron, who in March was found found guilty of sexually abusing young men decades ago.
Francis noted that Apuron is appealing the verdict, however, calling it a "very, very difficult case."
"I took it upon myself and I made a commission of canonists to help me," the pope said of the situation, adding, "It is a complicated case on one hand, but also not difficult because the evidence is very clear.
"But I cannot prejudge. I'll wait for the information, and then I will judge."