Pope Francis Causes Stir for Baptizing 'Unmarried' Couple's Baby in Sistine Chapel; Tells Mothers It's OK to Breastfeed in Church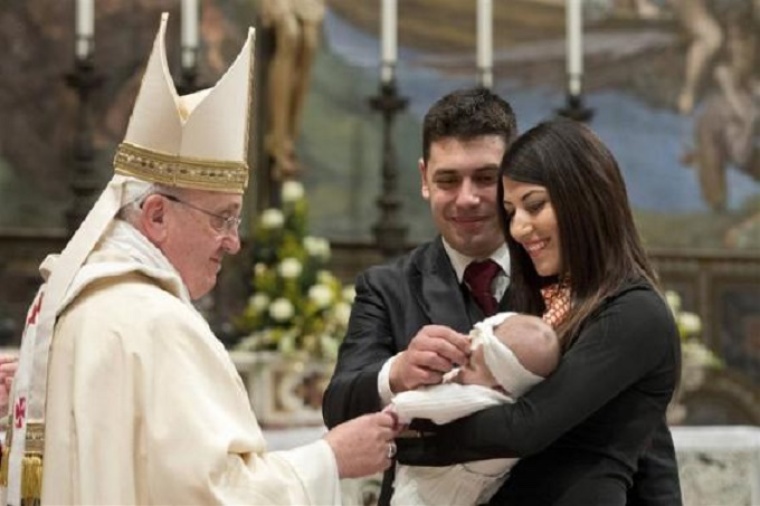 Pope Francis got hit with both praise and criticism this past weekend for baptizing the child of parents considered "unmarried" by the Catholic Church and encouraging mothers to breastfeed in the Sistine Chapel.
Among the 32 babies baptized in the Sistine Chapel by Pope Francis on Sunday was 7-month-old Giulia Scardia, according to a Reuters report.
Little Giulia's parents were not married in a traditional church service but a civil service in a town hall. That type of marriage is traditionally not recognized by the Catholic Church.
Pope Francis, however, departed from that practice and agreed to baptize the child because he believes that the children of parents in an irregular situation shouldn't be made to feel like second-class faithful.
"We decided to get married very quickly," Giulia's mother, Nicoletta, told the Corriere della Sera newspaper. "We were in a hurry and there was no time to organize a church ceremony. Maybe we will do it sometime."
While Pope Francis received overwhelming praise for his progressive decision, not everyone was happy about it.
"For the first time I disagree with the Pope. Unmarried parents have no place baptizing their child because the church is about family and union and bringing a life into the world without thinking about getting married is plain wrong," wrote Jackie from London in the comments section of a Mail Online report. "Too many are kids being born into homes with weak foundations. It is a fact that people are quicker to bail out when they aren't married. He is sending out the wrong message. Bring on the red arrows," she noted in the heavily disliked comment.
Another commenter, Wendy Lane argued that what Pope Francis did wasn't unprecedented.
"I was baptized when Pope John XXIII was pope and the Second Vatican Council hadn't begun. My parents weren't married and my father was a Protestant but there was no problem with my baptism or my sister's. We were welcomed into the Catholic Church just like everyone else. The word 'Catholic' simply means 'Universal'. Anyone can become a Catholic. The Pope isn't doing anything new so why the fuss?" asked Lane.
Pope Francis also surprised some when he invited the mothers to breastfeed their children if they were hungry during the ceremony.
"Today the choir will sing but the most beautiful choir of all is the choir of the infants who will make a noise. Some will cry because they are not comfortable or because they are hungry," he told the parents.
"If they are hungry, mothers, feed them, without thinking twice. Because they are the most important people here."