Pope Francis Madison Square Garden Live Stream (Mass Details): Watch New York City MSG Mass 2015 Online
Pope Francis is set to deliver a New York City mass at Madison Square Garden on Friday night. This is the pontiff's first ever visit to New York, and up to 20,000 worshippers are expected to join the mass, which has a start time of 6 p.m. ET. Pope Francis' New York mass can be watched online through free live stream (details below).
This will be the pontiff's final stop in a whirlwind tour of the U.S. north east, which included a tour of Washington D.C. prior to Pope Francis making his way north to New York City on Thursday.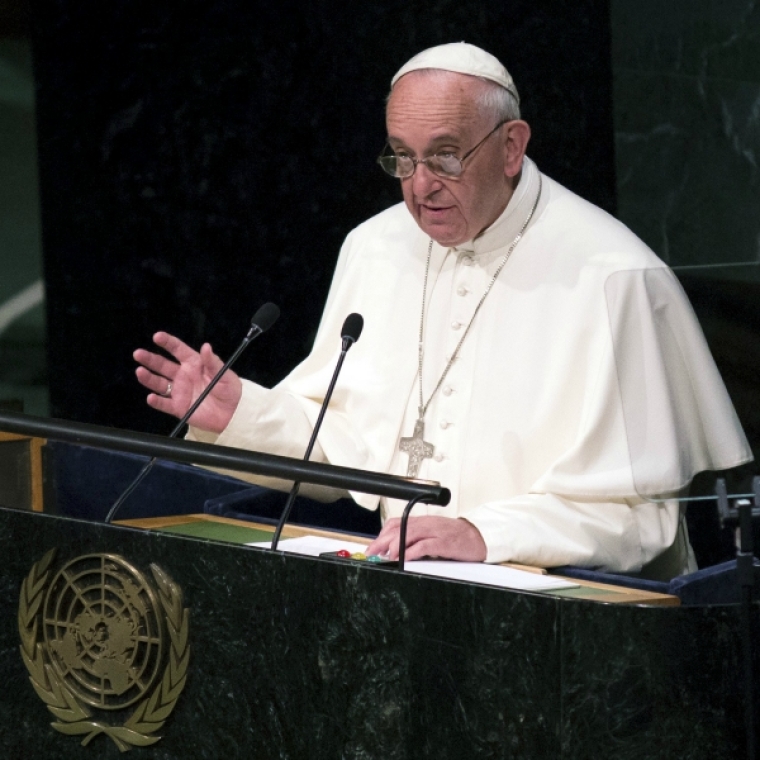 During his time in New York City, the pope has already led an evening prayer service at St Patrick's Cathedral, as well as addressed the United Nations General Assembly.
In addition the pontiff has taken part in a multi-religious service at the 9/11 Memorial Museum, conducted a visit to an urban Catholic school in Harlem, and ridden through Central Park.
Now he will visit New York City's iconic Madison Square Garden, a venue that also say Pope John Paul II visit it in 1979. That visit by John Paul II is listed in MSG history as one of the defining moments of the venue in becoming the iconic venue it is today. At that time, the pontiff was joined by 19,000 teenagers as entertainment was provided with music and song.
Now again in 2015, the head of the Roman Catholic Church will make a visit to MSG, and Pope Francis is expected to make his entrance by being driven around the arena in a golf cart to greet the thousands of worshippers that have managed to get tickets for the event.
The MTA and Long Island Rail Road have announced that access to and from Penn Station will be restricted Friday - and "most-restricted" between 5 p.m. and 8:30 p.m., during the Papal Mass at MSG.
Commuters have been warned not to bring any of the following prohibited items in the station on Friday; aerosols; ammunition; animals other than service or guide dogs; backpacks exceeding pre-set size restrictions; balloons; bicycles; and a host of other items, including glass, thermal or metal containers, lasers and selfie sticks.
The MTA said customers taking the New York City subway, Metro-North Railroad and the LIRR for papal events should buy round-trip MetroCards or tickets in advance.
Pope Francis' mass in New York City at Madison Square Garden will start at 6 p.m. ET and can be watched online through free live stream by clicking here.