Pope Francis Met Same-Sex Couple Before Meeting Kim Davis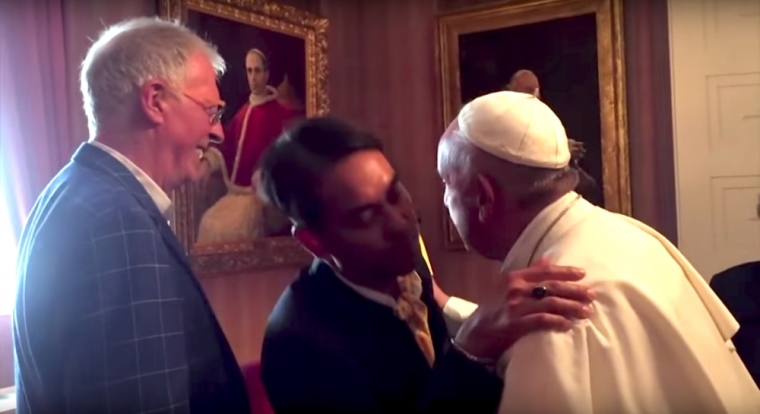 The day before meeting with Christian clerk Kim Davis, who spent six days in jail for refusing to issue marriage licenses to same-sex couples, in Washington, Pope Francis privately met with a gay couple at the Vatican Embassy, according to a report.
Yayo Grassi, a 67-year-old openly gay man, and his partner, Iwan Bagus, met with the pope at the Vatican Embassy on Sept. 23, according to CNN.
"Three weeks before the trip, he called me on the phone and said he would love to give me a hug," Grassi was quoted as saying.
Vatican spokesman Federico Lombardi said Grassi wanted to present his friends to Francis. "As noted in the past, the Pope, as pastor, has maintained many personal relationships with people in a spirit of kindness, welcome and dialogue," Lombardi said in a statement.
Grassi, who is now an atheist, said he spoke about his meeting with the pontiff to counter media coverage of the pope's meeting with Davis.
"I want to show the truth of who Pope Francis is," he said. "He has never been judgmental. He has never said anything negative."
Grassi added that the pope has to follow the church's teachings, as he's a pastor. "But as a human being he understands all kinds of situations, and he is open to all kinds of people, including those with different sexual characteristics."
Lombardi earlier clarified that the private meeting between Pope Francis and the Kentucky clerk should not be equated to the pontiff giving his support for Davis' position on refusing to issue marriage licenses to gay couples.
"The pope did not enter into the details of the situation of Mrs. Davis and his meeting with her should not be considered a form of support of her position in all of its particular and complex aspects," Lombardi said in a statement released by the Vatican.
Lombardi added that Davis was only one of several dozen people the pope privately met during his week in the U.S., and it would be incorrect to read too much into the brief encounters.
"Pope Francis met with several dozen persons who had been invited by the Nunciature to greet him as he prepared to leave Washington for New York City," the spokesman said.
 Davis met the pope briefly on Sept. 24, also at the Vatican Embassy. She described her meeting as moving.
"There was no interpreter. 'Thank you for your courage,' Pope Francis said to me. I said, 'Thank you, holy father.' I had asked a monsignor earlier what was the proper way to greet the pope, and whether it would be appropriate for me to embrace him, and I had been told it would be okay to hug him," Davis said in an Inside the Vatican report.
"So I hugged him, and he hugged me back. It was an extraordinary moment. 'Stay strong,' he said to me. Then he gave me a rosary as a gift, and he gave one also to my husband, Joe. I broke into tears. I was deeply moved."