Lahore Terror Attack: Pope Francis Calls on Pakistan to Protect Christians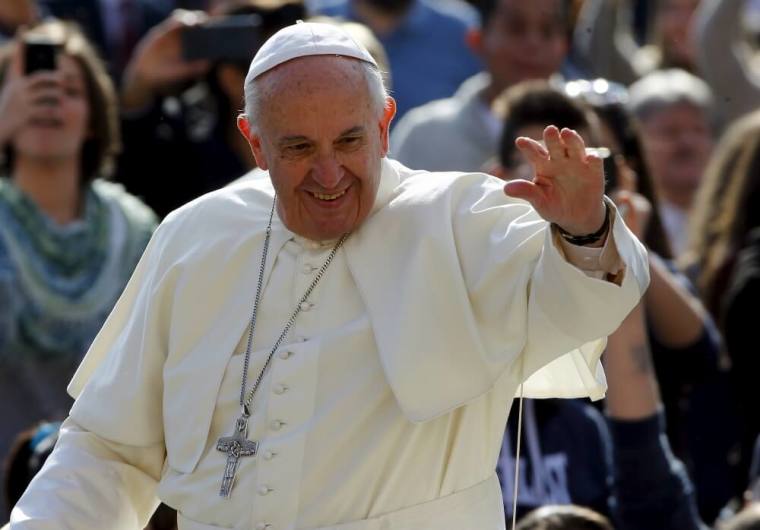 Pope Francis waves as he arrives to lead his weekly general audience in Saint Peter's Square at the Vatican March 30, 2016.
|
(Photo: Reuters/Stefano Rellandini)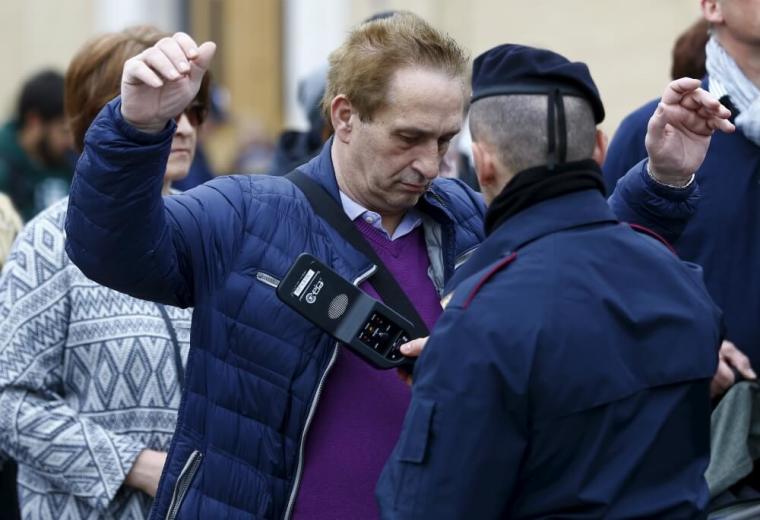 Faithfuls are checked with metal detectors by Italian policemen before entering Saint Peter's square to attend the Angelus prayer led by Pope Francis at the Vatican, March 28, 2016.
|
(Photo: Reuters/Stefano Rellandini)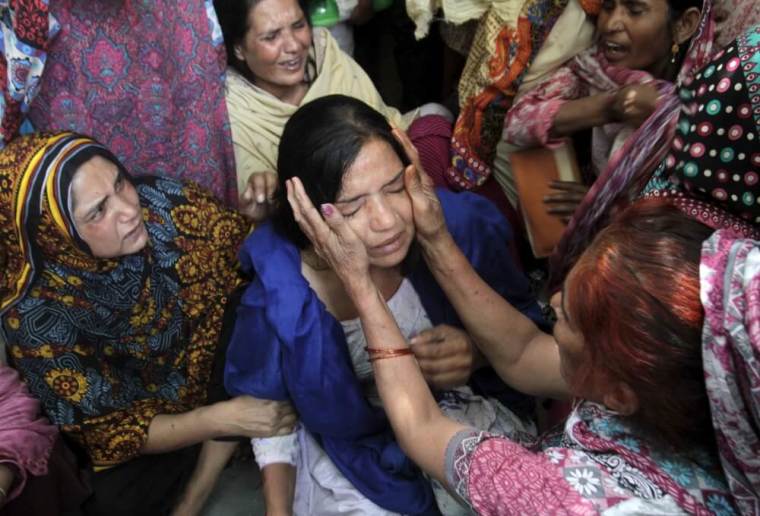 Family members comfort a woman mourns the death of a relative, who was killed in a blast outside a public park on Sunday, during funeral in Lahore, Pakistan, March 28, 2016.
|
(Photo: Reuters/Mohsin Raza)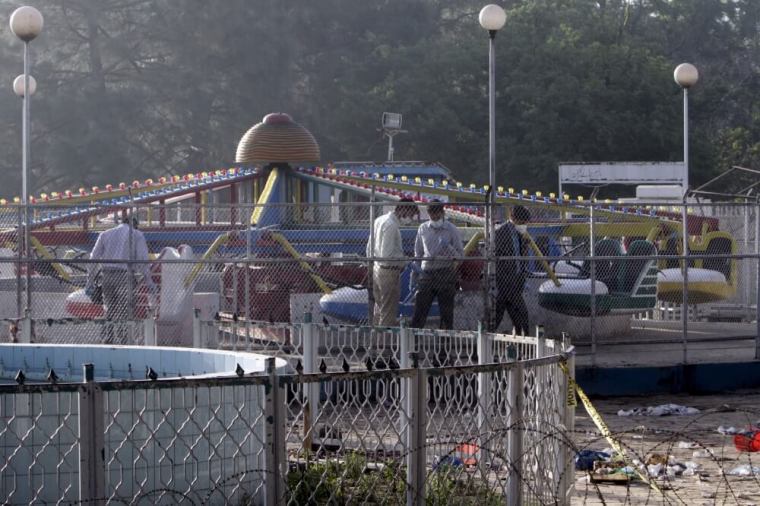 Forensic officers look for evidence at the site of a blast that happened outside a public park on Sunday, in Lahore, Pakistan, March 28, 2016.
|
(Photo: Reuters/Mohsin Raza)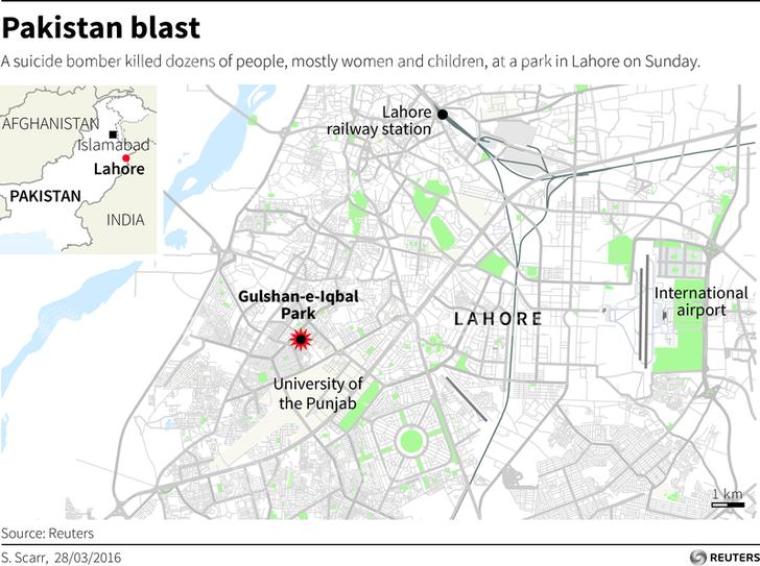 Maps of Pakistan and Lahore locating a suicide bomb attack that killed dozens of people in a park on Sunday.
|
(Photo: Reuters/Map)
View Photos
Pope Francis has asked Pakistani authorities to do more to protect Christians after a terror attack on Easter Sunday killed at least 70 in Lahore.
Speaking from St. Peter's Square at the Vatican on Monday, Francis called on Pakistan's "civil authorities and all community leaders … to do everything possible to ensure the security and serenity of the population, particularly the most vulnerable religious minorities," the Catholic News Agency reports.
Francis added that the attack has "bloodied" the Easter season, meant to be a time of celebration and hope as Christ was resurrected from the dead.
"I wish to express my closeness to all those affected by this cowardly and senseless crime, and ask you to pray to the Lord for the numerous victims and their loved ones," the pontiff said. "That violence and murderous hatred lead only to pain and destruction; respect and fraternity are the only way to achieve peace."
"The Passover of the Lord inspires in us, in an even more powerful way, prayers to God so that he stops the hands of the violent, who spread terror and death; and makes it possible for love, justice and reconciliation to reign in the world," Francis added.
The attack occurred on Easter when a suicide bomber targeted a busy park in Lahore, killing at least 70, dozens of which were children celebrating the Christian holiday.
The Pakistan Taliban's Jamaat-ul-Ahrar arm said in a statement to The Associated Press that the terror attack was meant to target Christians, and warned of more planned attacks in the future.
The group's spokesman, Ehsanullah Ehsan, also mentioned Pakistan's Prime Minister Nawaz Sharif in a tweet, writing: "Let Nawaz Sharif know that this war has now reached the doorstep of his home."
"God willing, the winners of this war will be the righteous holy warriors," the tweet added.
Sharif has responded to the attack by saying in a statement that the country is "resolved" to defeat the "cowardly enemy" of terrorism.
"Our resolve as a nation and as a government is getting stronger and the cowardly enemy is trying for soft targets," he said after visiting the injured at a local hospital.
"I want more proactive co-ordination between law enforcement and intelligence agencies," he continued, adding that "provinces should speed up intelligence-based operations against terrorists."
Pakistani officials also announced this week that they were conducting raids on terrorists in the country's Punjab region, reportedly detaining over 200 people suspected of being affiliated with the attack.
"Number of suspect terrorists and facilitators arrested and huge cache of arms and ammunition recovered," Military spokesman Gen. Asim Bajwa said in a tweet.
The U.S. State Department has condemned the atttack as a "cowardly act," saying it targeted "innocent civilians."
"The United States stands with the people and government of Pakistan at this difficult hour. We send our deepest condolences to the loved ones of those killed and injured, and our thoughts and prayers are with the people of Lahore as they respond to and recover from this terrible tragedy," State Department spokesman John Kirby said in a statement.
"Attacks like these only deepen our shared resolve to defeat terrorism around the world, and we will continue to work with our partners in Pakistan and across the region to combat the threat of terrorism," Kirby added.