Pope Francis Proves to Be a Unifying Proclaimer of Jesus at Interfaith Gathering in New York City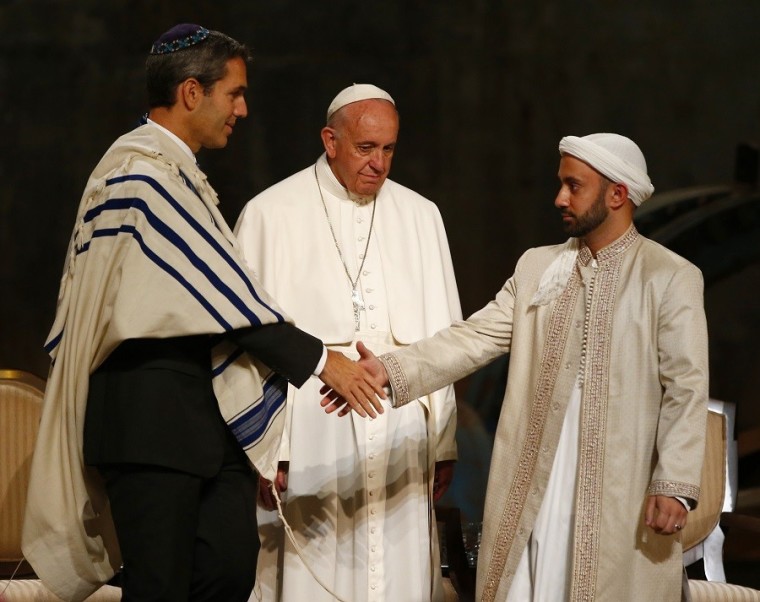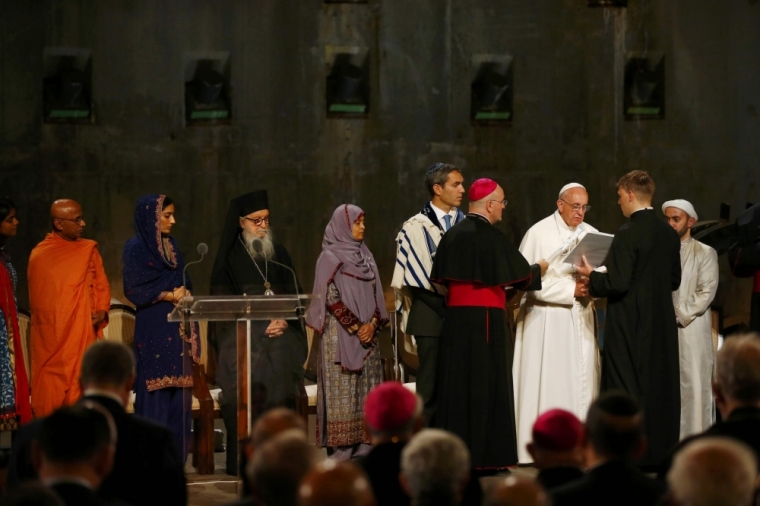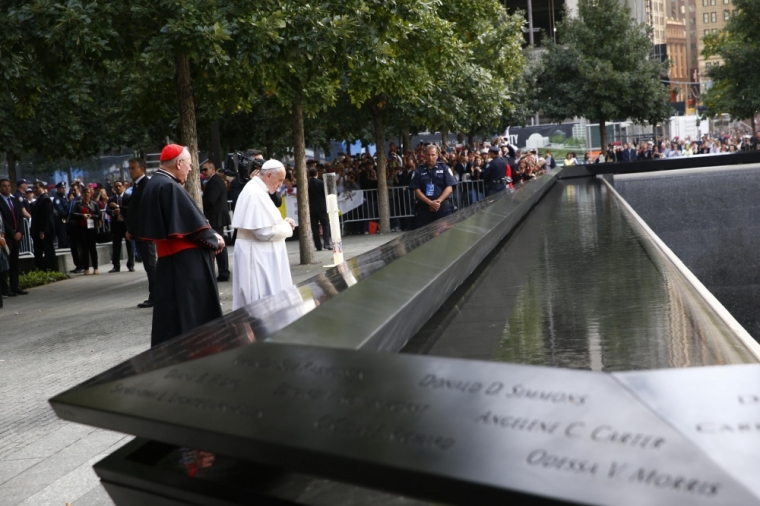 View Photos
NEW YORK — It would be several hours before Pope Francis would eventually arrive for a solemn interfaith service at the National 9/11 Memorial and Museum honoring victims of the September 11 terrorist attack in Lower Manhattan Friday morning but he was already proving to be a unifying force among the diverse throng of invited guests who were patiently waiting to meet him.
And for Monsignor Donald Beckmann of the St. Ignatius Martyr Church in Long Beach, Brooklyn, it was a sign. A sign said Beckmann of Francis' unifying effect which he says is due to more than anything else, the pontiff's simple presentation of himself as a proclaimer of Jesus. Nothing more.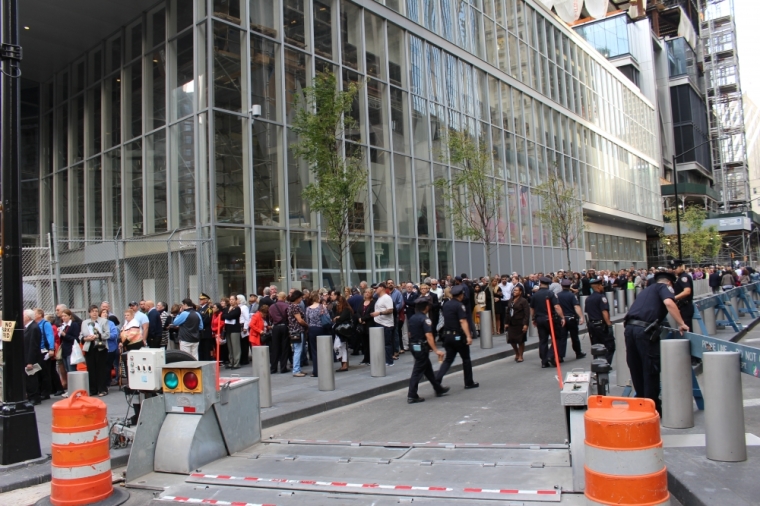 "I think one of the things that I've been touched by is the way so many groups of Christians, including Evangelicals, have noticed the way that his focus is not on himself, his focus is on Jesus," said Beckmann as he waited along Church Street between Liberty and Cortlandt Streets to get past the security check-point to the museum. "Jesus is the one we share in common, Francis sees himself as someone who proclaims Jesus and in that, he can be what we Catholics feel the papacy is meant to be — a focus of unity for all the Christian people."
Most of the invited guests, like Suzanne Valentino and her mother, Betty Coll, who are also both Catholics who suffered loss during the terroristic attack, felt and saw the sign too. The pope's ascension to the papacy, they say, has ushered in a new era and it's like a "breath of fresh air."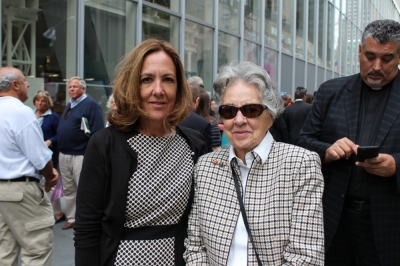 "My brother was lost in 9/11. We are Catholic and it means a lot for us that Pope Francis is sharing and trying to help us with our grief, just to move us all along," said Valentino.
Chinyelu Udoh, a black Catholic from Brooklyn who was at the event with her friend, Danielle Henry, another black Catholic from Orange County, New Jersey, said she got tickets to attend the interfaith event through her connection with the court system, and both agree that Francis is "a man of our time" and they were pregnant with hope.
"This is an absolute blessing. This is the first time Pope Francis is here in the states. I'm overwhelmed with sheer joy and this is just an amazing experience. This is a man of our time for the younger generation. And for that reason alone he has brought so many people back into the Catholic faith. Just bringing people together even outside of the faith, this coming together this beautiful mix of people. This is out of this world," said Udoh.
This new era, explained Henry, is important particularly for black Catholics like her.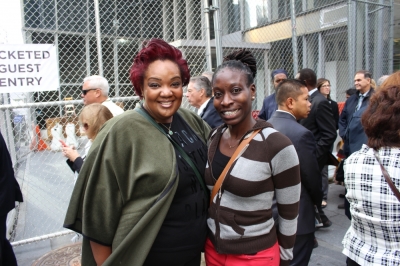 "As a black Catholic there is not a lot of us unless you're of West Indian or African descent. We're like an anomaly. When people ask, what are you, and I'm like, 'I'm Catholic', they say 'Ooh, you're not Baptist? You're not Pentecostal? You never thought about changing? I'm like, 'No. Why would I?" said Henry.
"I think with his visit, it's really about bringing people together. The message is so clear with what he's been doing in these last couple of days. It's about the principles of Christianity, it's about loving each other and being tolerant of each other. It's remembering those things because I think we forgot it for a while, especially with the dynamics of what's going on politically, economically, racially. I think he is coming right on time," she noted.
"It's nice to see all different backgrounds and age demographics come together. For a while the Catholic Church was struggling to get young people, even people our age, 30s, 40s. I'm committed, I'm proud to be a Catholic, and I think for the first time in a long time I'm proud," explained Henry.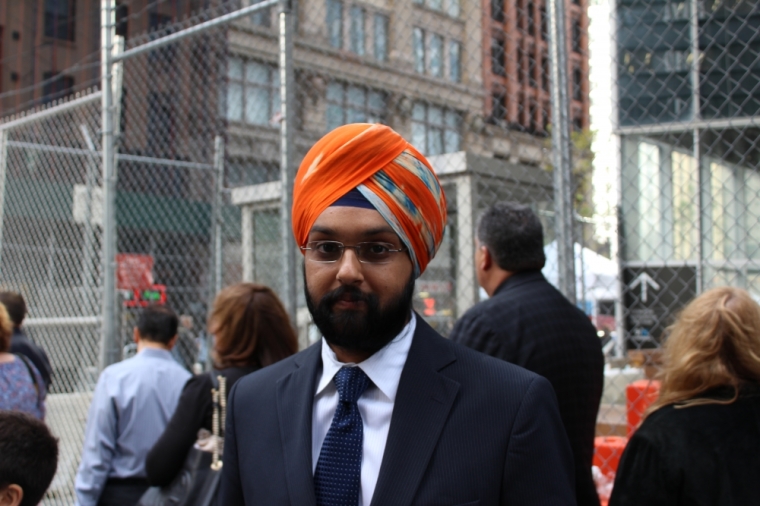 Opender Singh, president of Sikh Sabha of Lawrenceville, New Jersey, said even though he wasn't a Catholic, he was honored to be invited to the event and felt "blessed" to be a part of it.
"We were invited to come. … I'm definitely feeling blessed and honored to be a part of this event today," he said. "This event signifies peace more than anything else. Getting Pope Francis … his coming here, especially at the 9/11 museum, basically the place where it all happened, this is a true representation of the Pope's acceptance of all religions. At the end of the day we are all the same."
For Metropolitan Nicholovos of the Indian Orthodox Church, he saw the coming together of different faith communities inspired bythe pope's visit as an important step toward building trust.
"I think in the modern world, it's a need of the time when we look at each other of different faith with suspicion. So this kind of opportunity to understand each other, come together for the betterment of the world as a whole [is welcome]," he said.