Pope Francis to Visit 'Warzone-Like' Greek Lesbos Island to Show Solidarity With Refugees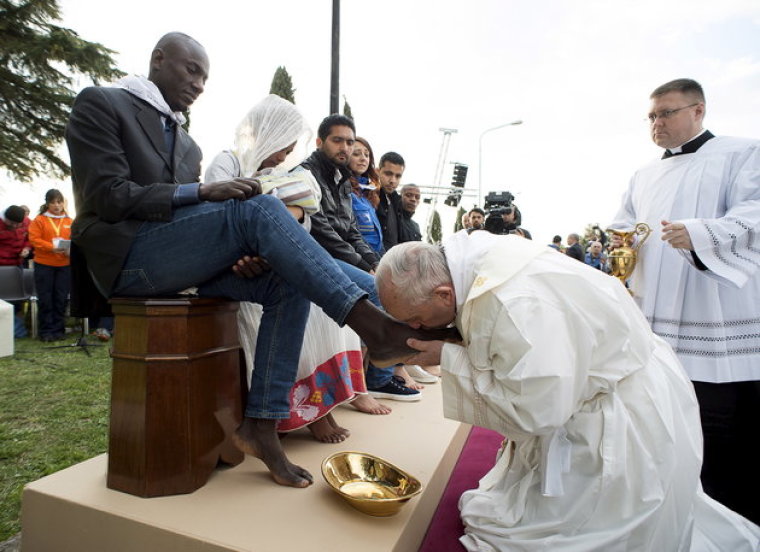 Pope Francis has announced that later in April he will visit the Greek island of Lesbos, which some have described as a "warzone," in order to highlight his love and support for refugees fleeing war and persecution.
"It's very clear that the pope recognizes that there is a significant emergency going on," Vatican spokesman Father Federico Lombardi said, according to Reuters.
"Just as he went to Lampedusa, which was then the front line of the Mediterranean route, now that there is this difficult, dramatic situation on the Aegean front, he naturally wants to be present to show a sense of solidarity and responsibility."
A humanitarian crisis has unfolded on the island, with hundreds of thousands of refugees pouring in, fleeing the ongoing civil war in Syria.
The pope has spoken out about his solidarity with refugees in a number of instances, and in 2013 he visited the Sicilian island of Lampedusa, which also like Lesbos has had to support thousands of refugees.
Santi Palacios, an award-winning photojournalist who has been documenting the crisis in Lesbos, described then situation in January as a "warzone without the war."
"When I first arrived during the summer, at first view, it didn't look so dramatic," Palacios told CNN.
"There were good weather conditions, the arrivals were kind of OK. [But] most people don't know that the place looked like a warzone. It was a warzone without the war."
He criticized the authorities for failing to offer more control and organization over who was coming onto the island, which he said made the humanitarian crisis worse.
"During bad weather conditions, the arrivals are very dramatic. People arrive, people fall into the water. They are freezing. Kids are screaming. The children are crying. And they don't stop," Palacios explained.
Francis has strongly decried the treatment of refugees, and at a Palm Sunday homily in March accused those who ignore their plight to those who washed their hands of Jesus' fate.
After recalling the way Jesus was handled by the Roman authorities leading up to the crucifixion, Francis broke away from his prepared speech, and said:
"And I am thinking of so many people, so many on the margins, so many refugees" for whom "many don't want to assume responsibility for their destiny."
The Vatican added that details for the day trip to Lesbos are still being finalized. A statement highlighted that other notable Christian Church leaders will join the pontiff on the trip, including Ieronymos II, head of the Greek Orthodox Church, and Ecumenical Patriarch Bartholomew I, the Archbishop of Constantinople.
Lombardi explained that Francis' visit to Lesbos is "a joint initiative" that will "show that various Christian churches are united when faced with great emergencies."