President Obama: We Are Not at War With Islam but People Who Perverted Islam; White House Offers Explanation Why Victims Not Called Christians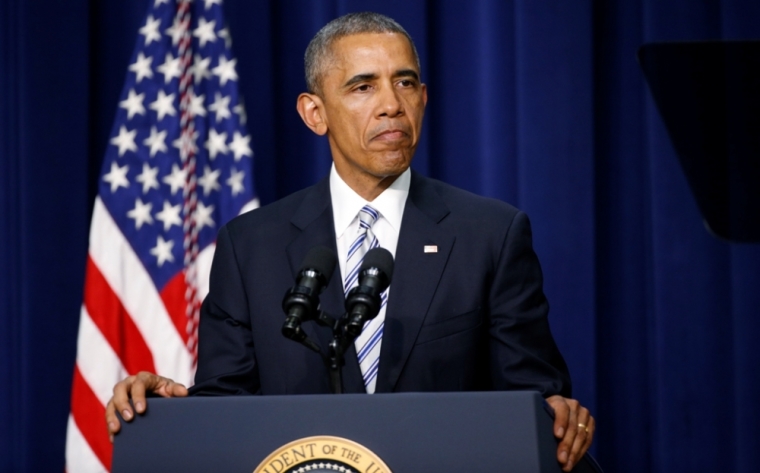 President Barack Obama has come under a great deal of scrutiny for refusing to name the most recent victims of beheading by ISIS as Christians, instead referring to them as "Egyptian citizens." The president offered an explanation for his decision during the White House Summit on Countering Violent Extremism on Wednesday and in an op-ed for the Los Angeles Times.
"Leading up to this summit, there's been a fair amount of debate in the press and among pundits about the words we use to describe and frame this challenge, so I want to be very clear about how I see it," Obama said. "Al-Qaeda and ISIL and groups like it are desperate for legitimacy. They try to portray themselves as religious leaders, holy warriors in defense of Islam. That's why ISIL presumes to declare itself the 'Islamic State.'"
He continued: "There is no one profile of a violent extremist or terrorist. There is no way to predict who will become radicalized," Obama continued. "We are not at war with Islam. We are at war with people who have perverted Islam."
Fox News correspondent Ed Henry asked White House Press Secretary Josh Earnest specifically why Obama did not classify the ISIS victims as Christians in his address.
"The ISIL extremists who carried out this attack indicated that the reason that they were killing them wasn't just because they were Egyptian, but also because they were Christian," Earnest said. "I can't account for that specific line [calling Christians "citizens"], but we've been clear that we condemn the outrageous murder of these Egyptian citizens because of their Christian faith."
However, Henry pointed out, the White House noted that the students in North Carolina who were murdered were Muslim.
"The White House has a principle that regardless of the faith of the individual in question, that people should not be targeted because of their religion and what they look like or what their last name is or how they worship," Earnest replied.
Obama's op-ed noted that "the terrorist group we call ISIL has slaughter innocent civilians and murdered hostages, including Americans, and has spread its barbarism to Libya with the murder of Egyptian Christians."
The president has received criticism from influential leaders such as pastor Robert Jeffress, who told Bill O'Reilly that Obama needed to "get off his high horse and acknowledge radical Islam."
Family Research Council President Tony Perkins also slammed Obama and called it "troubling" that he did not acknowledge the victims' religion.
"ISIS made very clear in this video that this was an execution of 'people of the cross.' ISIS apparently has no difficulty saying 'Christian,' while the White House has a very difficult time," Perkins said during an appearance on "The Kelly File."