Presidential Polls 2012: Latest Reuters Poll Shows Obama, Romney Tied
A presidential poll released Wednesday reveals President Barack Obama leading Mitt Romney by one percent, 47 to 46 percent among likely voters, which is a statistical tie.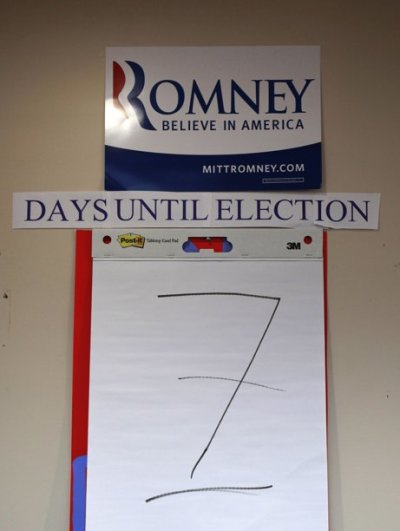 The Reuters/Ipsos daily tracking poll showed a slightly larger lead for Obama among registered voters with 47 percent saying they would vote for Obama, compared to 43 percent for Romney.
The findings are based on a poll conducted Oct. 27-31. A sample of more than 5,000 registered voters and more than 4,000 likely voters was interviewed online.
Throughout October, Reuters/Ipsos has tracked both candidates leading at certain times, with neither ever holding a clear lead the month before the presidential election.
A Pew Research poll on Monday found both candidates with 47 percent support among likely voters.
Nearly a quarter (24 percent) of registered voters indicated they have already voted in the November election, according to Reuters/Ipsos. More than half of those who voted early (53 percent) said they voted for Obama and Vice President Joe Biden; 41 percent voted for Romney and Paul Ryan.
When asked who they think will win the presidency in next week's election, 52 percent of registered voters said Obama would win while only 30 percent predicted a Romney win.
Gallup found similar results in its newly released survey with 54 percent of Americans believing Obama will be re-elected and 34 percent saying Romney will win.
Gallup interviewed more than 1,000 adults, Oct. 27-28.
Some reports have indicated that the Nov. 6 election could be delayed due to Hurricane Sandy though the likelihood is slim. There is a possibility that some parts of the East Coast that were ravaged by the storm may still be without power on Election Day.
White House Press Secretary Jay Carney told reporters that Congress sets the date for the election (the Tuesday after the first Monday in November, every fourth year).
"Congress could act within the next week to change the date, but that would be tough because lawmakers are on recess and back home in their districts campaigning for re-election," Carney said.
Final Presidential Debate 2012: Polls Show Mitt Romney, President Obama Even Going into Election