Prison Fellowship Lauds Trump for Helping Americans With Criminal Records Reach Their God-Given Potential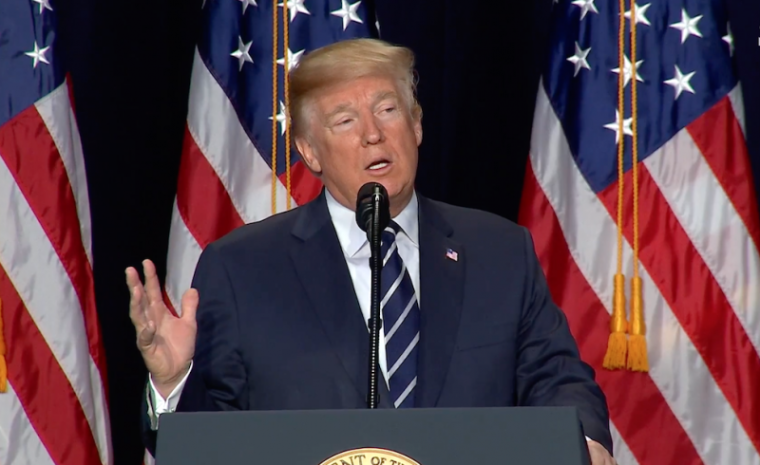 Christian ministry Prison Fellowship has praised President Donald Trump for designating April 2018 "Second Chance Month." A little more than a week ago, the group's CEO had expressed concerns over Trump's plan to impose the death penalty on drug traffickers when it is appropriate to do so under current law.
James Ackerman, President and Chief Executive Officer of the ministry, which serves prisoners, former prisoners and their families, called it a "bold move," saying it will help Prison Fellowship and more than 135 organizations "fight for those who have paid their debt to society."
"The President is right to stand up for those who continue to face tens of thousands of barriers to education, jobs, housing and the things they need to lead a full and productive life," he said in a statement. "We are fighting for those 65 million Americans with criminal records—one in four adults—who wish to regain their dignity and make important contributions to society."
In his proclamation Friday, Trump said, "Affording those who have been held accountable for their crimes an opportunity to become contributing members of society is a critical element of criminal justice that can reduce our crime rates and prison populations, decrease burdens to the American taxpayer, and make America safer."
Craig DeRoche, senior vice president of advocacy and public policy at Prison Fellowship, applauded Trump "for recognizing and celebrating our returning neighbors."
"This proclamation gives us hope in our work to help people with a criminal record reach their God-given potential in life," he said. "The barriers placed on people who have paid their debt to society wastes human potential and adds to recidivism, ultimately jeopardizing public safety."
Earlier on March 19, Trump officially rolled out a three-part plan to tackle an opioid epidemic that included a call for capital punishment for certain drug traffickers considered to be "big pushers."
Speaking to The Christian Post, Ackerman criticized the plan at the time. "It doesn't make any sense to me at all, to be perfectly frank," he said, arguing that executing drug dealers would be similar to punishing gun manufacturers for the murders committed by those who buy the guns.
"You cannot convict, unless the drugs themselves are laced with something that caused murder," Ackerman explained. "You cannot convict somebody's misuse of drugs that they purchased in an illegal market."
In late February, the White House called on Congress for legislation that would promote measures to ensure prisoners are prepared to re-enter society. The idea is to create more prison work programs and partnerships with nonprofits and other nongovernment organizations to train inmates for life after prison.
White House officials who spoke to reporters at the time, however, did not offer a proposal to reform the nation's mandatory sentencing laws, which advocates on both sides of the political aisle say produce unfair sentencing results for people convicted for nonviolent drug-related crimes.
"The sentencing reform part still does not have a pathway forward to getting done," a White House official said at the time. "By doing this in smaller bits and pushing prison reform now, this has a better chance of getting done."
In January, Trump hosted a roundtable discussion among top administration officials, evangelical leaders and state political leaders and activists at the White House, focusing on ways the administration can improve the nation's criminal justice system.