Pro-abortion activists arraigned for disrupting pro-life mass at Ohio Catholic cathedral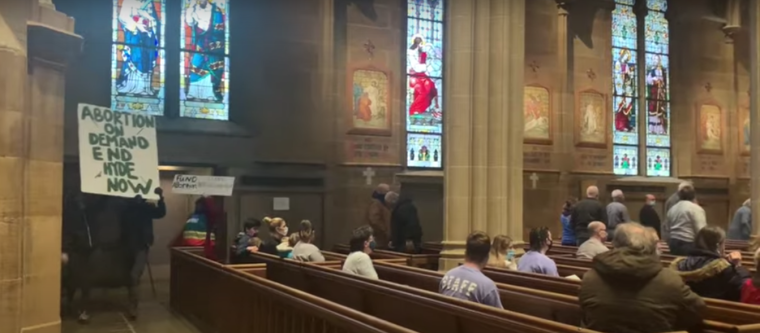 Pro-abortion protestors who disrupted a pro-life themed Catholic mass at an Ohio cathedral earlier this year were recently arraigned in court for misdemeanor charges.
Jordyn Close, Michelle M. Davis and Mason Hickman were arraigned Friday while Anne Morrice, another activist involved in the incident who faces a charge of criminal damage, will be arraigned on March 18, according to The Columbus Dispatch.
The activists pleaded not guilty to the charges of criminal trespass and disorderly conduct. Pretrial hearings are slated to take place later this month and in April.
"As with every incident, evidence must be collected and reviewed for each defendant," said Meredith Tucker, spokeswoman for the city attorney's office, as reported by the Dispatch.
"After evaluating the available evidence, including surveillance videos, witness statements, and more — these were the four defendants we had sufficient evidence to move forward with charges."
On Jan. 22, the anniversary of the controversial 1973 United States Supreme Court decision Roe v. Wade, St. Joseph Cathedral in Columbus held their annual "Respect Life" mass.
During the service, a group of at least eight pro-abortion activists stormed the sanctuary, holding protest signs and chanting things like "two, four, six, eight, this church teaches hate."
Signs held by the protestors included "Fund abortion, not clinic harassment" and "Abortion on demand, end Hyde now," referring to the Hyde Amendment, which bans federal funding of abortion with some exceptions.
The protesters continued to shout obscenities at security after being removed from the sanctuary, with one demonstrator shouting: "If Hell was real, you would burn in it."  
Bishop Robert Brennan of the Diocese of Columbus, who celebrated the Respect Life mass, released a statement soon after the incident thanking law enforcers for their actions.
"I want to express my great admiration and thanks to all those attending the Mass whose respectful and prayerful response reflects the joy, hope, and mercy that marks our pro-life witness. I also apologize to the families present whose children were exposed to this,"  Brennan stated at the time.
"On this day, in remembrance of the Roe v. Wade Supreme Court decision, I ask all to continue to pray for the unborn who died, for all those who have experienced the pain of abortion, and for those who cannot understand our divine and steadfast calling to champion this cause."