Pro-life wins and losses of 2019; what's on the agenda in 2020?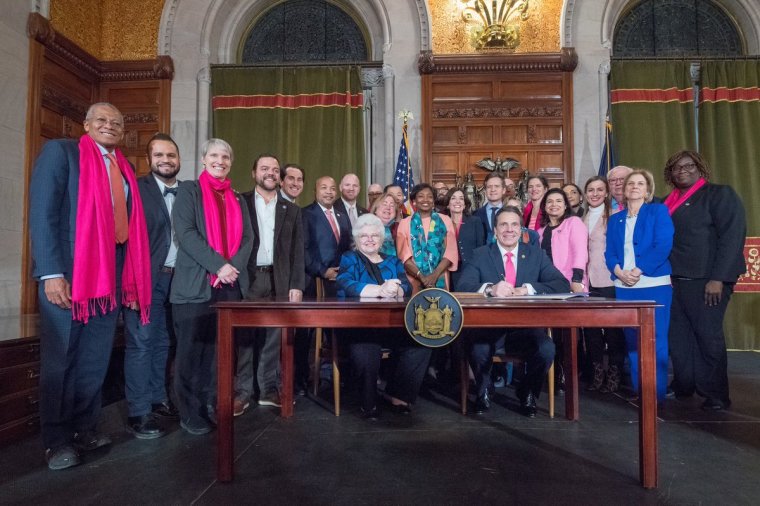 4 states pass laws legalizing abortion until birth
Abortion was back in the national conversation last January after the state of New York passed a late-term abortion law legalizing abortion up until the point of birth. 
The Reproductive Health Act was celebrated by abortion-rights activists and the Empire State Building was even lit up in pink to celebrate. But for many who oppose abortion, the law was deemed one of the most radical in the nation. 
"It strips away protections for all children in the womb, for their parents, for their families," Foster contended. "It takes away health and safety protections for women so that as long as abortion is legal, we at least want it to be as safe as it can be for women."
Foster also stressed that the act has even removed protections for unborn children in cases when an angry father kills his pregnant partner and unborn child out of anger that the mother won't get an abortion. 
Last February, a New York prosecutor cited the Reproductive Health Act when dropping a criminal abortion charge against a Queens man accused of fatally stabbing his former girlfriend when she was 14 weeks pregnant, killing her and the baby. 
"You see this anger in today's society of disposable human beings and women being targeted because of their pregnancy," Foster said. "When that child dies because of that violence, and justice is sought, now justice won't be a possibility in New York." 
Similar bills to eliminate abortion restrictions were passed in Illinois, Rhode Island and Vermont. 
In June, Illinois passed a law permitting late-term abortion that broadens the definition of "health of the patient." It also forces private health insurance companies to cover abortion. Additionally, the law repeals a ban on partial-birth abortions.
The Rhode Island law, passed in June, also legalizes abortion up until birth. Vermont passed a bill in July affirming the right to abortion throughout pregnancy. 
"Most Americans agree that we should have some kinds of major rollbacks on unlimited abortion-on-demand," Foster said. "That's why we saw a double-digit swing in the percentage of Americans who consider themselves pro-life." 
According to the pro-abortion Guttmacher Institute, 14 states have laws protecting abortion rights. 
States passed bills restricting abortion
In general, Foster said, there was "tremendous progress" when it comes to the advancement of pro-life legislation in statehouses nationwide.
"We saw a 25 percent increase in life-affirming bills passed into law over the previous year," she explained. "There were 46 states that introduced life-affirming bills and 22 states passed them." 
The bills dealt with a variety of different issues including bans on late-term abortion, requiring clinics to meet health and safety standards, and ensuring informed consent (ultrasound).
One of the most controversial laws passed last year was in Alabama. The state's Human Life Protection Act makes it a felony for abortionists to perform abortions except when the life of the mother is in danger. 
In Georgia, Republican Gov. Brian Kemp signed into law a ban on abortion once a baby's heartbeat can be detected, which can be as early as six weeks. 
Ten states passed gestational bans barring abortion past certain points of pregnancy —  Alabama, Arizona, Arkansas, Georgia, Kentucky, Louisiana, Missouri, Ohio, Oklahoma, and Utah. However, none of those have gone into effect and some have been blocked by judges. 
"There is just such momentum at the state level. I think it is because at the state level, the elected officials are closer to their constituents," Foster said. "More and more, we are seeing states and elected officials advancing policy along these lines to protect both the mothers and the children." 
Foster said that since 2011, there has been a growth in the passage of life-affirming laws.
"They are getting introduced and passed at a faster rate than ever before," she said. "We are seeing dramatic increases in protections year upon year and we expect that trend to continue in 2020." 
Supreme Court agrees to hear Louisiana abortion law 
The U.S. Supreme Court agreed in October to hear its first abortion case since the confirmation of President Donald Trump-nominated Justices Neil Gorsuch and Brett Kavanaugh. 
The case in question is June Medical Services v. Gee, a challenge to a Louisiana law passed years ago that requires abortion doctors to have admitting privileges at nearby hospitals. 
The Supreme Court's willingness to hear the case comes after an eight-member high court struck down a similar provision in a Texas law in 2016. 
Last year, the high court temporarily stopped the Louisiana law from being implemented. 
Foster is excited about the prospects of how the court could rule.
"This could be absolutely game-changing," she said. "It could change the entire landscape of abortion lawsuits and law in America. There are potentially huge ramifications. We don't know what the decision will be and it could be quite limited. But it has huge potential."
"Justice Gorsuch literally wrote the book on assisted suicide and euthanasia. We haven't seen him on abortion, we haven't seen him in action," she continued. "But we do know his jurisprudence and there is a lot of reason to hope there. We do know that he is willing to take a stand for life." 
As for Kavanaugh, he wrote a dissenting opinion to the Supreme Court's 5-4 decision last year to temporarily block the Louisiana law.
Trump administration enacts, expands regulations 
The Trump administration passed a new rule in July stating that family planning clinics funded by the federal Title X family planning program must stop referring women for abortions and must maintain financial and physical separation from organizations that offer abortion services. 
The regulation faced immense legal pressure as 22 states joined a lawsuit against the new rule. But in June, a federal court allowed the rule to go into effect. 
In August, Planned Parenthood, the nation's largest abortion provider, announced that it would no longer seek Title X funds in opposition to the new regulation, which it calls a "gag rule." 
In 2017, Trump issued what has been deemed a "global gag rule" barring international family planning groups that receive federal dollars from providing abortion services. The rule was expanded in 2019 to bar federal funding to groups that support organizations that provide abortions but don't provide abortions themselves. 
"I want to [praise] all of the efforts to defund [abortion] nationally and internationally," Foster told CP.