Pro-lifers Grateful Yet Alarmed Win for Pregnancy Centers Was Slim; 4 Justices 'Spiritually Bankrupt'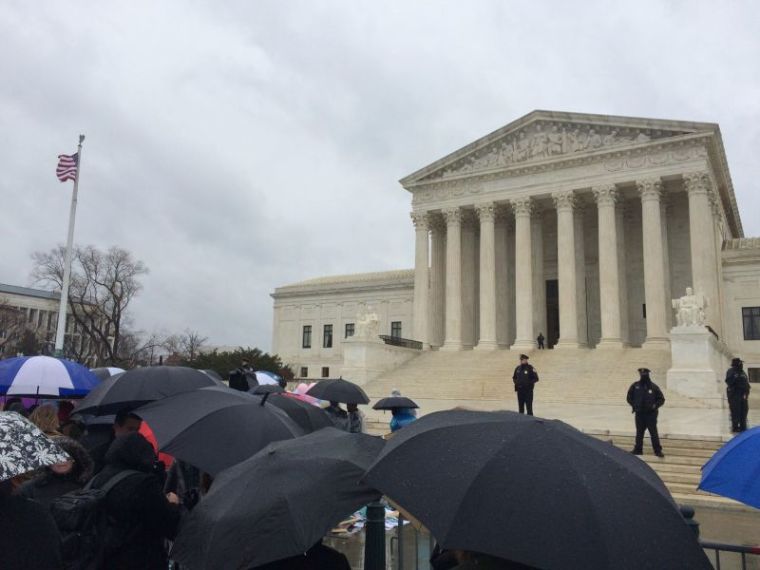 Pro-life and other Christian leaders who have long advocated for the unborn are expressing gratitude but also disgust and alarm regarding the Supreme Court's narrow ruling in favor of the free speech rights for crisis pregnancy centers.
Some say the 5-4 victory in NIFLA v. Becerra, which the high court handed down Tuesday morning and held that those pregnancy centers did not have to comply with a California state law compelling them to advertise abortion services, vindicated their support for President Trump in the 2016 election.
Jim Garlow, pastor of Skyline Church in Southern California and an outspoken pro-life advocate, said that the decision should have been a "no-brainer" 9-0 win.
"Should a Subaru dealer be forced to advertise where to get a Honda? Or Burger King be forced to tell where to find a McDonalds. Or much, much worse: Should a Jewish organization have to advertise a hate filled neo-Nazi [meeting]? Should the MLK Center have to advertise a racist KKK rally? Should an anti-human trafficking organization be forced to advertise for men trying to enslave young girls? Of course, they should not have to. It's called 'freedom of speech' (not to mention decency, righteousness, justice & truth)," he opined on his Facebook page Tuesday.
"I recognize we experienced a SCOTUS victory, but shame, shame on the four justices who cannot see the obvious. I'll take the victory, but how spiritually, intellectually & morally dull and bankrupt these four justices are."
Kristan Hawkins, president of Students for Life of America weighed in also, reminding those who try to steer pro-lifers away from the Republican Party or urge them to forego political activity altogether that elections have real consequences.
"Next time someone tells you that voting for the anti-abortion Republican doesn't matter because Republicans just use 'pro-lifers' or that our movement shouldn't engage in politics and just focus on culture and helping those in crisis, remind them of today," she said on Facebook.
"If we had elected Hillary Clinton as President, today's ruling would have been 5-4 AGAINST pro-life speech. Every single pro-life organization would have been impacted as our speech would be labeled as 'professional' and therefore up for regulation. Our movement would have faced a massive blow."
Already the court decision is having an effect in other jurisdictions around the country where similar policies like the California statute were about to be rolled out.
The Hartford Courant reported Tuesday that the Connecticut capital city was suspending the implementation of an ordinance with similarities to the contested California law. The city intended to start enforcing the ordinance on July 1, but the city attorney said they would delay doing so until they were certain of the ramifications of the high court's ruling.
Upon receiving the news of the NIFLA victory, New York Times national correspondent Elizabeth Dias noted that her inbox was "flooding with social conservative praise for the SCOTUS crisis pregnancy center ruling."
"[D]ays like this, and Neil Gorsuch," she observed on Twitter, "are why many white evangelicals and Catholics voted for Trump."
Many pro-lifers believed that their long-term goal of overturning Roe v. Wade would vanish forever if Trump was not elected, and decided that even though he had previously identified as pro-choice it was worth the risk to support him given his repeated promises to appoint constitutionalist judges to the bench.
Writing in National Review, David French, a former an attorney with Alliance Defending Freedom, the legal group that argued the case on behalf of the pregnancy centers before the high court, explained that the ruling "may well turn out to be the most consequential First Amendment cases of the last decade, for reasons both doctrinal and tonal."
Associate justice Anthony Kennedy, who is known as the court's swing vote, blasted California for its legislation in his concurring opinion for the majority, arguing that the state had acted in an inappropriate, "authoritarian" manner.
Ben Shapiro, a pro-life orthodox Jew and editor of the Daily Wire said Tuesday that the fact the ruling was only 5-4 indicated "freedom of speech is in serious trouble."
French commented in a retweet of Shapiro's remark: "And that the abortion distortion is still alive and well in the jurisprudence of some justices."
Kennedy announced his retirement Wednesday, a move also welcomed by pro-life activists.