Pro-Lifers Rally Outside ABC News to Demand Fair Coverage of Abortion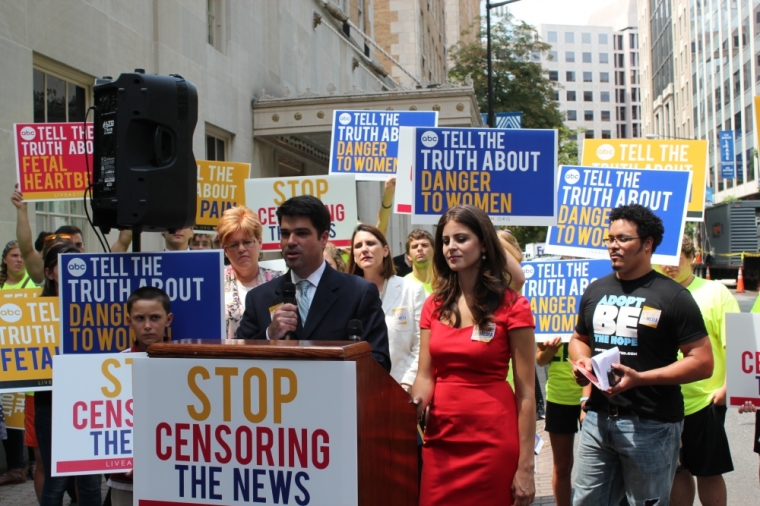 WASHINGTON – Pro-life advocates rallied outside of the ABC News office in Washington, D.C. on Thursday, demanding even-handed media coverage of abortion and the pro-life movement.
"It's time to stop censoring the news about this most important issue of the day," proclaimed Lila Rose, founder and president of Live Action, an new media organization that is known for its undercover videos of abortion clinics.
As Rose began speaking, around 60 supporters gathered, along with an ABC cameraman and various reporters from other outlets. After a half-hour, the crowd had swelled to well over 130.
Rose compared the time major network news stations ABC, NBC, and CBS spent on Democrat Texas State Senator Wendy Davis' famous filibuster to the time they spent on the trial of abortionist Kermit Gosnell, who was convicted of murder in May. Rose noted that NBC didn't even cover Gosnell until his sentencing.
But coverage time isn't the only form of media bias, noted another speaker. "From the end of June 2010 to June 2013 the networks dehumanized unborn children by using the word 'fetus'…in 93% of their reports," argued Christian Robey, political director of the Media Research Center. He claimed that describing unborn children in this way separate their concerns from the minds of ordinary Americans.
Jill Stanek, a licensed nurse and pro-life advocate, argued that calling abortion survivors "fetuses" is not only inaccurate, but gross negligence on behalf of journalists. "There's a range of choices that one might call those who survive abortions," she said, listing, "child, baby, neonate, newborn, but fetus is scientifically and grammatically incorrect." She alleged that those who still use that term mean to dehumanize unwanted babies, so Americans will favor aborting them.
Stanek further pointed out that Texas State Senator Wendy Davis' pink shoes on the floor of the Texas state Legislature received three times as much coverage as the baby feet that Gosnell gruesomely preserved in jars.
Charmaine Yoest, president of Americans United for Life (AUL) denounced the "War on Women" rhetoric employed by pro-choice advocates, alleging that the real war on women is the media silence on how abortion harms women.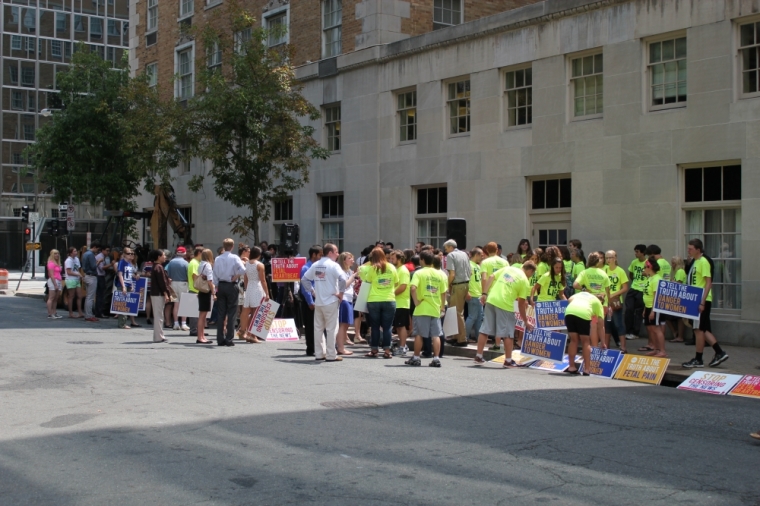 The AUL president mentioned Karnamaya Mongar, for whose death Gosnell was convicted of involuntary manslaughter. "She spent 20 years in a refugee camp before coming to the land of the free and the home of the brave, and she met death at the hands of Kermit Gosnell in a seedy, gross, awful, horrid abortion clinic." Decrying the lack of coverage, Yoest challenged ABC News to tell Mongar's story.
Ryan Bomberger, chief creative officer of the pro-life Radiance Foundation, told his story – a child conceived in rape, he fits into the 1 percent of cases that pro-choice advocates use to argue for abortion.
Noting that more black babies are aborted than born alive, Bomberger compared the pro-life struggle to the campaign of former slave and abolition advocate Frederick Douglas. The pro-life advocate claimed Douglas' publication, The North Star, was necessary because "mainstream media refused to tell the truth about slavery – it's amazing how time doesn't change some things."
Bomberger quoted James 1:27, telling The Christian Post that adoption is the essence of salvation, and provides the solution for women in a crisis pregnancy like his mother was. He explained abortion provider Planned Parenthood's philosophy as "unintended with unwanted, equals unloved," but claimed that "my life shatters the myth of the unwanted child," because he was conceived in rape and adopted.
"Children aren't unwanted, they're just waiting to be loved," he said.
"What we do to the least of these, Jesus Christ says we do to him," Lila Rose told CP. She argued that Christians need to understand that ABC, NBC, and CBS are biased against the "great human rights abuse of abortion." She suggested turning to alternative news sources that will portray both sides of the argument.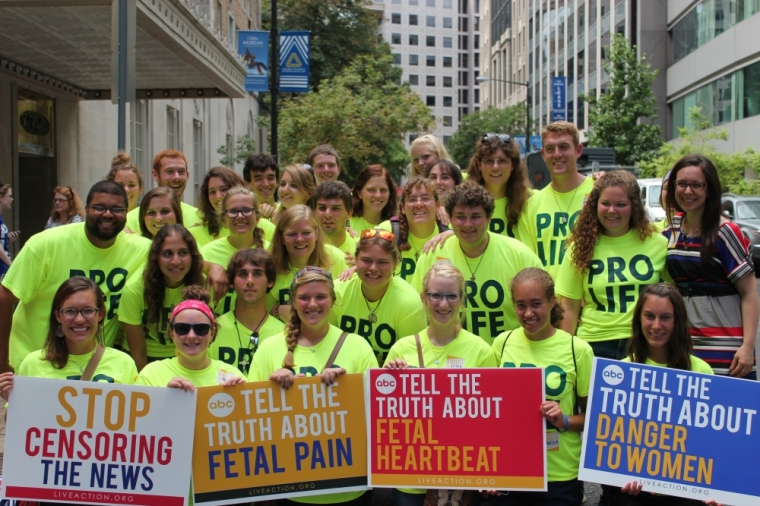 The crowd was dominated by 36 bright yellow shirts with huge black letters spelling "PRO LIFE," and Allison Lattie, director of the pro-life organization Crossroads, told CP why. Three pilgrimages, starting May 18, from Seattle, San Francisco, and Los Angeles, all converged in Washington, D.C. While 40 walked, about 36 arrived over the weekend.