Q&A With Matt Chandler: The First 7 Years of My Marriage Were Tough; Loving Relationships Take Discipline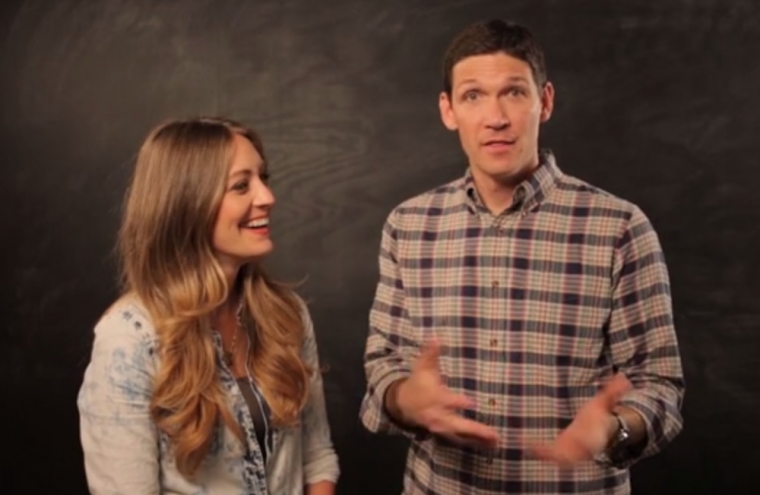 Texas megachurch pastor Matt Chandler says the way the world defines marriage is "unbiblical" and "unhealthy", yet far too many young Christians are following after the cultural standards of love. This reality prompted the Village Church leader to offer biblical insights on dating, courtship and marriage from the Song of Solomon in his recently released book Mingling of Souls.
The book is also a reflection of how God transformed his marriage of 15 years to his wife, Lauren. "The first seven years of my marriage were extremely difficult years and then the last eight have been really blessed. I wanted to talk about relationships in a way that was honest and straight forward," said Chandler.
In the interview below (edited for clarity), Chandler explains why the notion of finding "the one" is a myth and reveals what couples should do to keep the passion in their marriage.
Christian Post: There are so many books and study guides by pastors about marriage and sex. What led you to add your voice to the mix?
Chandler: Honestly there were a couple of things: I'm first of all a pastor of a large church that is made up primarily of people in their twenties and early thirties. So the issue of relationships is really the one that continually comes up. So that's one of the first and primary driver.
I think the second driver, there's just no secret about this, I've said it from the pulpit and taught on it before, the first seven years of my marriage were extremely difficult years and then the last eight have been really blessed. I wanted to talk about relationships in a way that was honest and straight forward and really Mingling of Souls isn't ultimately about sex. In fact the one chapter on sex is half the size of the chapter on fighting fair. And so in a full on sex-saturated culture, I don't think Song of Solomon is some kind of sex guide as much as it is God's heart for the interaction of a man and a woman in regards to romantic relationships.
CP: In writing this book, you reach deep into Song of Solomon. Why did you choose this book of all the books in the Bible, especially when some find it so controversial that they avoid it?
Chandler: My roots – I was converted to Christ in a Baptist church and was trained in a Baptist school and they talk a lot about it. They're not the only ones but that's where I learned it, about the sufficiency of Scripture and that God is revealing both Himself to us in the Scriptures as well as wooing us with how He designed things to work. So the Song of Solomon or the Song of Songs was put in the middle of five books in the Old Testament called the wisdom literature and it was given to us for a reason. And so to avoid it because of discomfort doesn't seem wise in a grouping of books that are entitled the wisdom literature. So to say, Hey it's apparently looking out at kind of the cultural sign posts that we don't quite understand: how relationships work. We don't quite understand how sex fits into how we are to think and respond to culture at large, the opposite sex in particular. And so to avoid the book seems kind of foolish when it appears that it's one of the ways God wants to communicate to us in the scriptures about how these things operate.
CP: Why is there so much confusion about dating, relationships and sex among young Christians?
Chandler: I think there's been an avoidance of the topic and I think there's all sorts of reasons that people have tried to avoid the topic. And then honestly – if I'm frank, I hope this doesn't get me too many emails – I think where it has been tackled, it's been tackled poorly. So then ultimately it's kind of this rules based kind of step-by-step process of how to make things work, and life's just messier than that. It's just not that clean and so we begin to set up false expectations and there's an over romanticizing of marriage and sex. And so then people enter into these relationships thinking that on the other side that there's no hardship, there's no difficulty, no sanctification, but you're having sex 14 times a week swinging from the chandler and you don't do anything but laugh. When it's set up like that you set up people to be disenchanted very quickly.
So I think that's part of the answer and I think by and large our culture is being discipled by the world in how relationships work in a way that's unbiblical, unhealthy, and based ultimately in a type of Roman … emotive based relationship that has no root, no gut, no what the Hebrew language calls "ahavah" love of the will,[meaning] I've seen your weaknesses but I'm not going anywhere.
We've kind of bought into this there's that one person out there that's going to make me happy and that I've got to find that one person and it's not about compatibility and it's not about partnering with one another for the glory of God and for, Lord willing, having children that we can impart the glories of God to. Like all of those key components seem to be missing from the conversation and I think that's a big part of why you can look at the divorce rate being up; the really blatant confusion and unhappiness among specifically young Christian singles as they try to figure out how to date.
CP: What should young adults know before they begin dating?
Chandler: I think that the thing that you have to help singles understand and really grasp – not just kind of have lip service but really kind of see and understand the weight of what's going on – what you're doing when you date is you're trying to see does this person have the character, does this person have the godliness, does this person know the Lord and love the Lord like I do and hopes to serve the Lord like I do, and not just looking for six-pack abs. Not just looking for oh, he makes me laugh or she makes me laugh, but rather can I see myself partnering with this person in gospel ministry in the lay level? Can I see myself serving the Lord alongside this brother or sister for the rest of my days come mountain top or valley experiences, and to understand what you do when you get married is you enter into covenant, not a contract. You're not saying if you do these things to make me happy, I'm staying. You're saying for better or for worst, I'm here; richer or poorer, I'm here; sickness or health, I'm here.
If you think about the nature of wedding vows, it's a stunning reality that on the most romantic day of your life, you're confessing in front of everyone, that this can go bad. You're saying for better or worst. So here we are, we're all dressed up, everyone we love is in the room, it's the most romantic day of our lives and this can go bad. If it goes bad, I'm staying. I'm not going anywhere. So to help people understand they're building toward that and not towards some sort of fleeting, momentary happiness or pleasure, but kind of a life-long run together. And to get that in your head to where it moves past the kind of initial attraction, physical attraction and maybe being driven by purpose rather than loneliness would root us more firmly in what God has for us.