Queen Praised for Dedication and Generosity by Anglican Head on Diamond Jubilee
The Archbishop of Canterbury, Dr. Rowan Williams, has paid tribute to the British Queen's selfless dedication to the nation during her 60 years on the British throne.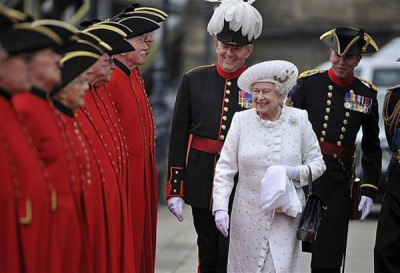 During a thanksgiving service at St Paul's Cathedral in London Tuesday morning, Williams praised the Queen for enduring the ups and downs of the last six decades "faithfully, calmly and generously."
The archbishop encouraged people not to think of their own individual good as he reflected that the lasting memorial of the celebrations would be the "rebirth of an energetic, generous spirit of dedication to the common good and the public service."
He said the Queen had gone beyond mere "enthusiasm" to embody the true biblical sense of dedication as "an absolute purge of selfish goals."
"There will be other occasions to remember the splendor and the drama of the Coronation; today's focus is different," he said.
"What we remember is the simple statement of commitment made by a very young woman, away from home, suddenly and devastatingly bereaved, a statement that she would be there for those she governed, that she was dedicating herself to them.
"To declare a lifelong dedication is to take a huge risk, to embark on a costly venture. But it is to respond to the promise of a vision that brings joy."
The archbishop encouraged people to live for the promise of the "shared joy" to be found in selfless living, rather than seeking "narrow individual fulfillment."
Reflecting on the celebrations of the last four days, the archbishop said that a whole community rejoicing together and "being glad of each other's happiness and safety" was the only thing that could save society from the "traps of ludicrous financial greed, environmental recklessness, of collective fear of strangers and collective contempt for the unsuccessful and marginal."
"We are marking six decades of living proof that public service is possible and that it is a place where happiness can be found," he said.
"To seek one's own good and one's own well-being in the health of the community is sacrificially hard work – but it is this search that is truly natural to the human heart.
"That's why it is not a matter of tight-lipped duty or grudging compliance with someone else's demands. Jesus himself says 'My food is to do the will of him who sent me', and that's what is at the heart of real dedication."
He added that his thoughts and prayers were with Prince Philip, who remains in hospital with a bladder infection.