Rand Paul Wins CPAC Straw Poll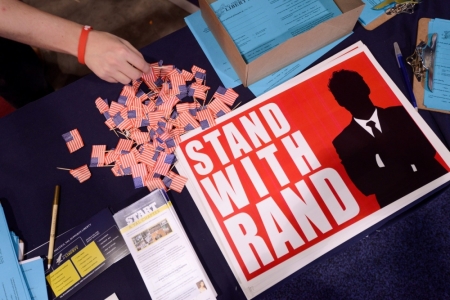 National Harbor, Md. — Sen. Rand Paul, R-Ky., won the Conservative Political Action Conference presidential straw poll.
Paul won with 26 percent of the vote, followed by Wisconsin Gov. Scott Walker at 21 percent. In third place was Texas Sen. Ted Cruz (12 percent), followed by neurosurgeon Ben Carson (11 percent) and former Florida Gov. Jeb Bush (8 percent).
CPAC is a yearly gathering of conservatives. The conference used to be held in Washington, D.C. but as the conference grew, it moved to National Harbor, Maryland, just outside Washington. The announcement of the straw poll results was the final presentation of the conference.
Many potential presidential candidates spoke at the Thursday through Saturday event, including former Florida Governor Jeb Bush, New Jersey Governor Chris Christie, U.S. Senator Ted Cruz, former Hewlett-Packard CEO Carly Fiorina, Louisiana Governor Bobby Jindal, U.S. Senator Rand Paul, former Texas Governor Rick Perry, U.S. Senator Marco Rubio, former U.S. Senator Rick Santorum, and Wisconsin Governor Scott Walker. Former Arkansas Gov. Mike Huckabee, a favorite of many social conservatives, was notably absent.
CPAC attendees tend to be younger and more libertarian than the conservative movement as a whole. Forty-two percent were students and 47 percent were ages 18 to 25.
In 2012, in the midst of the presidential race, the eventual Republican nominee, Mitt Romney, won the straw poll. In 2013, Paul narrowly won the straw poll over Rubio with 25 percent of the vote. Last year, Paul won easily with 31 percent of the vote while Cruz came in second with 11 percent. Paul's father, former Texas congressman and presidential candidate Ron Paul, won in 2010 and 2011.