Archaeologists discover rare 2,000-y-o oil lamp in Jerusalem's City of David on Pilgrimage Road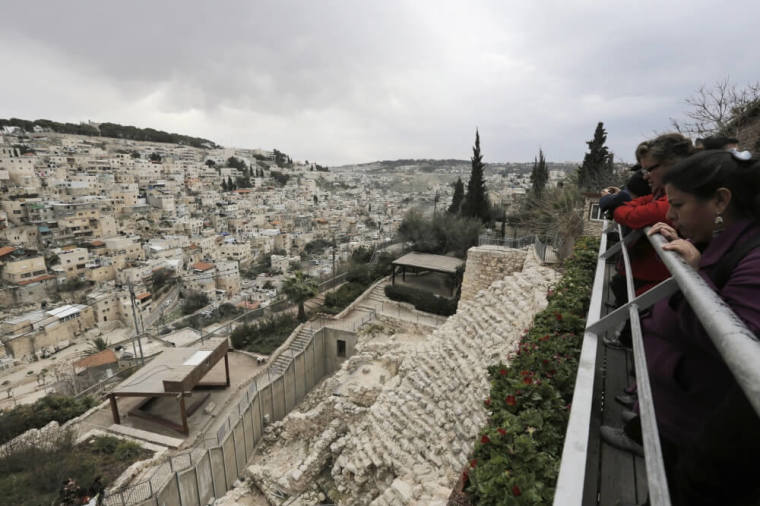 The Israel Antiquities Authority announced the discovery of a rare oil lamp, with its wick still preserved, from under the foundation of a building erected on Jerusalem's famed Pilgrimage Road soon after the destruction of the Second Temple almost 2,000 years ago.
The IAA researchers believe the bronze lamp, shaped like a grotesque face cut in half and estimated to be from the late first century or the early second century CE, was put in the foundation of the building in Jerusalem's City of David for good fortune, The Times of Israel reported.
"This half of a lamp, and in fact half a face, which was discovered in the City of David, is a very rare object, with only a few discovered in the whole world, and is the first of its kind to be discovered in Jerusalem," Yuval Baruch of the IAA was quoted as saying.
"It is possible that the importance of the building, and the need to bless its activity with luck by burying a foundation deposit, was due to its proximity to the Siloam Pool, which was also used in the Roman period as the central source of water within the city," IAA archaeologist Ari Levy told The Jerusalem Post.
Speaking to Haaretz, Levy explained, "Foundation deposits, in general, go back to the dim reaches of antiquity. It was accepted in construction in general, to bring luck and symbolic defense of the building — and to cast fear and awe on attackers. Its significance was highly symbolic, not functional."
Haaretz said the lamp featured a goaty male half-face complete with (half a) satyr's beard and a horned forehead.
Only one other such lamp has ever been found in an archaeological context — and that was in Budapest, according to Levy.
Experts believe that Pilgrimage Road, where the building had been erected, is the path ancient Jews walked to reach the Temple Mount three times a year — in the festivals of Passover, Shavuot and Sukkot.
"The street was built during the period of Governor Pontius Pilates," Levy said. "It was inaugurated around the year 30 CE and it was used for about 40 years until the Temple was destroyed in 70 CE."
Baruch added: "Decorated bronze oil lamps were discovered throughout the Roman Empire. For the most part, such oil lamps stood on stylish candelabras or were hung on a chain. Collections around the world contain thousands of these bronze lamps, many of which were made in intricate shapes, indicating the artistic freedom that Roman metal artists possessed."