Ray Comfort's Living Waters Warns Against Tipping Waiters With Fake Money Bible Tracts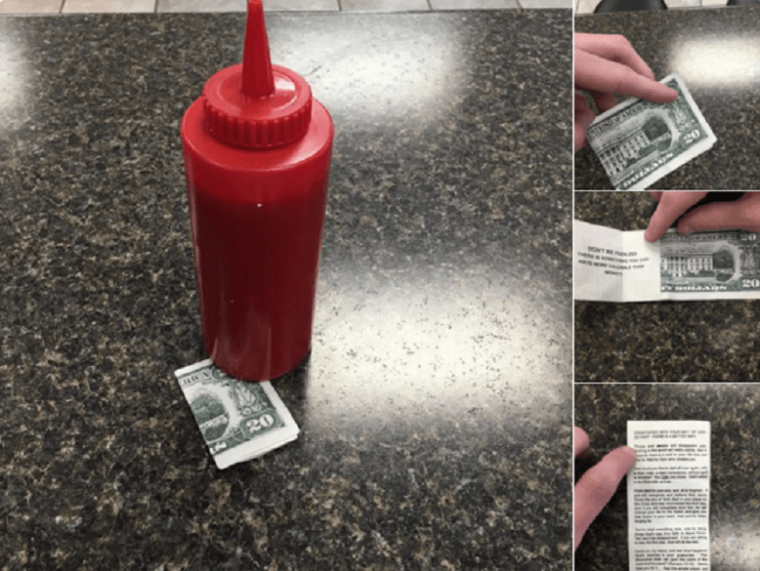 After a teenage waiter working a $3 an hour job was rewarded with a tract disguised as $20 for his service, evangelist Ray Comfort's Living Waters organization is warning Christians against tipping waiters with the product minus the real thing.
Garret Wayman, 17, who works as a waiter at a restaurant in a suburb of Wichita, Kansas, told Tech Insider that he got really excited recently when he saw what appeared to be $20 tucked under a ketchup bottle as a tip.
"I'm 17 years old, $7,000 in debt because I had to buy myself a car, juggling full-time school, and working seven days a week," Wayman said, explaining why he was excited. "Getting a $20 tip at the restaurant I work at is very, very rare."
On closer inspection, however, he realized it was a Christian tract disguised as money. "Don't be fooled! There is something you can have more valuable than money," said the tract while encouraging him to seek "faith thru Jesus Christ" and start reading the Bible.
He was so upset, Wayman took several pictures of the tract and aired his disgust on Twitter.
"Someone seriously left this as my tip today. Pissed is an understatement. I was so excited when I saw $20," he wrote.
Wayman said he wasn't happy with the tract, particularly because the customer didn't even bother to leave a real tip.
"He just left that," Wayman said. "I wanted to tell him that I only make $3 an hour and bust my [expletive] at my job to make way less than I deserve. But he was gone by the time I had the chance to."
Reacting to the incident, Comfort's Living Waters organization, which manufactures and markets similar tracts in various denominations, said whoever left the $20-themed tract without a real tip missed an opportunity to truly witness.
"Ray teaches us if you give somebody a tract, don't just give them a tract, give them a good tip," said Living Waters customer service representative Danny Goodall in an interview with The Christian Post Tuesday.
"It shouldn't be just a tract. If you just get a tract and you've provided a service that you would normally receive a tip for, I think that's a misuse. That's a way not to give a tract because you should always give them the tip," he noted.
He added that one good way for Christians to witness, particularly when it comes to the service industry where workers depend on tips, is to reward them even if you aren't happy with the service.
"Ambassador's Alliance (Living Waters affiliate) taught me even if somebody gives you bad service, it's a way to witness by giving them something they don't deserve because that's what Christ did for us," said Goodall, who explained that the fake money tracts are very popular merchandise.