7 Reactions to the Death of John McCain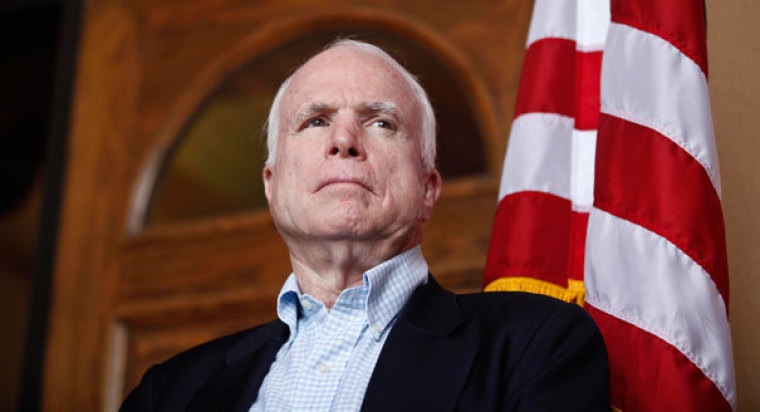 U.S. Senator John McCain, R-Ariz., passed away Saturday at age 81.
McCain had served in Congress since first winning election to the House in 1982, and then the Senate in 1986. He ran for president in 2000, then again in 2008, when he secured the Republican nomination, chose Sarah Palin as his running mate, and was bested by then-Senator Barack Obama in the general election.
McCain had the reputation of a bipartisan negotiator on domestic policy, having co-authored the McCain-Feingold campaign finance reform law, and a supporter of a strong and active military in foreign policy.
The son and grandson of Navy admirals, he was a pilot during the Vietnam War, was shot down, and spent five years in a prison camp.
McCain is survived by his wife, Cindy, and five children. He will lie in state at the Arizona capital on Wednesday, the day he would have turned 82. 
Here are reactions from various family members, and religious and political leaders.
"My heart is broken. I am so lucky to have lived the adventure of loving this incredible man for 38 years. He passed the way he lived, on his own terms, surrounded by the people he loved, in the the place he loved best."
"My father is gone, and I miss him as only an adoring daugher can. but in this loss, and in this sorrow, I take comfort in this: John McCain, hero of the Republic and to his little girls, wakes today to something more glorious than anything on this earth. Today the warrior enters his true and eternal life, greeted by those who have gone before him, rising to meet the Author of All Things: 'The dream is ended: this is the morning.'"
"John McCain was a hero. He was tortured for his country, and stood up to his captors with courage. Ever since, he's stood up for the ideals of democracy and freedom at home and around the world.
"His death is an incalculable loss for our nation."
"I had many face to face meetings with Senator John McCain. Sometimes we agreed. Sometimes we were on opposite sides of an issue.
"But I always knew that Senator McCain would be forthright and would not burn bridges so that there was no hope for future cooperation.
"I respect a man who will tell you the truth and will listen with civility the next time.
"I always enjoyed our interactions and I fully respected him. He served with civility and honor."
"Today we lost an American original. Sen. John McCain was a maverick and a fighter, never afraid to stand for his beliefs. John never took the easy path in life - and through sacrifice and suffering he inspired others to serve something greater than self. John McCain was my friend. I will remember the good times. My family and I send prayers for Cindy and the McCain family."
"John McCain and I were members of different generations, came from completely different backgrounds, and competed at the highest level of politics. But we shared, for all our differences, a fidelity to something higher -- the ideals for which generations of Americans and immigrants alike have fought, marched, and sacrificed. We saw our political battles, even, as a privilege, something noble, an opportunity to serve as stewards of those high ideals at home, and to advance them around the world. We saw this country as a place where anything is possible -- and citizenship as our patriotic obligation to ensure it forever remains that way.
"Few of us have been tested the way John once was, or required to show the kind of courage that he did. But all of us can aspire to the courage to put the greater good above our own. At John's best, he showed us what that means. And for that, we are all in his debt. Michelle and I send our most heartfelt condolences to Cindy and their family."
"My deepest sympathies and respect go out to the family of Senator John McCain. Our hearts and prayers are with you!"