8 Reactions to Trump Recognizing Jerusalem as Israel's Capital: From Biblical Prophecy to 'Day of Rage'
5. Robert Jeffress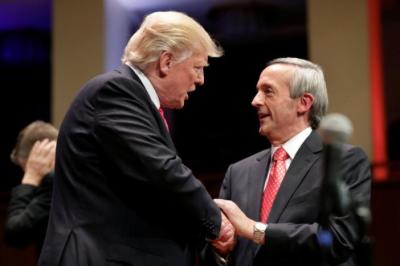 Pastor Robert Jeffress of First Baptist Church in Dallas, much like Huckabee, backed Trump for taking a step that no other U.S. president has followed through on.
"Congratulations to President @realDonaldTrump for having the courage to do what no other @POTUS has done — recognizing Jerusalem as the rightful capital of Israel. Another promise made, another promise fulfilled," Jeffress tweeted.
The Texas megachurch pastor was strongly critical of former President Barack Obama for what he said was the refusal to back Israel when being blamed by the U.N. of putting up settlements in Palestinian territory east of Jerusalem last year.
Jeffress cited at the time an Old Testament passage from Joel 3 as a warning to those who seek to divide up "God's land."
"In verses two and three [it says] that God will judge any nation that divides the land that God gave to Israel," Jeffress stated.