8 Reactions to Trump Recognizing Jerusalem as Israel's Capital: From Biblical Prophecy to 'Day of Rage'
6. Jerusalem's Christian leaders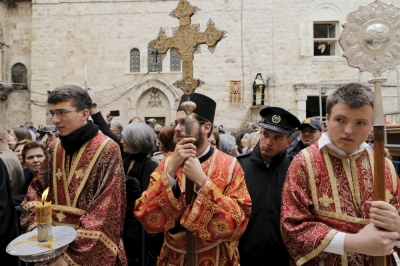 A joint letter signed by a number of major Christian church leaders in Jerusalem argued that declaring the city to be Israel's capital will not improve relations between believers there.
"We are certain that such steps will yield increased hatred, conflict, violence and suffering in Jerusalem and the Holy Land, moving us farther from the goal of unity and deeper toward destructive division. We ask from you Mr. President to help us all walk towards more love and a definitive peace, which cannot be reached without Jerusalem being for all," the letter states, as shared by Newsweek.
"Our solemn advice and plea is for the United States to continue recognizing the present international status of Jerusalem. Any sudden changes would cause irreparable harm. We are confident that, with strong support from our friends, Israelis and Palestinians can work towards negotiating a sustainable and just peace, benefiting all who long for the Holy City of Jerusalem to fulfill its destiny," it adds.
The Christian leaders asked Trump to think of Christmas and the "feast of peace" the season brings, and called on him to walk with them in building a "just, inclusive peace for all the peoples of this unique and Holy City."