Religious Charities Will Be Protected Under Trump, Says Rep. Steve Russell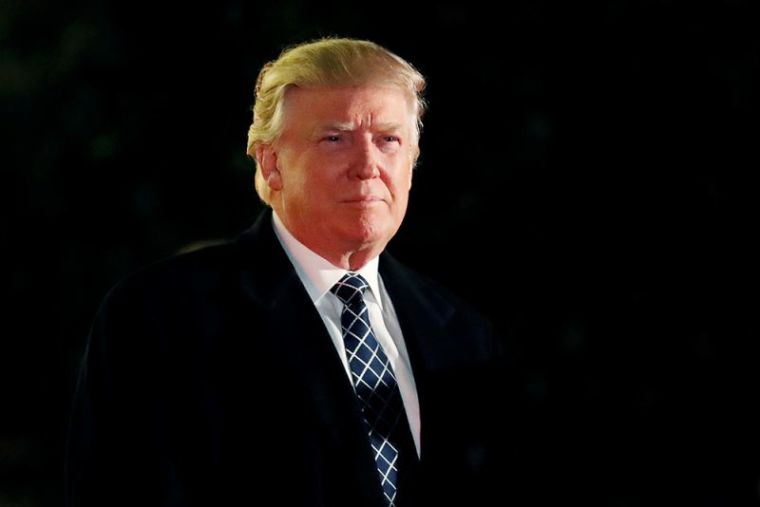 U.S. President-elect Donald Trump looks towards the media as he arrives at a costume party at the home of hedge fund billionaire and campaign donor Robert Mercer in Head of the Harbor, New York, December 3, 2016.
|
(Photo: Reuters/Mark Kauzlarich)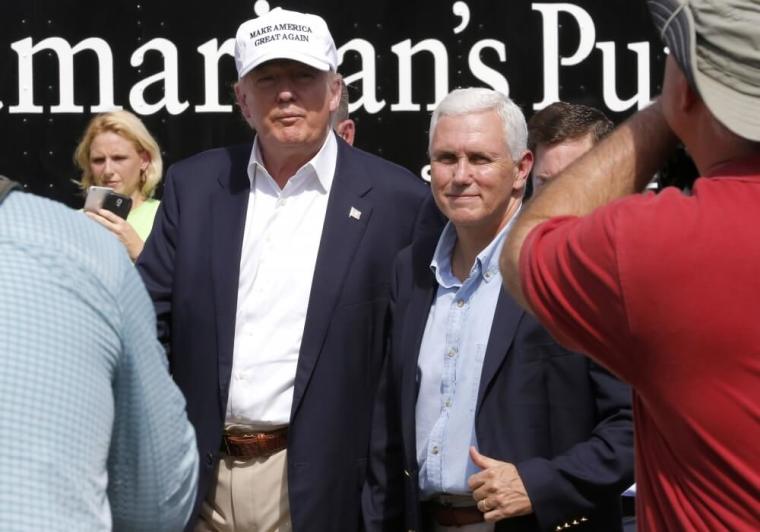 Republican presidential nominee Donald Trump and Republican U.S. vice presidential candidate Mike Pence speak with flood victims outside Greenwell Springs Baptist Church in Central, Louisiana, August 19, 2016.
|
(Photo: Reuters/Jonathan Bachman)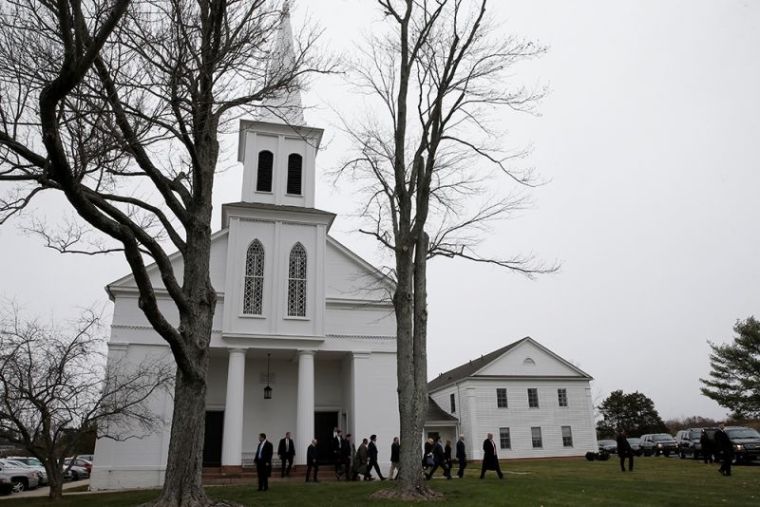 U.S. President-elect Donald Trump and Vice President-elect Mike Pence exit the Lamington Presbyterian Church after attending Sunday services in Bedminster, New Jersey, November 20, 2016.
|
(Photo: Reuters/Mike Segar)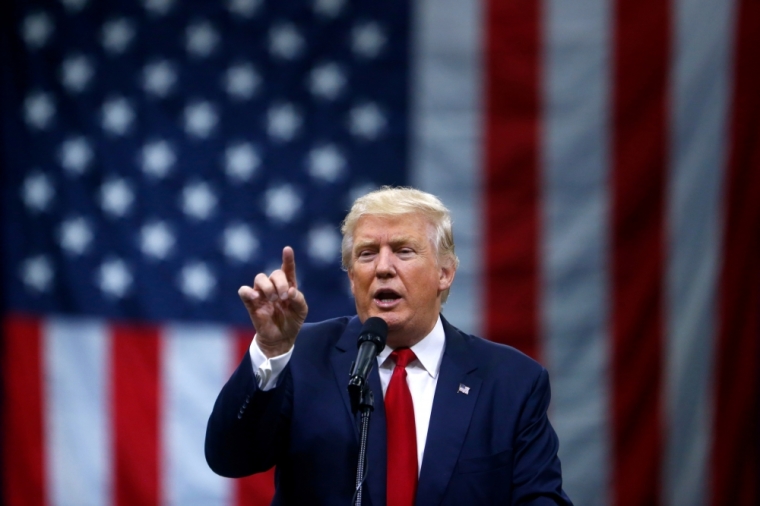 Republican U.S. Presidential nominee Donald Trump attends a campaign event at the Greater Columbus Convention Center in Columbus, Ohio August 1, 2016.
|
(Photo: REUTERS/Eric Thayer)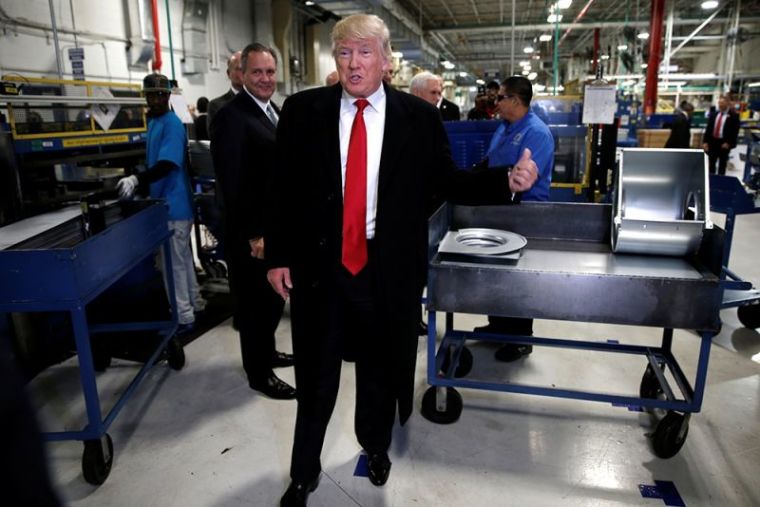 U.S. President-elect Donald Trump speaks to members of the news media as he tours a Carrier factory in Indianapolis, Indiana, U.S., December 1, 2016.
|
(Photo: Reuters/Mike Segar)
View Photos
A Congressional lawmaker says he's been assured that President-elect Donald Trump will ensure that religious-based organizations and aid groups will not be at risk of losing federal contracts and grants because their hiring policies align with the biblical definitions of marriage and sexuality.
Rep. Steve Russell, R-Okla., introduced a failed measure earlier this year that aimed to give religious freedom protections to religious charities and faith-based federal contractors — such as those that aid displaced and persecuted refugees in some of the world's most dangerous areas.
The Russell Amendment would have made it so that those critical organizations would not be denied highly crucial federal contracts or grants for having employment policies that align with biblical teachings on marriage and sexuality.
Although the "Russell Amendment" was included in the House's defense spending bill, the Senate version of the National Defense Authorization Act did not include a similar protection and the amendment was reportedly not included in the final version of the NDAA.
However, that stripping of the religious freedom protection from the final version of the bill might not be too much of a problem for faith-based contractors if Trump takes executive action to alter an executive order issued by President Barack Obama in 2014 that prohibits federal contractors from making employment decisions on the basis of gender identity and sexual orientation.
"These issues will be resolved, and we have gotten some very good assurances moving forward," Russell told BuzzFeed. "I am certainly encouraged by the signs that I am getting from the administration that is inbound."
Russell reportedly said that he has has received "very positive signals" from the Trump team. While he added that Trump could act unilaterally, Russell said that Trump and his team did not "talk strategy or predispose what the executive branch may do."
"The vagueness was created by the executive branch, so the executive branch [under Trump] could un-create the vagueness," Russell said. "You reverse it by clarifying a bad executive order with a good one."
Russell is not the only GOP member of Congress who is optimistic about the prospects of ensuring religious protections for faith-based contractors in the future.
Rep. Adam Smith, D-Wash., who is the ranking Democrat on the House Armed Services Committee and was a conferee on the committee that dropped the Russell Amendment from the NDAA, told BuzzFeed that the two Republicans on the committee, Sen. John McCain, R-Ariz., and Marc Thornberry, R-Texas, saw an opening for the religious freedom protection in the incoming administration.
"They were confident they would have a better environment for a variety of different issues in the new administration," Smith explained. "It worries me a great deal."
McCain told BuzzFeed that "religious-based organizations should be allowed to make decisions that are in keeping with their religious beliefs" but did not explain why the Russell Amendment was dropped.
The stripping of the amendment comes after Obama administration officials implied that the president might veto the highly important defense spending legislation if it included the Russell Amendment.
After the news broke that House and Senate conferees decided to drop the Russell Amendment, several religious freedom groups spoke out in disapproval and argued that Congressional Republicans caved to the pressure of pro-LGBT lobbying groups.
"The bottom line is that there are faith-based charities that are willing to go where no one else is willing to go and the people that they are helping are vulnerable people and that should not be a political football," Amy Vitale, a Becket Fund fellow and lawyer, told The Christian Post last week. "That should be something that we should all support, especially when the provisions in question here are time-tested provisions and existing federal civil rights laws."