'Religious War' to Erupt If 15-Y-O Girl Is Killed by Boko Haram: Christian Groups Warn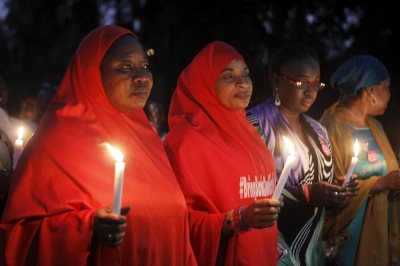 Two of Nigeria's largest Christian associations have warned of grave consequences, including an open "religious war," if a 15-year-old Christian girl kidnapped by Islamic radical group Boko Haram dies in captivity.
"Leah Sharibu must not die. Her death, God forbids, can spell doom for Nigeria. It can give an open invitation to religious war because Leah is being detained purely because of her religion," Adebayo Oladeji, special assistant on media and communications to the Christian Association of Nigeria President, said last week.
Sharibu was kidnapped in February in Yobe state along with 110 other schoolgirls in a Boko Haram raid. But while most of the girls were freed, Sharibu was not. The teenager reportedly was offered her freedom in exchange for converting to Islam, but refused.
"Let all and sundry rise up against the failure of the security agencies and ask President Muhammadu Buhari to wake up from his slumber before the terrorists and herdsmen finish the country," Oladeji said in a statement, according to Daily Post.
Bishop Emmah Isong, national publicity secretary of the Pentecostal Christian Association, echoed the warnings.
"We can tell you that the peace of this country hangs on the Federal Government's promise to secure the release of Leah Sharibu," Isong said.
"She has become an ambassador of Christianity to the Republic of Boko Haram and we are demanding that she returns home safely to her parents.
"All Nigerian youths are waiting to see what the Federal Government will do. Our constitution, which requires the government to be a protector of lives and property, will be called to question if Leah is not released."
Muslim leaders have pushed back against the remarks of the Christian groups.
They have insisted that the majority of Muslims in the country, which is roughly split between followers of Islam and Christianity, reject the ways of terror groups like Boko Haram.
"For them to now make that comment that if she dies in the hand of Boko Haram there will be a religious war is very unfair. How could you start attacking Muslims because this innocent girl happened to be a victim of murderous terrorists. It means they (Boko Haram) are winning the war because that is what they want," said the Sultan of Sokoto, Alhaji Muhammadu Sa'ad Abubakar.
"If they hear about this and went and kill the innocent girl, that means you are part and parcel of what make them to do that because they want to cause confusion in the country. We are all praying for her safe return and for the safety of every Nigerian irrespective of his or her religion," he added, according to Today.ng.
"Did the Muslims connived with Boko Haram to abduct the girls and release others? No."
Nigerian Christians have recently taken to the streets to protest large massacres they have suffered, both at the hands of Boko Haram, but also most recently by the Fulani herdsmen, which has become Nigeria's deadliest terror group.
Sharibu's case has made international news, with major Christian leaders, such as Archbishop of Canterbury Justin Welby, speaking out on her behalf.
The girl's mother, Rebecca Sharibu, told persecution watchdog group Open Doors USA in April that she is proud her daughter did not surrender her faith.
"I am so proud of my Leah because she did not denounce Christ," the mother said at the time.
"And because of that, I know God will never forsake her. When she went away to school, I gave her a copy of the Bible so she could have her personal devotions even when I am not there. As her mother, I know her to be an obedient daughter, respectful and someone who puts others before herself."