'Repent, Give your Life to Christ;' Relatives of Charleston Church Massacre Victims Forgive Dylann Roof at Bond Hearing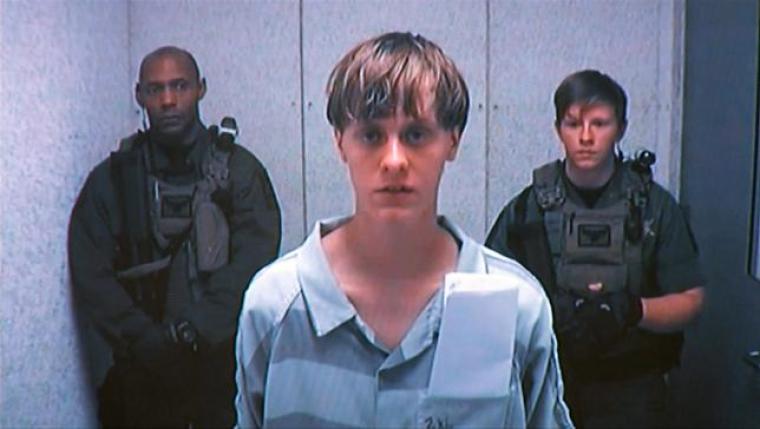 Dylann Storm Roof appears by closed-circuit televison at his bond hearing in Charleston, South Carolina, June 19, 2015, in a still image from video.
|
(Photo: Reuters/Pool)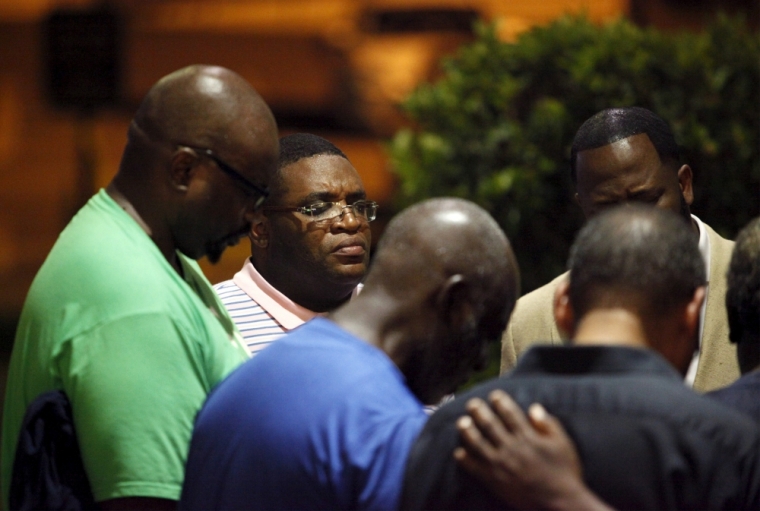 A small prayer circle forms nearby where police are responding to a shooting at the Emanuel AME Church in Charleston, South Carolina, June 17, 2015. A gunman opened fire on Wednesday evening at the historic African-American church in downtown Charleston and was still at large, a U.S. police official said, but there were no immediate confirmed reports of casualties.
|
(Photo: Reuters/Randall Hill)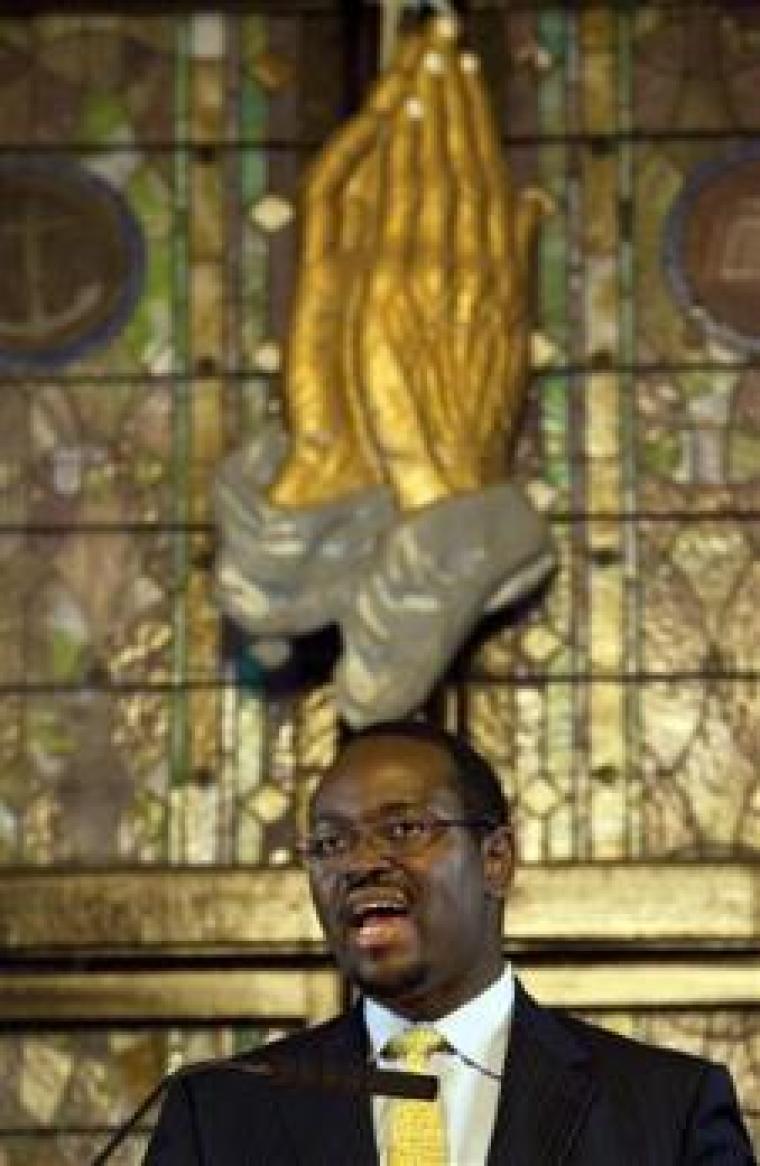 The Rev. Clementa Pinckney speaks to those gathered during the Watch Night service at Emanuel African Methodist Episcopal Church in Charleston, South Carolina, December 31, 2012. New Year's Day 2013 was the 150th anniversary of President Abraham Lincoln's Emancipation Proclamation, which declared free all slaves in the rebellious states of the Civil War.The Watch Night tradition at black churches goes back to "Freedom's Eve," on New Year's Eve 1862 when slaves, free blacks and abolitionists gathered in churches and homes to wait for the Emancipation Proclamation to take effect on January 1, 1863.
|
(Photo: Reuters/Randall Hill)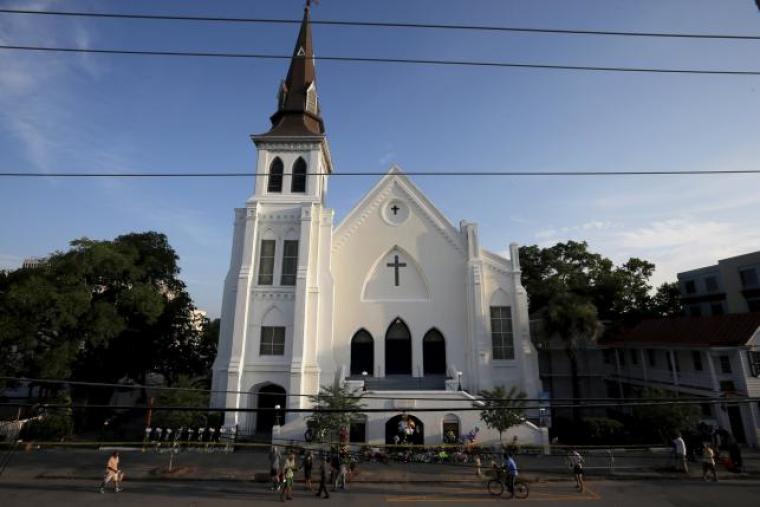 Members of the public continue to pay their respects and leave flowers outside the Emanuel African Methodist Episcopal Church in Charleston, South Carolina June 19, 2015, two days after a mass shooting left nine dead during a bible study at the church.
|
(Photo: Reuters/Brian Snyder)
View Photos
Grieving relatives of the nine worshipers gunned down at a Bible study in the basement of a South Carolina church Wednesday painfully forgave the confessed gunman, Dylann Roof, and urged him to "repent" during his bond hearing Friday. Judge James Gosnell set his bond at $1 million and he remained in custody late Friday afternoon.
The tearful family members of the victims who died in the massacre at Charleston's historic Emanuel African Methodist Episcopal Church, expressed their pain and heartache between sobs while speaking at 21-year-old Roof's bond hearing. The cuffed Lexington resident, who was dressed in a prison jump suit, appeared at the hearing via video link and looked calm and expressionless as he listened.
"I forgive you," the emotional daughter of Ethel Lance, 70, one of the victims, told Roof. "You took something really precious from me. I will never talk to her ever again. I will never be able to hold her ever again, but I forgive you!"
Roof was charged with nine counts of murder for each victim and possession of a firearm for the massacre which police have called a hate crime. While under state law Roof is ineligible for bond on the murder charges, Gosnell set his bond at $1 million bond on the weapons charge.
Myra Thompson, 59, was also among the nine killed on Wednesday night. One of her grieving relatives urged Roof to "repent" and give his life to Christ.
"I forgive you, my family forgives you," Anthony Thompson told Roof. "But take this opportunity to repent. Repent. Confess. Give your life to the one that matters the most — Christ — so that He can change you and change your ways no matter what happened to you, and you'll be OK. Do that and you'll be better off than you are right now."
Roof, who confessed to killing the nine worshipers, reportedly told authorities that he wanted to "start a race war" by doing the unthinkable. He is said to have attended the Bible study for an hour before opening fire on 13 innocent worshipers in the basement of the church.
He reportedly said that he "almost didn't go through with it because everyone was so nice to him," but later changed his mind.
Sylvia Johnson, who is said to be a relative of AME church pastor, Democratic State Sen. Clementa Pinckney, said that she spoke with one of the female survivors.
"She said that [Roof] had reloaded five different times, and he just said 'I have to do it. You rape our women and you're taking over our country. And you have to go,'" Johnson told WIS News.
During his opening statement at Roof's bond hearing, Gosnell said there are victims on both sides on the case.
"We have nine victims but we also have victims on the other side," said Gosnell. "There are victims on this young man's side of the family. No one would have thrown them into the whirlwind of events that they were thrown into."
Other victims include: Rev. Sharonda Coleman-Singleton, 45; Susie Jackson, 87; Cynthia Hurd, 54; DePayne Middleton-Doctor, 49; Tywanza Sanders, 26; and Rev. Daniel L. Simmons Sr., 74.
The Christian Post reported Thursday that President Obama condemned the shooting and called it "heartbreaking."
"Any death of this sort is a tragedy," Obama said during a press conference. "There is something particularly heartbreaking about the death happening in a place in which we seek solace and we seek peace, in a place of worship."
The AME church has been a part of the Charleston community since 1816 and was founded by a former slave.
On Friday, Charleston's Mayor Joseph P. Riley Jr. set up the "Mother Emanuel Hope" fund through Wells Fargo bank and various donors have already pledged thousands of dollars to help pay for funerals, counseling and other needs for the victims' families.